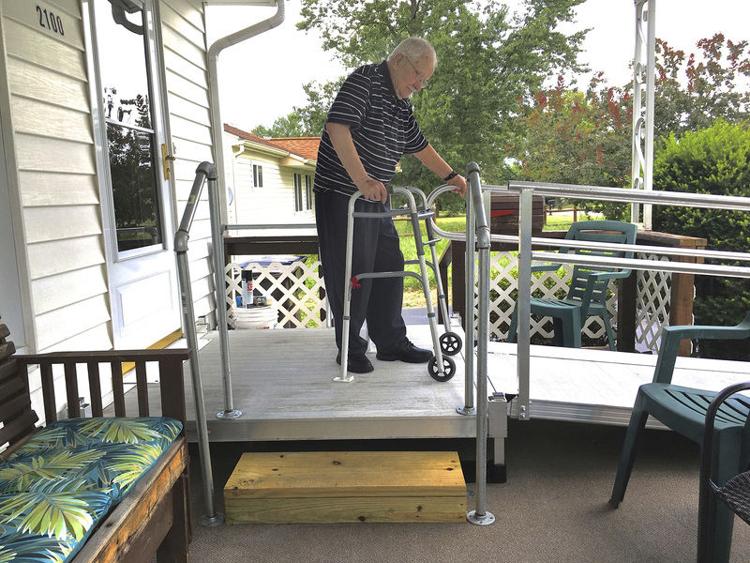 HERMITAGE – Almost every day, World War II veteran Nicolo Verroco sits on his porch and watches his neighborhood.
Tina Verroco Carlisle, Verroco's daughter, said that's one of the few connections he has to the world outside the walls of his Hermitage residence. And, until two managers from the Home Depot store in Hermitage intervened a few weeks ago, simply sitting on the porch was a joy unavailable to the 93-year-old veteran.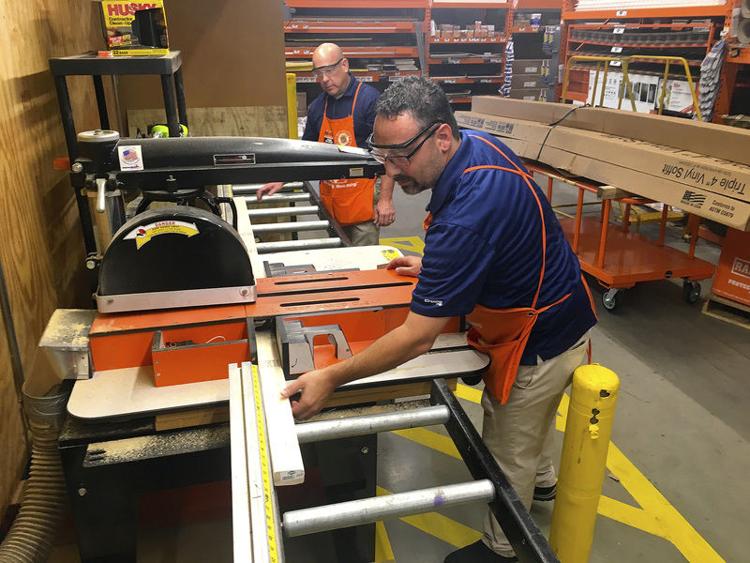 Store Manager Nick Pohl and Assistant Manager Rob DiPiero did so much more, Carlisle said, when they came out to his house earlier this year to fix her father's wheelchair ramp.
"Those two guys gave of their time willingly," Carlisle said of Pohl and DiPiero. "They took the time to help him."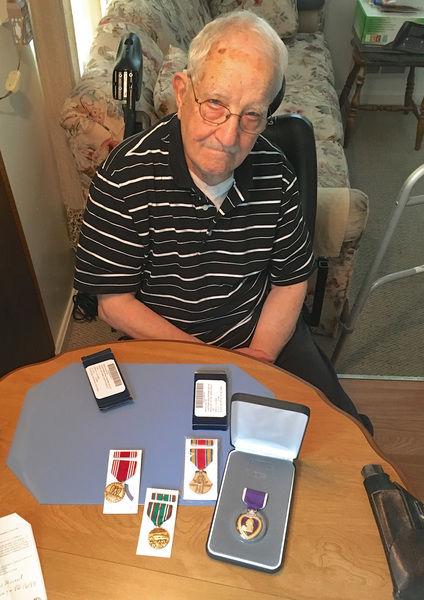 A veterans service agency had previously installed Verroco's wheelchair ramp, but the ramp's railings had run all the way to his front door, which denied him access to the porch. Pohl and DiPiero went to his house and reconfigured the railings to allow Verroco to again use his porch.
They also did some gardening — removing and trimming hedges, weeding and putting down fresh mulch, all free of charge. Afterward, they thanked Verroco for his service and talked with him for a while.
That last thing might have been every bit as important to Verroco as fixing the ramp, his daughter said.
"Since my mom died eight years ago, he's been pretty lonely," Carlisle said. "For two strangers to visit and listen to him was wonderful."
And Verroco, a combat-wounded veteran, has a story worth listening to.
Even before putting on a uniform, he served his country. Verroco was part of the construction crew that helped build Camp Reynolds, one of the largest Army camps during the World War II era, just south of Greenville. An estimated one million soldiers passed through the camp during the war.
Verroco said he wasn't among the technically skilled members of the camp's construction crew.
"I dug ditches for the water and sewer lines,'' he said. "And when I wasn't doing that, I carried a water can around to give water to the other workers.'
He was drafted in August 1944, weeks after the successful D-Day invasion at Normandy.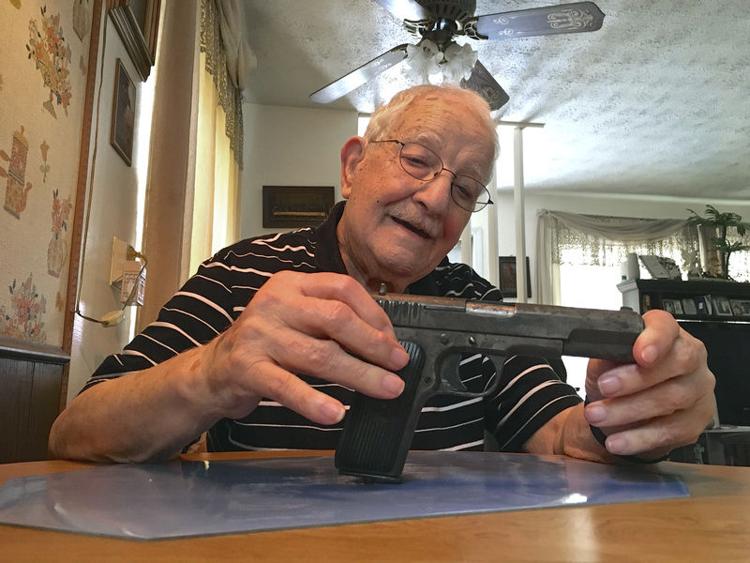 The ship arrived in Scotland in January 1945, according to Verroco's military records. From there, he boarded a train traveling to an English harbor where he caught a ship bound for France. Once on the continent, a truck drove him deeper into Europe.
"We were in northern France I think,'' he recalled. "And then they moved us into Belgium.''
By the time Verroco joined up with the 84th Infantry Division, the war was in its final months, but the action was not yet over.
Verroco was given a Browning automatic rifle, a portable light machine gun that could be operated by one man. To Verroco, who stands around five and a half feet tall, it was a hefty gun.
"I was the smallest guy with the biggest gun,'' he said with a laugh.
It was on Feb. 24, 1945, that Verroco found himself walking across a field with his unit. His sergeant got shot in the elbow by a sniper.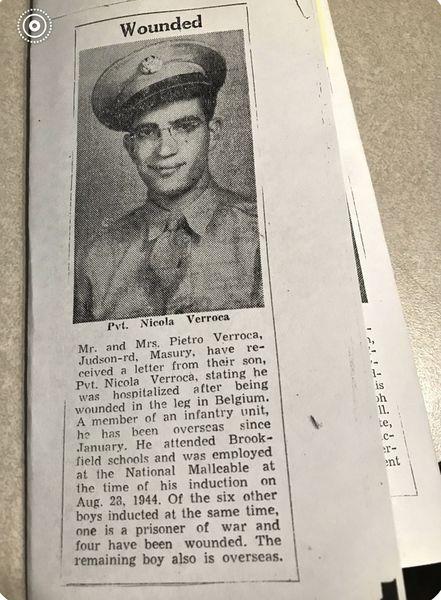 "When I saw him, I halted and tried to stop the bleeding,'' he remembers. "The next thing I know I got hit in my thigh with a bullet.''
An officer asked him if he thought he could walk by himself to a field hospital a mile away.
"I told him I thought I could,'' Verroco said.
While he was walking along the road, an American in uniform driving a Jeep saw him and drove him to the hospital.
"They took my rifle from me,'' he said of arriving at the hospital. "After that I don't remember anything. I don't remember them operating on me.''
Verroco was promoted to corporal and he remained in Europe until June 1946 when he was sent home.
Within a few weeks, he had a job at Sharon Steel Corp., where he worked for 40 years. In 1950, he married the former Dolores Scarmack. This event was made more memorable as they were set to exchange vows on Thanksgiving weekend. It was the same time when the area suffered one of its biggest blizzards.
More than 30 inches of snow fell, choking off travel leaving many residents marooned at home.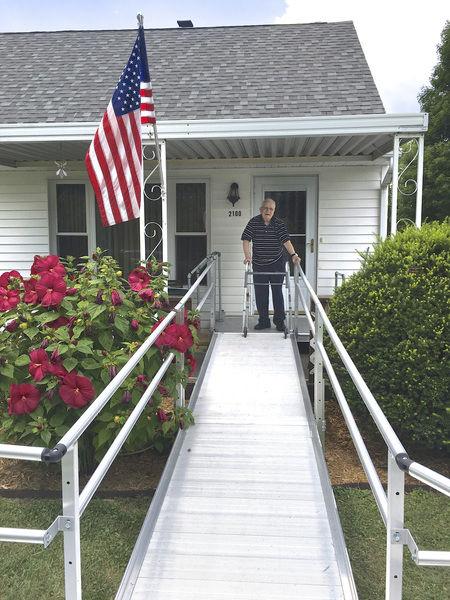 "We had to cancel the wedding for a week,'' Verroco said.
When Dolores passed away in 2011, the couple had four children, nine grandchildren and one great-grandchild.
As the years passed, it got a little hard for Verroco to get around, so the Veterans Administration installed a ramp so he could enter his Hermitage home easier. But the Home Depot store put an opening in Verroco's railing, which gave him access to the porch once again.
Carlisle said Verroco's entire family is grateful to Pohl and DiPiero for giving the 93-year-old veteran his view of the world back.
For their part, Pohl and DiPiero were glad to help. Pohl said Home Depot encourages employees and managers to perform community service projects on a regular basis.
"He's a great guy," he said of Verroco. "We appreciate his service."