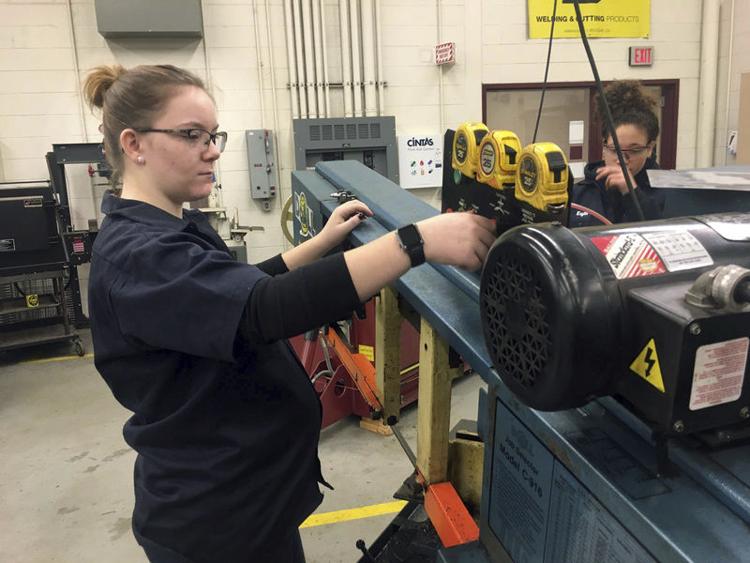 COOLSPRING TOWNSHIP — Were it not for the overalls and safety glasses, Sierra Cunningham would not appear much different from the average high schooler — except that she's already learning a trade, runs a business and is assistant manager at her job.
Cunningham, a student from West Middlesex Area School District, is in her second year at the Mercer County Career Center welding program. 
"It's very hands-on, you don't sit around a lot," Cunningham said. "They treat you like an adult here, and they allow you to be responsible."
She enjoys watching the Big Reds girls basketball team, although her days don't leave much room for a social life — Cunningham typically gets started at 6:30 a.m., and she usually keeps going until 9:30 p.m.
"A few people get frustrated sometimes because that doesn't leave a lot of time to do things, but most of my friends are happy for me and they know it'll pay off," said the West Middlesex senior.
As she nears graduation, Cunningham is preparing to weld her way through college.
She attends technical welding classes at the career center in Coolspring Township in the morning, then returns to West Middlesex Junior Senior High School for lunch and English classes. After school, she takes entrepreneurship classes through the eAcademy at LindenPointe in Hermitage. After that, it's work at her own business.
Her entrepreneurial venture began typically for a teenager, by cutting lawns for her neighbors. But the business has grown over the past three years, and she now has about about 40 customers.
"This year I'll have my tax ID, so I'll be an official business," Cunningham said.
But even as she leaves high school and looks toward college, she'll have a little more than most of her peers — a certification from the American Welding Society. Cunningham credits her father and family friends for convincing her to pursue welding.
"My dad encouraged me to learn a trade, and some friends that I've already known are welders," she said. "Then a couple years ago I first learned about the career center at a college fair where the different colleges and schools had their displays up, so I decided to get into welding."
As a welder, the pay will help her transition into adulthood.
Depending on the area and the shop, a high school graduate with certification from the American Welding Society can have a a starting pay ranging from $14 to $19 an hour, said Grant Gilhousen, instructor for career center's welding program.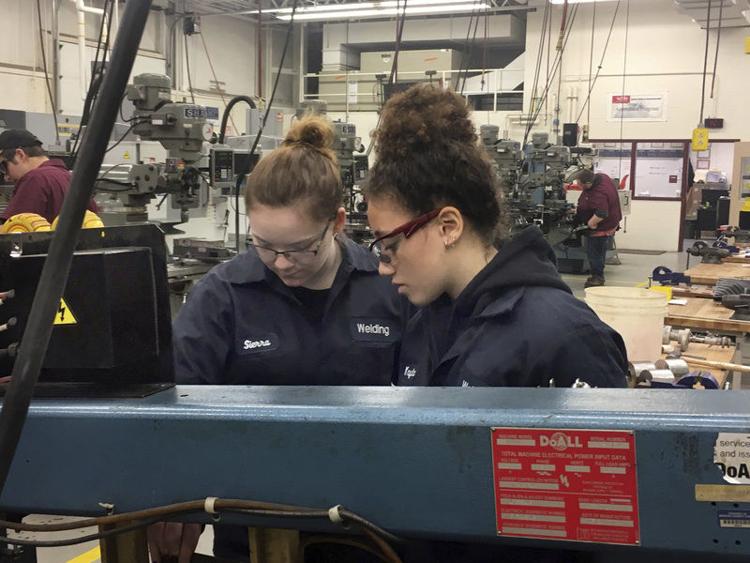 "It's in demand everywhere," Gilhousen said. "A lot of the older people are retiring, so there's a lot of opportunities right now."
Students attend welding classes at the career center for two or three years, with two classes of about 20 students each. But even at those class sizes, the courses don't hurt for attendance, Gilhousen said.
"We have 40 students currently in the program, and we've got a waiting list of students, too," he said.
To help give students an idea of what employers are looking for, Cunningham said three or four representatives of different local businesses visit the center in the spring and the fall with the center's occupational-advisory committees. The business representatives let the students hear first-hand from employers what they should learn as they prepare to enter the workforce.
"At first I was kind of nervous but it was kind of cool, and they were very helpful because they'll tell us what they're looking for when they're hiring or what their needs are," she said.
Cunningham is among a handful of girls in the welding program, but she says the girls aren't treated any differently, and her family and friends are supportive of her goals.
"There are a couple people that might go 'oh, OK,' but just about everyone I've met is more 'Wow, that's great,'" she said. "I've never had anyone give me a hard time here."
Progress in the welding program is based around reaching benchmarks instead of test scores. The Mercer County Career Center's welding classes are now focusing on the upcoming SkillsUSA championships, a competition for students in trade and technical schools.
The next competition will be held in April at the New Castle School of Trades. Cunningham's group will participate in the fabrication category, which will require them to make a cargo holder.
Last year, Cunningham and the students from career center had to make a trailer, though she said the group is hoping for better luck last year.
"They liked our project last year, but we didn't have blueprints because we ran out of time, so this year we made sure to come up with the blueprints early," she said.
Even though she has a future in the trade, Cunningham's career prospects are not necessarily tied to welding.
She's taking the eAcademy course for college credits, while considering continuing her education at Youngstown State University or Butler County Community College. After college, Cunningham said she is considering a career in the insurance field, although she could also start a fabrication business of her own.
But even with so much experience in the trades and running her own business, Cunningham said learning subjects such as math and English are still just as important to whatever field she pursues.
"Communication is very important, and if I were involved in insurance, for example, then there would be a lot of paperwork and math," she said. "If I had advice for someone, it'd be to just follow what you want to do, and take any opportunity to get better or learn about it that you can."
Like David L. Dye on Facebook or email him at ddye@sharonherald.com.