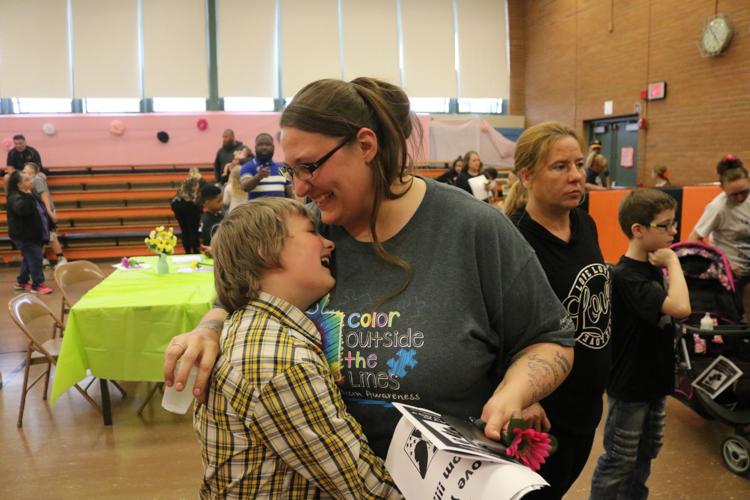 Again, Meghan Trainor was the showstopper.
Well, it might have been the two classrooms of fourth-graders dancing and singing to the song "Mom," Trainor's ode to her own mother, that concluded the performance of "A Day in the Life of a Mother" Thursday at West Hill Elementary School in Sharon City School District."
"I loved it. I cried. I'm a crier," said Britny Lowe, after watching her son, Marquise Norris, perform in the play, followed by the song and dance.
Norris said performing was a new, and a little bit scary, experience.
"Yeah, I was a little bit nervous," he said. "Then I looked up and saw my mom."
The performance was a gift from the school and its fourth-grade students to their mothers, in what is becoming a tradition. Last year, fourth-grade teacher Lisa Newmeyer wrote "A Day in the Life of a Mother" and directed the premier performance for the classes' moms.
Newmeyer retired after last school year, so teacher Amber Haywood, who was co-director last year, took over the show with fellow fourth-grade teacher Marilyn Trojak, who replaced Newmeyer after previously teaching at Musser Elementary School.
Even though this was the second year for the play, this was still a first-time performance in one way.
"I didn't save any of the play, so I had to rewrite it," she said.
The play, in three acts, tells the story of a day in the life of a very busy mother as she gets her children off to school, makes them dinner, takes them to their activities and sees them to bed at the end of the day.
Between the three acts, the students read poems dedicated to mothers.
"It was awesome," said Tiffany Runyan, whose daughter, Andreya Shelton, performed in the show. "I think my favorite part was the song 'Mom' at the end."
But "A Day in the Life of a Mother" was more than a tribute to West Hill's fourth-grade moms. Haywood said she and Newmeyer created the show for academic intent.
Dramatic performance is part of the state's academic standards, and "A Day in the Life of a Mother" helps as a teaching tool and gave the students confidence.
"As we worked on this for three weeks, they really came out," Haywood said. "A lot of the kids told us that they really liked it."