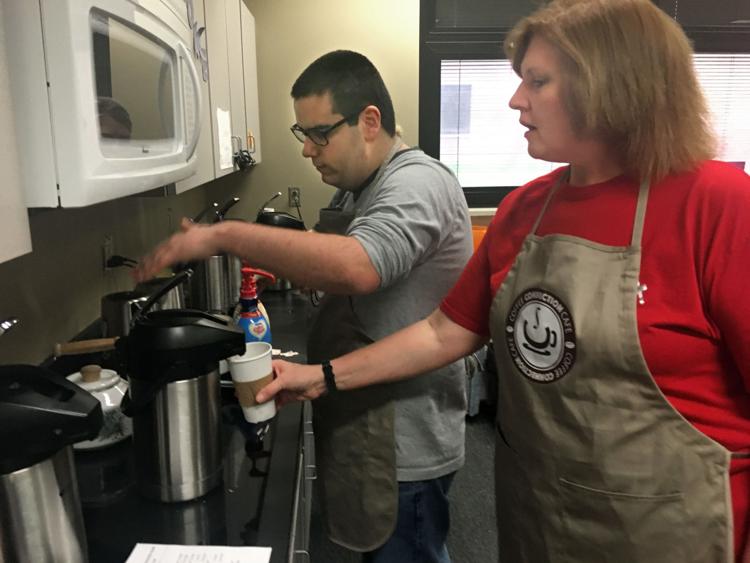 WEST MIDDLESEX — As a group of eager students formed a line at the Coffee Connection Cafe, they took turns filling out order sheets and handing them to a "cashier."
Behind the counter, junior John White, 17, poured a coffee under the supervision of teacher's aide Paula Pikna.
Held in the West Middlesex Junior-Senior High School's special-education class, the cafe allows students and staff to order coffee or hot chocolate prepared by the special-ed students before classes start in the morning.
"It's a really good way for the students to practice having a job and learn social skills, but it also gives them a chance to interact with our other students," Pikna said.
Though the cafe is normally only open from 7:20 to 7:40 a.m. daily, the class made an afternoon exception on Feb. 27 for a Rural Lunch and Learn event. The program allowed about a dozen representatives from various school districts, the Hope Center for Arts and Technology in Sharon and Remake Learning to experience the cafe as well as other programs underway at West Middlesex schools.
Remake Learning is a networking organization that operates out of the Pittsburgh area, with about 600 participating institutions throughout southwest Pennsylvania and northwest Virginia. The event was the first time a school district from Mercer County participated in the program, Rural Coordinator Allie Mullins said.
"What we do is meet with different groups and schools to see what they're doing and how the different groups can help each other keep education relevant," Mullins said.
At the Coffee Connection Cafe, teachers had previously been able to order items for a couple years on Fridays. Special education teacher Brenda Brooks approached school officials about expanding the cafe, which led to a ribbon-cutting ceremony in February to signal the daily service for students and staff, Pikna said.
"I'd say we have about 10 or so students every day who are regular customers, but we usually see a few new faces too," Pikna said.
Another stop on the tour included a visit to the high school's human body systems class, which was introduced this school year, along with principles of biomedical science. The classes are part of the Biomedical Science Pathway program, offered by the Project Lead the Way agency, an Indianapolis-based curriculum-development organization.
While school officials initially pursued the program based on student desire for anatomy and physiology classes, the Biomedical Science Pathway covers those topics as well as giving students a broader view of other positions in the medical field, such as coroner or X-ray technician, teacher Jody Anthony said.
"It's very hands-on learning, so it's not just about learning the information and taking a test; the assignments actually have the students taking on roles in the medical field and applying what they're learning," Anthony said.
Two seniors in the class, Zach Long and Karsyn Rupert, both 18, are taking both classes to prepare them for their post-high school careers. While Long wants to be a physician's assistant, Rupert said she wants to be a psychiatrist.
"Right now we're studying someone who's having lung issues, so we have to look at his family history, what his symptoms are, and try to diagnose what's wrong," Long said.
As they worked on an assignment using a combination of notebooks and Chromebooks, Rupert said the format of the class helps to prepare the students for college.
"We might watch a video and take notes, but then it's on us as the students to make sure we get the homework and the assignments completed," Rupert said.
In another classroom, the visitors were able to visit the CREATE lab, where seventh-graders Kain Howard and Ethan Troisi, both 13, programmed a Finch robot that drove around the floor by their desk.
"We can program it to do certain things like driving around or changing colors," Howard said.
Unlike in a regular classroom, students in the CREATE lab can work on assignments using materials such as Makey Makey kits, COSMO robots and Finch robots.
"It's nice because you get more space to work, and you can kind of work on your own, but the teacher still helps you if you need it," Troisi said.
As the tour came to a close that afternoon, the visitors were able to reflect on the different programs.
Chad Quimby, a teacher from New Castle Area School District, said one of the programs that stood out the most to him was the biomedical classes for their orientation toward preparing students for college or medical careers.
"I thought the note system in the biomedical class was particularly interesting because it's all online, so the students can learn through high school and then take those notes with them into college," fellow New Castle teacher Russ Carley said.
Like David L. Dye on Facebook or email him at ddye@sharonherald.com.
NOTE: This story has been edited to correct the date the tour took place.