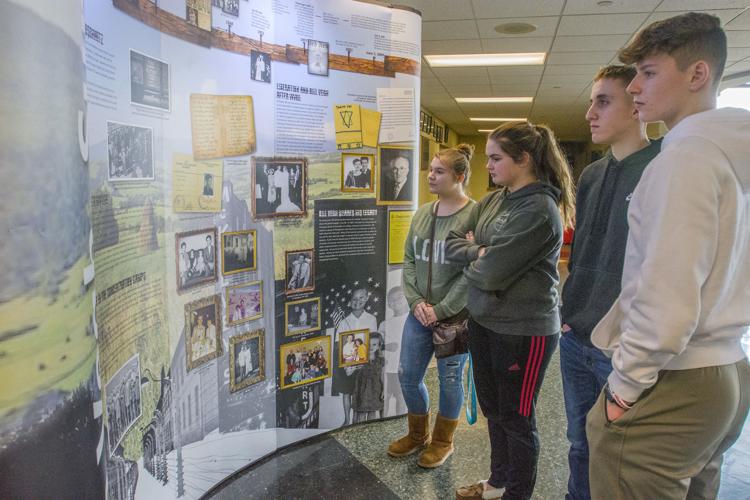 WEST MIDDLESEX — Over the last three years, Jesse McClain has made about 50 visits to organizations, including schools and churches, to talk about the Holocaust.
McClain, a Holocaust education specialist with the Youngstown Area Jewish Federation, gave a presentation Friday at West Middlesex Jr. Sr. High School. Even though he's not Jewish, McClain said it's important people understand the factors that led to the deaths of an estimated 6 million Jews.
"I don't think of the Holocaust as simply a Jewish issue, I think of it as a human issue," McClain said. "Adolf Hitler wasn't the first time and he probably won't be the last, but he used the age-old tactic of uniting people by giving them a common enemy."
Speaking to students in the high school auditorium, McClain described the rise of the Nazis following World War I and the process — first persecution, then extermination — leading up to the Holocaust, as well as the course of World War II.
To help explain how not only the German people but others throughout Europe allowed the Holocaust to happen, McClain broke it down into four roles— perpetrator, victim, rescuer and bystander.
Even though it's "impossible" to know if someone will become a rescuer when faced with potential death or deportation to a camp, McClain used seeing a kid get bullied in high school as an example of when bystanders decide not to act.
"Germany could not have done it without the cooperation of the people," he said.
McClain also brought historical artifacts, including a letter written by a boy taken to the camp at Auschwitz. The letter, where the boy asked about his friends and teachers, and asked for supplies such as clothes or underwear, had to be written in German so soldiers could read it.
As an illustration of the Holocaust's impact, McClain presented a large book containing the word "Jew" written 6 million times in very small print throughout the book.. To drive the point home, he compared a line in the book to a family, a paragraph to a street, and an entire page to a city's worth of people.
All exterminated.
"Just think, one of those people could have been a brilliant scientist or a doctor who could have cured cancer. But because so many people were killed, we'll never know what could have happened or what they could have done," McClain said.
Outside the auditorium was a display that featured a timeline and biography of Holocaust survivor and former Youngstown resident William Vegh, or "Bill" as McClain called him.
Born Nov. 21, 1928 in Czechoslovakia before World War II, Vegh was sent to the concentration camp at Auschwitz. Vegh emigrated in 1948 to New York City and settled four years later in the Youngstown area, though it wasn't until the late 90s that Vegh began to tell his story, until his death in 2009.
"Bill never liked to talk about it, but at some point he heard someone claiming that the Holocaust never happened, so he decided to start telling his story," McClain. "Bill was a friend I had known for decades, so when he died I didn't want his story to die with him."
Throughout the presentation, the audience of students — many of whom had either already learned or will soon be learning about the Holocaust in class — remained quiet and attentive as they listed to McClain and watched a few videos, ranging from a timeline of World War II to a Holocaust film called "The Pigeon."
"The map really helped to put things in perspective," junior Ashlie Wansack said, referring to a video which featured a map displaying the total area conquered by Germany, as well as the locations of several concentration camps.
Even though Jews and other minority groups were the Holocaust's primary victims, the students agreed with McClain that it was important to learn from the past to prevent such events from happening again, sophomore Drake Muir said.
"Hopefully people will continue to educate themselves," he said. "Knowledge is power."
The opportunity to have McClain and the display visit West Middlesex first came to school officials' attention last fall, after the Tree of Life synagogue shooting in Pittsburgh.
Since World War II and the Holocaust is already a part of the students' curriculum, West Middlesex Jr. Sr. High School Assistant Principal Aaron Pernesky said the presentation could give students the Jewish perspective on why such events still happen today.
"It's like he said during the presentation, as time progresses we're discovering new things about the Holocaust that allow us to understand how and why it happened better," Pernesky said of McClain.
Like David L. Dye on Facebook or email him at ddye@sharonherald.com.