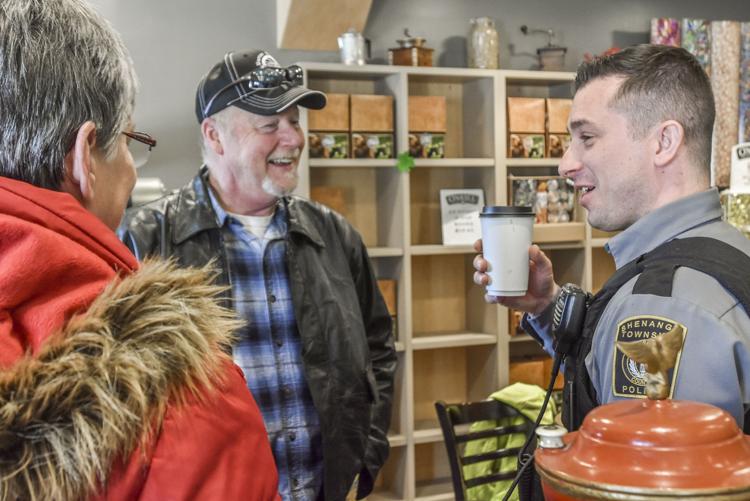 WEST MIDDLESEX – The West Middlesex area had a chance to mingle with police officers in an informal setting for "Coffee with a Cop" Tuesday at O'Neill Coffee Co.
"This area is very supportive of the police," said Ron Preston, West Middlesex council member. "These guys are young and go-getters."
Shenango Township police officers talked and joked with residents of the township and West Middlesex borough while sipping on O'Neill's specially made beverages.
Officers Justin Barnes, Joshua Natale and Jonathan DeCarmen were content hobnobbing with various locals, West Middlesex councilmen and school personnel.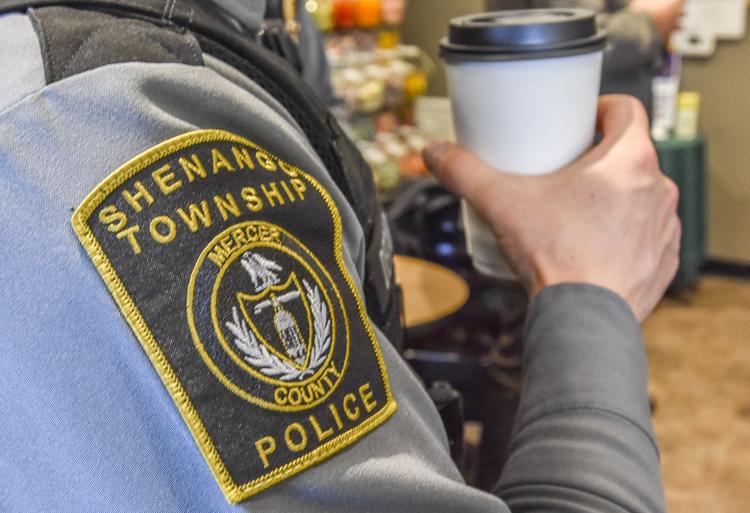 Although the police officers took "Coffee with a Cop" seriously, it didn't distract them from their primary public safety duties. Barnes, who is also the township's fire chief, had to take his coffee to go when he was called to a truck fire at the Exit 1 on-ramp to Interstate 376.
Fire companies extinguished the blaze without injuries.
Preston, a former Shenango Township police chief, gave rave reviews to the current force.
"This is a great department," he said.
Led by Chief Jason Newton, the department has been in operation since Jan. 1, 2015, when it split from the now-defunct Southwest Mercer County Regional police department, which dissolved the following year.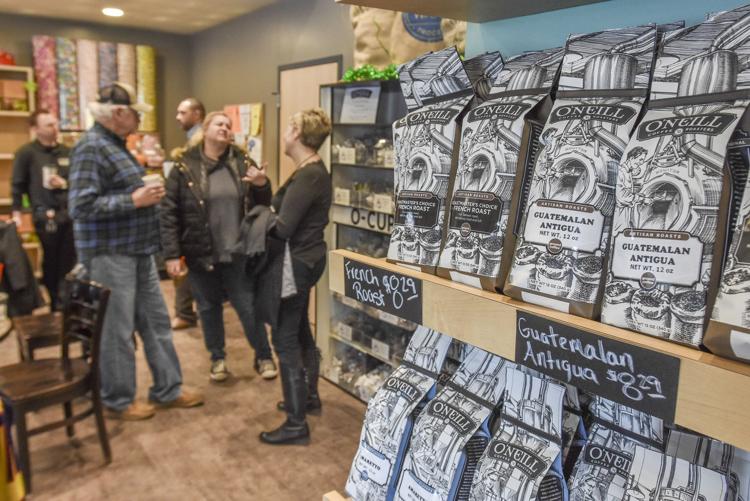 The department patrols 25 square miles of Shenango Township and the one square mile of West Middlesex, which is surrounded by the township.
Debbie Burke, of O'Neill Coffee Co., said that she was contacted by Newton's wife, Rachelle, who the chief refers to as the department's "first lady."
Burke said Rachelle Newton arranged the get-together, posted it on social media, and made and distributed flyers.
Rachelle also attended the festivities with the Newtons' 2-year-old daughter, who was the toast of the party.
"I think it's an awesome opportunity to meet the cops, and it's just a relaxed atmosphere," Burke said. "I see it becoming some kind of a regular thing if they would want to do it again. It's a great meeting place to come and enjoy a drink."
Follow Melissa Klaric on Twitter and Facebook @HeraldKlaric, email: mklaric@sharonherald.com