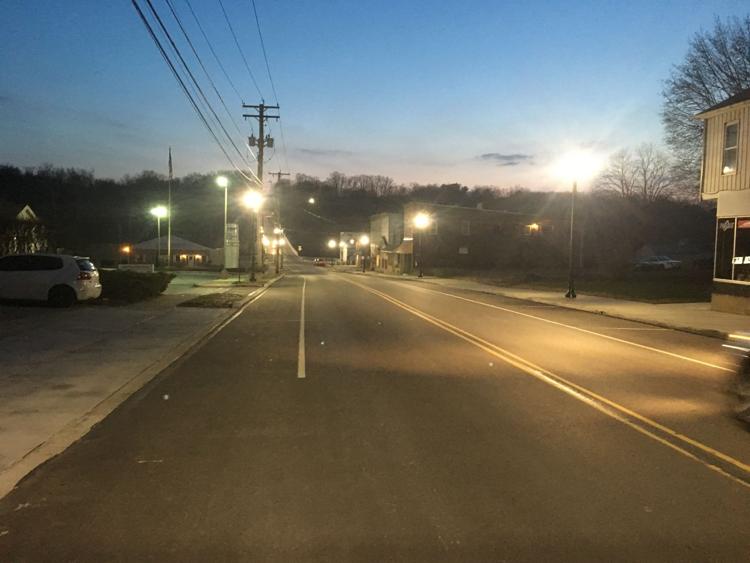 WEST MIDDLESEX – Lori Allen is hoping West Middlesex lightens up just a bit.
As the owner of Lori's Yoga on Main Street, Allen finds walking in and out of her wellness center after the sun sets is a dark experience. 
"I sure wish there was street lighting here,'' Allen said. "I feel for the safety of my students and myself when I close up for the night in the winter when it gets darker earlier.''
She isn't alone.
A petition asking for more lighting on the street was signed by 10 residents and was submitted to the borough.
"I didn't know about the petition,'' Allen said. "But I really think we need more street lights here.''   
Town officials met with a Penn Power representative Thursday morning at the borough building to explore adding lights on Main Street.
John Greenwood, FirstEnergy area manager, talked about the various kinds of street lights that are available. FirstEnergy owns Penn Power which provides electricity for all of Mercer County. 
Costs for the lights can range from hundreds to thousands of dollars, he said. Ultimately, it's up to the town to decide what kinds of lights it wants.
Harry Kornbau, who lives on Main Street, was the only resident who attended the meeting.  
"The street and alley in back of me is dark,'' he said.
Bob Lark, president of West Middlesex council, said the borough is taking a good look at adding lights. 
"This is going to be a long-term project,'' Lark said. "We have to figure out where lights are most needed and our costs for adding the lights.''
New bright lights installed on the recently completed bridge in West Middlesex that sits on Main Street brought the issue to attention, Lark said. The new bridge lights were installed by PennDOT as part of that project.
"The new lights showed what we have and what we don't have,'' he said.
Lighting needs along Main Street, from the bridge where the new lights end and heading east through town, will be reviewed, Lark said.
Placing the same lights that are on the bridge along the rest of Main Street where homes are probably isn't in the cards, he added.   
"We had residents living near the bridge complain that the lights were too bright,'' Lark said. 
Penn Power regularly coordinates street lighting projects with communities, said Chris Eck, a FirstEnergy spokesman.
"Obviously, this is used to increase safety,'' Eck said.
But each community is different in terms of its layout and lighting needs.
"There is no one size fits all,'' Eck said. 
Large communities can have difficulties in trying to create uniformity among the lights. That situation occurred when FirstEnergy got involved with Toledo, Ohio, in updating its outdoor lighting needs.
"It was found among their 30,000 lights they had 438 different types of lights,'' Eck said. "Those are the kind of things that can happen when you look at getting lights over a 100-year time span.''