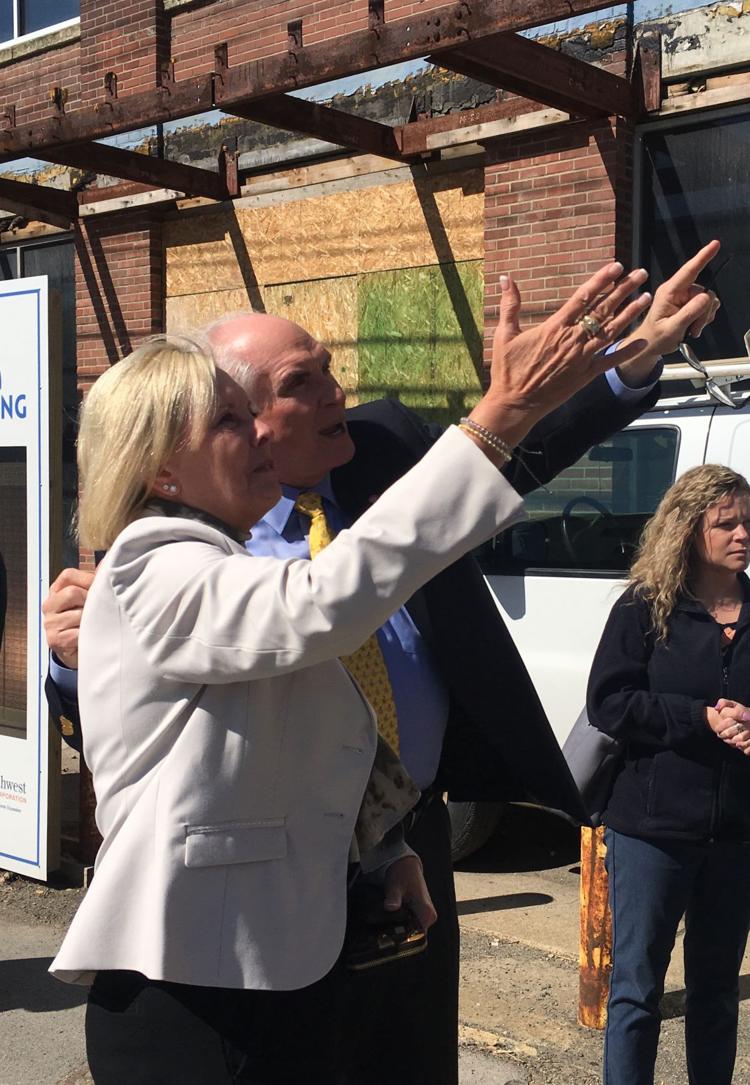 SHARON – The former Westinghouse Electric plant in Sharon could find itself going back to the future with a contribution to national defense.
Physical Sciences Inc., an Andover, Mass., company, will house a new operation in the one-time transformer plant's industrial section.
"They do a lot of work with the government in a number of areas,'' said Jack Campbell, vice president for Winner Development, which is renovating the sprawling plant along Sharpsville Avenue.
Installation of Physical Sciences' operations should begin in June at a 20,000-square-foot section of the plant should begin, Campbell said. The company secured a multi-million grant from the U.S. Energy Department to grow their business, which will serve the technology industry to a significant extent.
U.S. Rep. Mike Kelly, R-16th District, toured the facility Wednesday morning.
"You can feel the staircase steps were worn by thousands of people,'' Kelly said. "There's so much potential here.''
Physical Sciences isn't going to be a big employer at first, Campbell said. 
"I think you'll be looking at several people at the beginning,'' he said.
Campbell said the company has exciting potential because Physical Sciences has developed a process of extracting rare earth elements from coal ash.
"They'll be bringing in the coal ash from Kentucky,'' he said. "The coal ash comes from a Kentucky power plant. The ash is what's left over after it's been burned to produce electricity.''
Physical Sciences created a process of drawing out rare earth elements in a laboratory-like setting and are looking to expand its operations, Campbell said.
Representatives for Physical Sciences couldn't be immediately reached for comment Wednesday.
Rare earth elements are used in a large variety of modern products such as cell phones, MRIs and hybrid cars.
While all of this sounds like something that would only amuse tech enthusiasts, rare earths are critical in national defense.
A 2013 Congressional Research Service report indicates that two rare earth minerals, samarium cobalt and neodymium iron boron, are used to produce magnets for precision-guided missiles. The minerals also are used in disk drive motors in aircraft, tanks, missile systems, lasers for mine detection, satellite communications, and radar and sonar on naval vessels.
With the prospect of service to the nation's defense, the former Westinghouse Electric facility would revisit its work during World War II, when the plant produced guided electric torpedoes. Eventually, the factor made more than 10,000 torpedoes. 
Its service was considered so vital that "bomb-proof'' roofs were constructed on a section of the plant to thwart any chance of getting destroyed by enemy planes.
There are 17 rare earth elements, including scandium, yttrium and dysprosium. Most of the world's rare earth elements are produced in China. 
"And they've been withholding a lot of their supplies from the market,'' Campbell said. "We need to have good American resources."
After the transformer plant closed in 1985, it was later designated by the federal government as a Superfund site after PCBs were found in sections of the plant. The chemical was used in transformer production and is regarded as a hazardous material by the U.S. Environmental Protection Agency.
It took a cleanup lasting nearly 15 years before the plant was removed from the Superfund list. Westinghouse, then its successor company CBS, was charged for the cleanup. Sections of the plant are now being used by industrial companies such as Sharon Coatings, and railroad parts supplier American Industries.
In terms of employment, the plant was king among local industrial operations. The high-water mark was in 1957 when a little less than 10,000 people worked at the facility.
The former office section of the plant is being transformed to multi-purpose uses and now houses a couple of artisans. This section has been named The Landings, and Winner Development of Sharon is upgrading a large swath of the area. The company has turned over the leasing responsibilities to the nonprofit Valley Shenango Economic Development Corp.