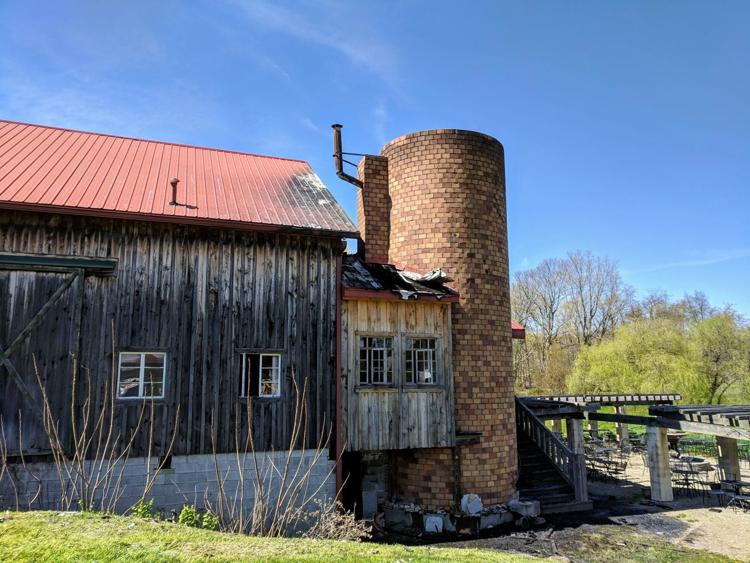 JAMESTOWN — Connie Shannon saw flames erupting from the brick silo that houses the pizza oven at Lago Winery at about 11 a.m. Sunday.
"It's your biggest nightmare," Shannon said hours later, "when you see something you worked on your whole life in flames – not knowing how bad it is – you see your life pass before your eyes."
The silo stands beside the 115-year-old former dairy barn that is now home to the winery, connected to it by a breezeway and kitchen area.
"If the flames would've caught, that barn would've gone up like tinders," said Shannon, who owns Lago with her husband, Doug. "It's a miracle it's not in that bad of a shape."
The source of the miracle, Shannon said, was the quick response by firefighters.
"But," she added, "it looks like we won't be having pizzas any time soon." 
It was the opening weekend of the season for the winery, which is about two miles northwest of Jamestown in South Shenango Township, Crawford County.
When firefighters arrived at about 11:05 a.m., they encountered heavy black smoke and flames coming from the silo and the northeast end of the barn closest to the pizza oven, according to Chief David Jones of Jamestown Volunteer Fire Department.
Despite the heavy flames and their extension from the silo into the area of the barn closest to it, Jones said, crews were able to bring the blaze under control within about 15 minutes with compressed air foam that extinguished and suffocated the flames.
"We made a very good hit on it," said Jones, who was familiar with what is one of the most popular tourist destinations in the area. "Everything went well."
No one was injured in the fire, Jones said.
THE HERALD contributed to this report.
CNHI News Service