SHARON — While most people carve pumpkins this time of year, the staff at Musser Elementary School tries to smash them instead.
In Musser's fourth annual Pumpkin Toss, a team of five teachers and administrators from the school competed Friday against five representatives of the Sharon fire and police departments, who spent four rounds trying to hit targets while the students watched and cheered.
"It's always good when kids are able to meet us in a different kind of atmosphere or environment," Sharon police Chief Edward Stabile said.
The two sides were awarded points based on what part of the target the throwers hit when their pumpkins broke apart on the parking lot, with the bullseye worth 100 points.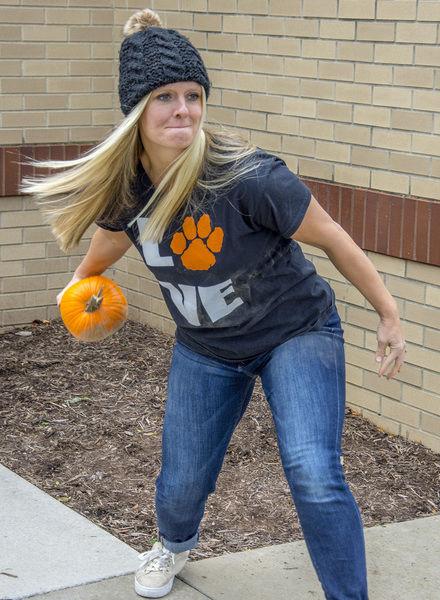 Although the children were most excited when their own teachers and staff, especially Principal Jeff DeJulia, readied to toss their pumpkins, they got behind the first responders, either by calling out names or chanting "S-F-D," for Sharon Fire Department.
"I like that we get to see the firefighters and the police," sixth-grader Bryson Roberson, 11, said.
Fellow sixth-grader Rayvion Wilbon, 11, said his favorite thrower was physical education teacher Quentin Lee, because he's funny in class. However, both students appreciated the good sportsmanship between the two teams.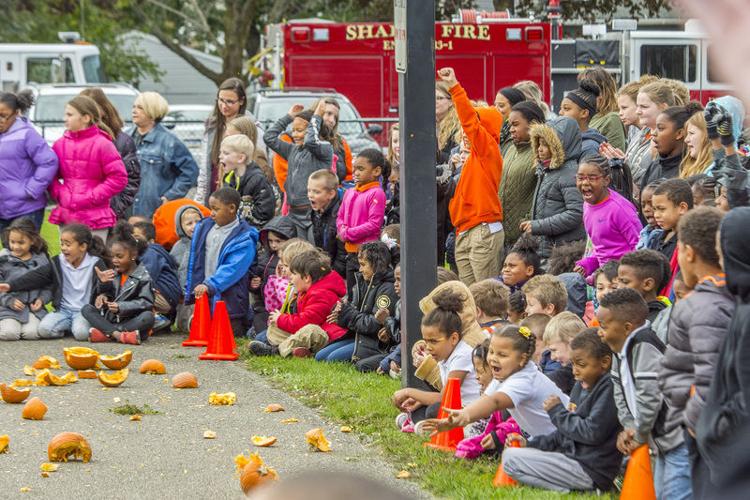 "I like how when one of the teams are losing, they're still having fun," Rayvion said.
Depending on the throwers, some pumpkins landed in a grassy area and rolled harmlessly past the bullseyes, while others hit the concrete and burst while the students cheered.
"I always go for the bocce-style throw," DeJulia said, who tossed his pumpkins under-handed.
Stabile and DeJulia both managed to hit the 100-point target in the center, but the school staff — which had the home parking lot advantage — prevailed by a score of 725 to 450.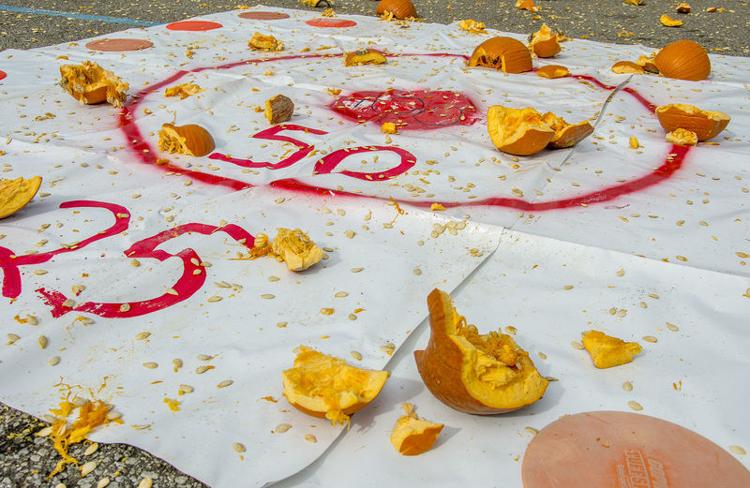 But both sides felt like winners as the children shared high-fives with the first responders, before the students headed home and the first responders went back to work.
"It's always a fun time, and you can tell the kids really enjoy it," Stabile said.
Lee, the physical education teacher, came up with the pumpkin toss idea four years ago, with the goal of improving the relationship between students the first responders. DeJulia, Musser's principal, thinks Lee's idea worked.
"We wanted to give kids the chance to meet the police and firefighters in a positive setting," he said.
Like David L. Dye on Facebook or email him at ddye@sharonherald.com.