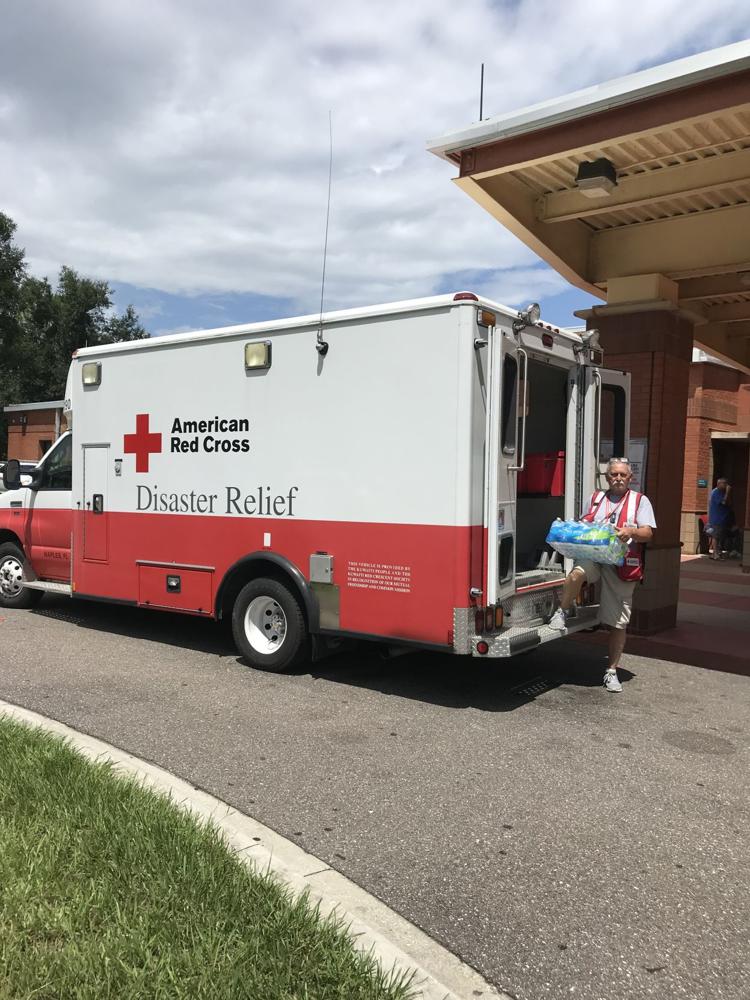 A local ambulance crew and a volunteer are on stand-by along the coast as residents in Georgia, the Carolinas and Florida deal with — or prepare to deal with — Hurricane Dorian.
Elite EMS Inc. ambulance crew members Paul Tobin and Carl Miller deployed to South Carolina, while Red Cross volunteer Albert Irwin of Farrell is in Jacksonville, Fla.
"What we're doing is delivering shelter supplies like snacks, water and other supplies to shelters," Irwin said.
He said Tuesday afternoon that residents on Florida's west coast did not have a sense of urgency at that point as they waited to see Hurricane Dorian's next move.
"The sun is shining, and it's gorgeous down here," Irwin said. "It's the calm before the storm. Everyone is watching the news and there's various stories of what's happening."
He said as of Tuesday morning stores were still open and residents were able to get the supplies they need.
Irwin said Jacksonville officials expected the storm to arrive Tuesday evening. At about 3:30 p.m., his crew was advised to stay in the shelter and off the roads until the storm passed.
"They're not expecting it to hit Jacksonville," Irwin said. "Dorian is going to be off-shore, and we are expected to get tail winds, rain and flooding."
Irwin, who has volunteered with the Red Cross for about seven years, said a typical deployment is for two weeks.
"Typically after two weeks, you're burned out and ready to go home," he said.
This deployment marks Irwin's fifth. He volunteered in 2017 in Florida for Hurricane Irma and for Hurricane Maria in the Virgin Islands. He was deployed to North Carolina during Hurricane Florence in 2018 and flooding in Kentucky. 
"Every deployment is a little different," Irwin said. "Right now, there's not a whole lot going on. We're in a preparation phase so if it becomes a large scale disaster, we have the stuff we need."
Elite EMS is a network provider under American Medical Response's contract with the Federal Emergency Management Agency.
The ambulance company is responding to the request for aid since Dorian is expected to make landfall in the Carolinas.
Along with the two crew members, the company sent an Advanced Life Support ambulance and additional medical supplies.
Tobin and Miller arrived Monday in South Carolina and will stay in the area as long as needed. A backup crew is on standby if the ambulance is still needed after 7 to 10 days.
The ambulance is under the guidance of FEMA, state and local EMS agencies.
Elite EMS has been serving the Shenango Valley since 2010. Helping at home and away is part of the company's mission, said Glenn Miller, Elite EMS director.
"As part of the EMS family, we're honored to be able to provide assistance when our communities need it most," Miller said. "It is important to know that sending these resources does not affect our ability to provide timely medical response for all the communities we serve."
American Medical Response is part of the Global Medical Response family of companies. Global Medical Response Inc. is an air, ground, specialty and residential fire services and managed medical transportation organization.
Follow Melissa Klaric on Twitter and Facebook @HeraldKlaric, email: mklaric@sharonherald.com