HERMITAGE — They were there to memorialize. They were there to support. And they were there to raise funds to find a cure.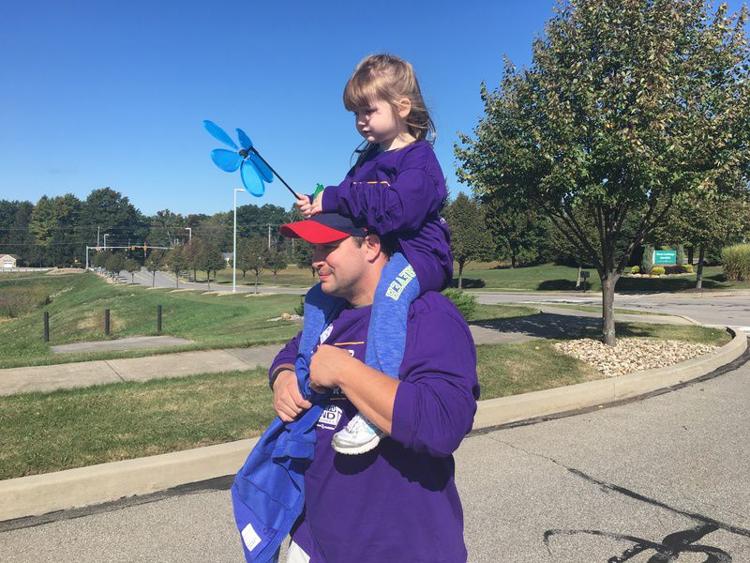 Each of the 300 people who gathered Saturday for the Alzheimer's Association's Walk to End Alzheimer's had a story — of a loved one who has lost his or her battle with the disease, as a caregiver who is standing by a wife, husband, father or mother or as a medical professional who has witnessed firsthand just what Alzheimer's steals from those who have to battle it.
The walk in the Butler County Community College parking lot at LindenPointe was about courage, love — and hope.
"Everybody does it for their own reasons," said Sara Giammarise, event manager. "Some people are the caregivers who are in the trenches every day, hoping for a cure."
There were 27 teams — all hoping to break last year's total — $20,000 for Alzheimer's research and patient care.
This year's goal was $50,000, Giammarise said. They have already raised $35,000.
One of those teams did not have the purple shirts worn by most of the participants. And they were not new to the walk either.
The Williams Gang has participated for at least 13 years, said team leader Denise Gearhart, of West Middlesex. The bright red shirts of the nearly 20 team members were in memory of Ralph Williams, Gearhart's father.
"My dad was always a funny guy and always liked being with his grandkids, so it was really hard when he got Alzheimer's," Gearhart said.
He fought the disease for 10 years, before he died, she said.
Gearhart's mother, Martha, was Ralph's main caregiver, although Ralph spent the last few years of his life at St. John XXIII Home in Hermitage. Martha took public transportation every morning to spend the day with Ralph and hitched a ride home in the evening with a family member, Gearhart said.
All eight of Martha and Ralph's children were there Saturday — to honor their father and mother.
Before the walk began, participants had a brief session to help them prepare for their trek. Lisa White, of New Castle, who does exercise with seniors three times a week at Shenango on the Green, or Shenango Presbyterian Senior Care, led the warmup.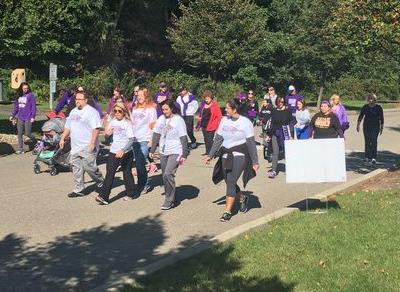 "I've worked there for 10 years, and nine of those I worked in the Alzheimer's unit," White said.
She was there Saturday for her patients, and for someone else.
White's father, Russell, suffered from Alzheimer's. Working with other seniors with Alzheimer's helped her understand her father's situation better, she said.
"I love working with them. Every time I take care of someone, I do it for Dad," White said.
White's coworker, Colleen Wilver, also of New Castle, said this was her first year at the walk. Both her parents are residents at Shenango Presbyterian Senior Care.
"Shenango Presbyterian is a supporter of the event, so I wanted to come out for them and for my parents," Wilver said.
Jon Howson of Greenville and his 4-year-old daughter Emily, also were there for the first time.
Howson said he heard about the walk through his job at Edward Jones, another of the event's sponsors. He said he also has a grandmother who is going through the early stages of Alzheimer's. This is why he brought along Emily. It is "never too early to start," he said.
"Emily still gets to see her great-grandmother," Howson said. "But she has her good and her bad days."
Along the road were small signs providing little tidbits of information about Alzheimer's — five million Americans are living with the disease and it is sixth leading cause of death in the United States.
David Tomko of Sharon, owner and operator of Visiting Angels, has seen those statistics at home and at work.
Over the years, Tomko has lost five aunts and continues to assist seniors with dementia and Alzheimer's through his caregiving service.
"I see it firsthand every day in the program," Tomko said. "I don't think many people understand how it affects the family structure, because these people with Alzheimer's need 24/7 care."
At the end of the walk, participants were congratulated while Chairperson Connie David urged everyone to come back next year at the same time and location on the first Saturday after Labor Day.
It is not too late to contribute to the cause. Donations can be made at act.alz.org/sharon2017, Giammarise said.
Like David L. Dye on Facebook or email him at ddye@sharonherald.com.