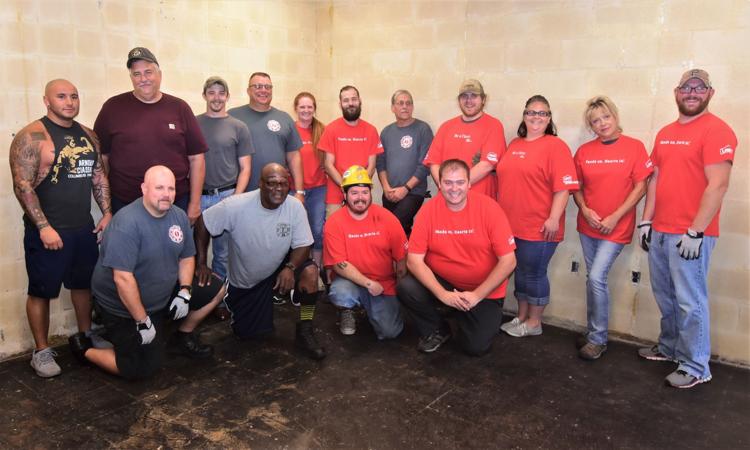 FARRELL — Firefighters are used to sometimes breaking into burning houses, but things went a little differently Saturday morning at the Farrell Fire Department.
Instead, a group of about eight people in bright red shirts helped some of Farrell's firefighters tear out the floor and the walls. The room undergoing renovations, referred to by Farrell fire Chief Mike Renner as the kitchen and day room, was about 25 years old and used to include features such as a television, recliners and kitchen cabinets.
But by about 10 a.m. Saturday, the room was completely bare.
"I can't believe we went from sitting in here drinking coffee during the shift change, to having this completely tore out a couple hours later," Renner said.
The project was part of the Lowe's Home Improvement's "Lowe's Heroes" program, a nationwide program where Lowe's provides $6,000 to each of its stores to put toward community projects. The employees are also provided eight hours of time to donate, said Jarrett Olson, store manager of the Lowe's in Hermitage.
"The community's always been good to us, so it's a way for us to give back to the community," Olson said.
This year, Lowe's provided new kitchen cabinets and some employees to help get the kitchen and day room's renovation started, Olson said. They also providing two handicap-accessible ramps to local Boy Scout troops in Hermitage.
As the room was cleared of debris, Renner explained how the firefighters would spend their down time at the station.
"Normally we'd have a TV and a couple recliners over there," he said, gesturing to the side of the room overlooking the parking lot, "while the kitchen area would be over here."
The project is one that department officials have considered for the past couple of years, which finally came to fruition this year when Renner said he was directed by Farrell City Manager Mike Ceci to Ron Kuzmo with Lowe's. Applying for the project at the beginning of the year, the fire department was recently announced as one of the recipients, Renner said.
With the room cleared of flooring, other work, including plumbing and painting, can begin before setting the kitchen cabinets. Farrell resident Dennis O'Neil will design the kitchen's countertops. Work on restoring the room is expected to take a couple weeks, Renner said.
Once work is completed, the kitchen and day room is an area that will see plenty of use by firefighters.
While there are some volunteers, the department also has paid firefighters, with at least two people manning the station 24 hours a day, seven days a week. Depending on the shifts, which can range from eight to 24 hours, the firefighters spend the night at the station, Renner said.
Aside from fires in Farrell, there's an agreement in place that has the Farrell and Sharon fire departments tripped immediately for fires in each other's communities. That means at least two firefighters from Farrell and four from Sharon c an respond to a call, Renner said.
"Everyone has their own set of bed sheets, and we have a locker room and showers for these guys, because they basically live here when they're not on call or training," Renner said.
Like David L. Dye on Facebook or email him at ddye@sharonherald.com.