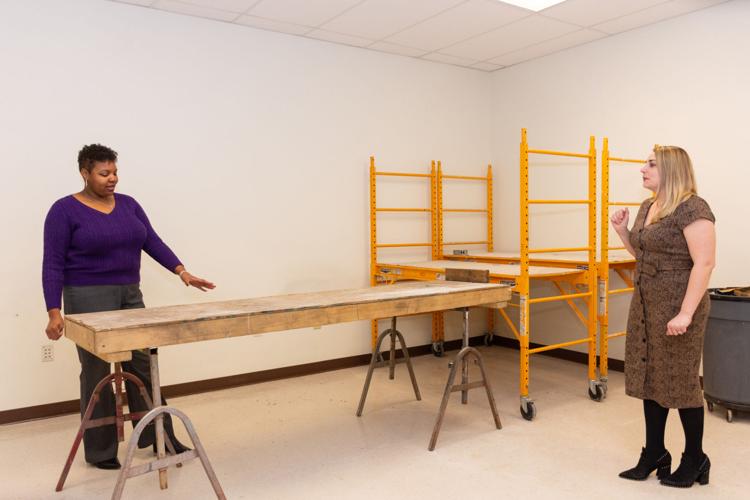 SHARON — Before he passed away in 2008, Christopher Decker wanted to bring to the area an incubation space for businesses, as well as a local community art gallery.
Though a small business incubator was established at a campus in Uniontown, Pa., Christopher, the founder of Laurel Technical Institute, never got to see such an opportunity brought to Sharon. However, his wife Nancy Decker, president and CEO of LTI, and his son, Doug Decker, LTI's vice president, will see such a project brought to fruition in the near future.
LTI's building at 200 Sterling Ave in Sharon will host the Shenango Valley Community Connections Collaborative, or SVC3, a project that will involve a Fab Lab – "fab" short for fabrication – available to the community at large, business incubation space and an ecommerce element.
"We're blessed and fortunate to be a part of this," Doug said. The announcement was made Friday.
The former classrooms will allow space for about four or five businesses, though a co-working area can allow for additional businesses to share space, Doug said. Eventually, it is hoped that those businesses incubated at SVC3 will graduate to space available locally, Nancy said.
"This really is exciting for me to see all this coming to fruition," she said.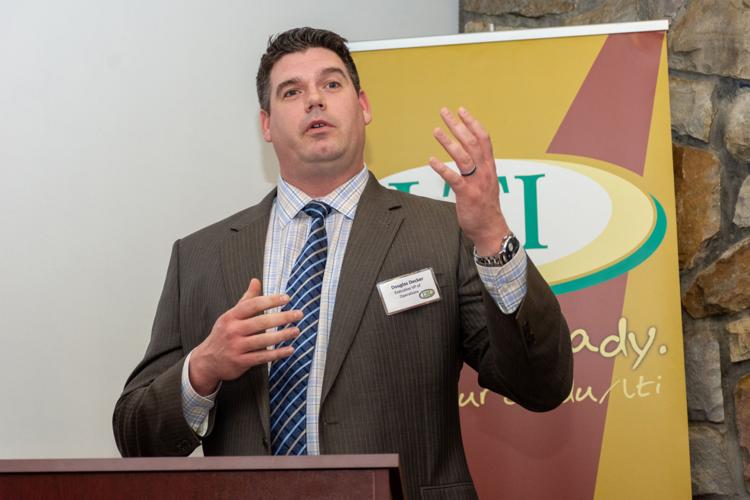 Though some of LTI's classes used to be held at the Sterling Avenue location, Doug said all of the courses aside from the culinary program have since been relocated to LTI's school on Broadway Road in Hermitage.
"This really came at the right time because we had half a building that we weren't using," Doug said.
Though a previous attempt at a local art gallery fell through, art by the local group Random Acts of Artists will also be on display at SVC3, as will pieces created by Whole Life Services, said Sherris Moreira, executive director of the Shenango Valley Chamber of Commerce.
Present at Friday's announcement was Jake Morgan of Brohana Men's Products, which will be the first business set up at SVC3. The company, which creates products for men's beards such as oils and soaps, started in August 2019, in the eCenter at LindenPointe in Hermitage, Morgan said.
Though the eCenter helped to get the business started, Morgan said SVC3 would provide them their own space instead of the shared space at the eCenter. The manufacturing equipment would also be helpful for the business, since some of their products involve customizable items such as containers with the customers' faces etched into the side.
"We reached out to Sherris about opportunities for rentable space in the area, and she said 'you're in luck,'" Morgan said. "By relocating to Sharon, we have more manufacturing space, and we'd have access to more equipment than what we have already for making our products."
Collaborating on the project are the Shenango Valley Chamber of Commerce, the City of Sharon, Random Acts of Artists, the Shenango Valley Urban League, the Guardians Nest Veterans Resource Center and Whole Life Services.
Whole Life Services will also match the grant with equipment for the Fab Lab, which includes a cutting laser, a vinyl cutter, two 3D printers, a Handibot for wood projects, 20 laptops, and Corel software, said Cindy Vogan, CEO of Whole Life Services. Other equipment is still being considered, which Vogan said would likely include a garment printer.
Though available to the community at large, the Fab Lab would place an emphasis on minorities, veterans, the artist community and workers with intellectual development disorder. Currently helping 91 people through various programs, Vogan said smaller groups could be brought from Whole Life Services to use the Fab Lab's equipment while getting people with developmental disabilities involved in the community.
"The most important thing is inclusion," Vogan said. "Here they'll be learning, they'll be working around others, and the building is right here in Sharon."
The SVC3 project was made possible by a multi-year grant of $100,000, which was awarded for the first time by the Pennsylvania Council on the Arts.
Sarah Merritt, director of Creative Communities with the Pennsylvania Council on the Arts, was involved in the process of receiving letters of interest from municipalities and eventually whittling down the final four projects that received grant funding. Sharon continued to "drift to the top" due to the letters of interest and a site visit prior to the grant being awarded, Merritt said.
"I would have been happy to receive 40 letters — we received 105," she said.
Others present for the event included state Rep. Mark Longietti, state Sen. Michele Brooks, Director Maggie Horne of Gannon University's Small Business Development Center, and Community and Economic Development Director Melissa Phillips.
Like David L. Dye on Facebook or email him at ddye@sharonherald.com.