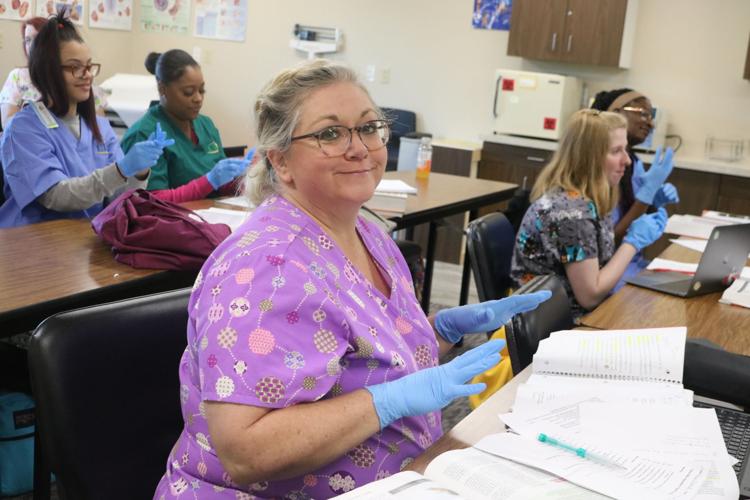 HERMITAGE — After raising her three kids, Misty Cromartie now spends her days around classmates almost young enough to be her children.
Cromartie, a New Jersey native who now lives in Farrell, has worked as a personal home health aide and was a laborer in a steel mill. But she's aiming for a post-parenting career as a medical assistant, and attending classes in Laurel Technical Institute's clinical medical assisting program.
She said returning to school as an adult has been an adjustment.
"It's hard trying to get focused," she said. "But I'm going to make it."
LTI's medical assisting curriculum is feeding the demand for one of the fastest-growing trade school occupations in the region, and the students now have an up-to-date classroom where they can work. 
Most of the clinical medical assisting space is a typical classroom, with chairs, tables and a desk for the class instructor.
But along the walls, the room looks more like a doctor's office, with cabinets for medical equipment, EKG machines, an examination bed, artificial body parts for clinical instruction. This helps students get a feel for what work will be like, said Tiffany Rosta, a medical assisting instructor at LTI.
"As a medical assistant, you can do everything from outpatient services, coding and billing, blood work, phlebotomy, vital signs, to EKGs, to drawing blood," Rosta said.
Among those in Rosta's class were two second-semester students, Melissa Cunningham of Masury, and Megan Mishata of Farrell, who had used the school's previous classroom at LTI's center on Sterling Avenue in Sharon, and the new space in LTI's larger building along Broadway Avenue in Hermitage.
"There's a lot more room for us to work, and I'm a really visual learner, so it helps me when I can actually see it and do it," Mishata said of the new room's facilities.
She said one thing that stuck out to her about the medical field was the medical terminology she had to memorize. Cunningham said she was interested by the human body's intricacies.
But they both agreed that their decision to participate in the program was one of the best decisions they had ever made.
"The staff here is really good too — they always talk to us like we're equals," Cunningham said.
The clinical medical assistant program is a 12-month program divided into three semesters — spring, summer and fall. During the final semester, students perform 300 hours of internship work in places like hospitals and doctors' offices.
LTI's CMA courses isn't the only program affected by the renovations. The renovations, on the Broadway building's second floor included classrooms for respiratory technician and medical lab technician programs.
Douglas Decker, LTI's executive director, said the school's first phase of renovations in 2017 focused on the ground floor and brought the trades and cosmetology programs to the Broadway campus, near the interchange for interstates 80 and 376. The second phase, focused on the building's second-floor area and the medical programs, started earlier this year and was completed last month.
The third phase of renovations began in September and will add two modern computer labs on the ground floor, and a second-floor space for students to take breaks or attend large-group instruction. The school could also use the room for public events, Decker said.
Work on the third phase is expected to be completed in November.
The Sterling Avenue campus in downtown Sharon is expected to remain open for business and networking programs, general education, the pharmacy technician program and a large assembly area for events.
Decker said some students may still attend classes at both campuses. He said expanding the rooms will help consolidate LTI's programs at the Broadway Avenue campus.
"There are a lot of educational benefits from that, because the students don't have to move around as much, and it allows the teachers to collaborate," Decker said.