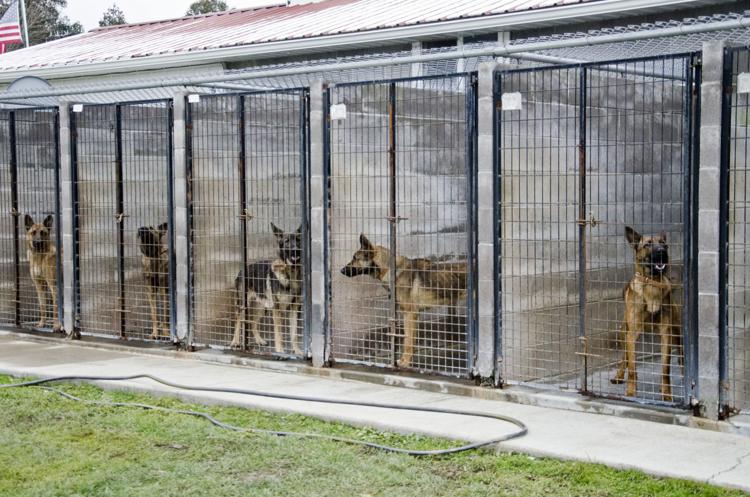 MERCER – A man accused of taunting police dogs by hovering a drone over a training kennel in South Pymatuning Township has been acquitted of all felony charges.
Robert C. Layman, 69, of 6484 Lakeside Drive, South Pymatuning Township, was found not guilty by a jury of charges of taunting police dogs and ecoterrorism.
Common Pleas Senior Judge John C. Reed found Layman guilty of summary harassment and disorderly conduct charges. He was fined $450 and court costs.
South Pymatuning Township police said Layman flew his drone over Shallow Creek Kennels at 6572 Seneca Road several times during the summer of 2017. Shallow Creek trains dogs for the police and military.
Police said the dogs were being tormented so badly that they injured themselves. The injuries were to 10 dogs, all hand-picked from Europe and worth a total of at least $70,000, the kennels' owner, John Brannon, had said.
The noise and presence of the drone aggravated the dogs to the point that they tried to chew through a chain-link fence to get at it, police said. One of the dogs had his eye gouged out and another dog broke a hip. Both dogs were disqualified from becoming a part of a K-9 team and were given good homes.
In a police report, Brannon said he caught the drone flying on video surveillance. He also said that he followed the drone to Layman's property and asked him to keep the drone away.
Layman's attorney, Corey Bauer of Pittsburgh, said that if the police dogs were being taunted, it could not have been by Layman's drone.
"For two years, this dragged on because (the prosecution) sent the drone data to the FAA," Bauer said. "The FAA found that there were no flights on the dates they said there were flights."
Bauer said that the Federal Aviation Administration data showed that out of 96 flights, Layman flew the drone over Shallow Creek Kennels nine times and that he was never lower than 150 feet.
"They (the prosecution) were saying he was flying close to the kennels, and he just couldn't have been doing that," Bauer said.
"We had witnesses testifying that the drone data is accurate."
The attorney said Layman's side of the story was never told.
Layman, an Air Force veteran, always wanted to get his pilot's license but it was too expensive. So he bought a drone. He flew the drone on vacation in Florida and Canada. He also flew it in his neighborhood.
"One of our biggest concerns is that he was dragged through the mud over it. The power of accusation is so strong," Bauer said. "He was never interviewed for those charges. He had four police officers show up with a search warrant, then he was just arrested."
He said that Layman even had a neighborly relationship for 15 years with the Brannons, owners of the kennel.
"Brannon did ask him to stop flying over the kennels and drone data shows that he never flew over it after that," Bauer said. "Bob's drone was not the drone that did it. There's no way."
The expert witness that testified for the defense works with state troopers and police departments around the state, Bauer said.
"He flat out said he's never seen any flights go missing," Bauer said. "We flew in the simulator in real time for the nine flights for the jury. They could see everything and the jury came to the conclusion that he never flew close to the kennels."
Bauer alleged that the Mercer County District Attorney's office did not take the time to analyze the drone data.
"It was just one of those situations where I could not get the district attorney's office to listen to me. They tried to discredit the drone data. It's data," Bauer said. "Mr. Acker said, 'We believe that your client should be in jail.' I guess innocent until proven guilty doesn't exist. It was pretty troubling."
District Attorney Pete Acker said that when this happened, there were not a lot of regulations for drones.
"Now there's licensure requirements," Acker said.
Acker also said he did not agree with the verdict, but accepted it.
"You can't second guess juries," Acker said. "They do what they do and there's no recourse for the commonwealth. We close the file and move on."
Bauer said accusations that his client's drone followed around a police officer and peeped in windows were also inaccurate.
"There's no flight in the flight data for the two dates when witnesses say that happened," Bauer said.
A police officer said she was followed by a drone Oct. 8, and on Oct. 22, it was alleged that Layman's drone hovered by windows at night and flew around the back of a house, Bauer said.
"There was no flight on that night either," Bauer said. "There were no flights after Oct. 10 when Brannon went to talk to (Layman) and no drone flight after dark in Pennsylvania."
Bauer said it was an honor to represent Layman because he was truly innocent of the crimes of which he was acquitted.
"The FAA did their own investigation after it was reported by the police department," Bauer said. "They found Bob did not violate any FAA regulations. They looked at the drone data."
Follow Melissa Klaric on Twitter and Facebook @HeraldKlaric, email: mklaric@sharonherald.com