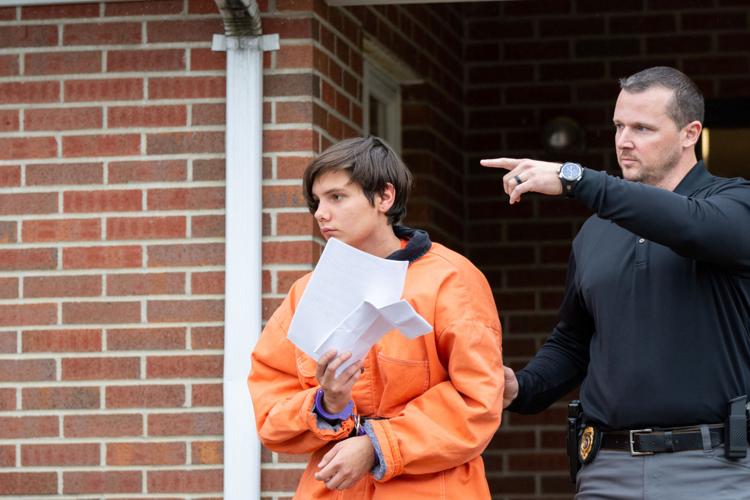 SHARON – A Sharon man arrested in connection with accusations that he raped a 14-year-old girl waived his right Thursday to a preliminary hearing.
Leonard M. Frye Jr., 19, of 276 Oak Way, is accused of making video recordings of sexual encounters he had with the juvenile, who died Oct. 26. 
Frye was in District Judge Dennis M. Songer's court Thursday for a preliminary hearing on charges of involuntary deviant sexual intercourse of a person less than 16, statutory sexual assault, aggravated indecent assault of a person less than 16, photographing or filming a sex act, child pornography and criminal use of a cell phone.
Frye had previously been charged with rape of a substantially impaired person, statutory sexual assault and corruption of minors in the case. These charges stem from allegations that he had sexually assaulted a child.
The latest charges came from a police review of 14 video files stored on Frye's cell phone, according to a criminal complaint. Police said the files contain pornographic images that show Frye assaulting the victim.
Frye is in Mercer County Jail after failing to post bond.
In an interview with police, Frye said he had been in a three-month relationship with the 14-year-old Hermitage girl, according to the criminal complaint. Frye said he was in love with the girl and was distraught over her death.
On the morning of the girl's death, Sharon police responded to a call at Frye's home on a report of a possible overdose. The cause and manner of the victim's death are undetermined pending toxicology results.
None of the charges filed relate to the girl's death.
According to an affidavit of probable cause, officers found the girl in a second floor bedroom with illegal drugs and drug paraphernalia. 
Police said Frye woke up and tried to revive the victim.
Frye's prosecution moves to Mercer County Court of Common Pleas. His next court date is set for Feb. 4.