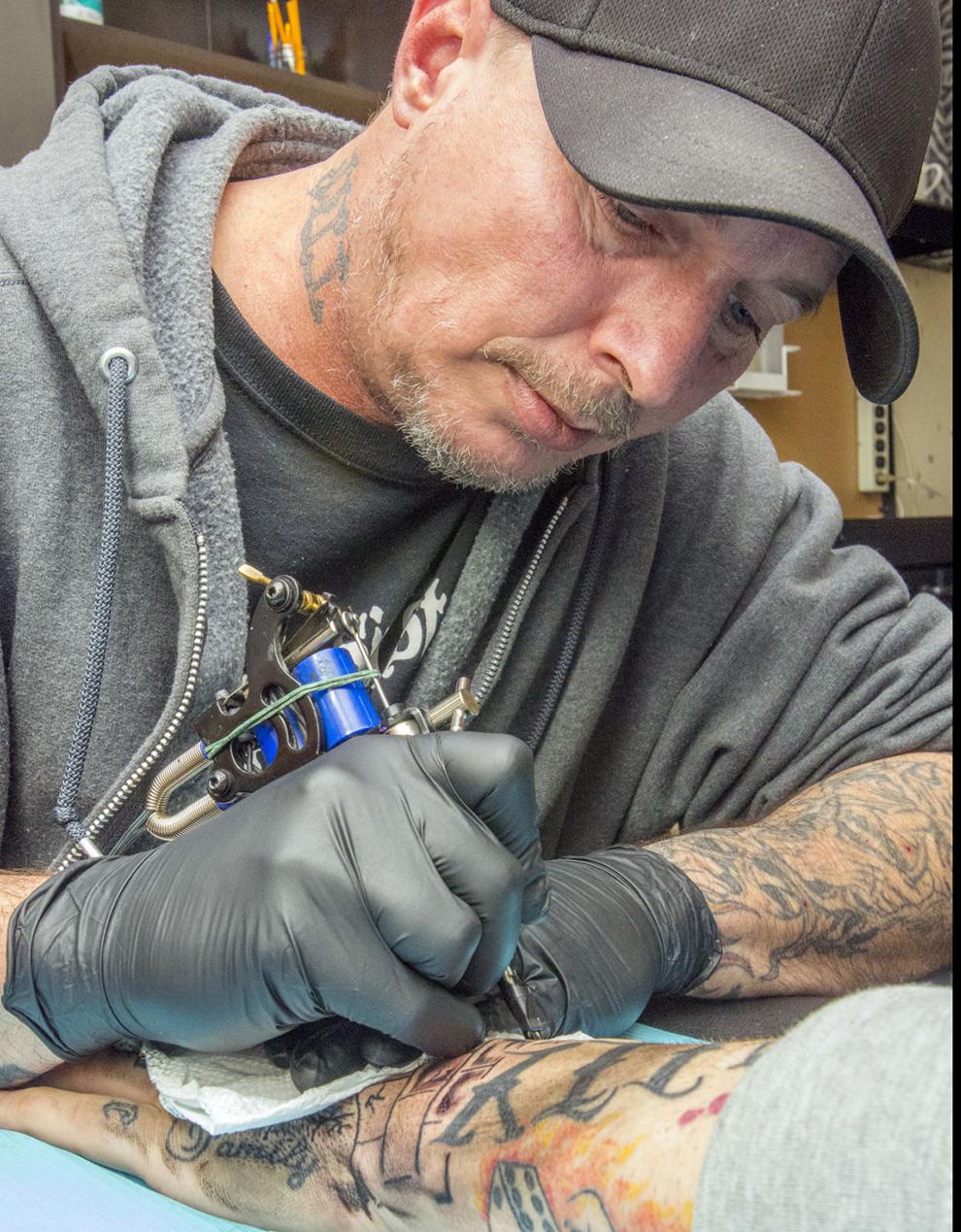 EDITOR'S NOTE: There have been 92 bills signed into law by Gov. Tom Wolf this legislative session, but that's just a fraction of the hundreds of bills introduced by lawmakers. In this continuing series, we take a look at some of the noteworthy pieces of legislation that haven't gotten much attention statewide.
HARRISBURG – In Pennsylvania, you need a license for a wide variety of lines of work, ranging from cutting hair to massage therapy and auctioneering. You don't need a license to use a needle to etch permanent patterns on customers' skin.
Even many tattoo artists think this needs to change.
"It's very unprofessional" that Pennsylvania doesn't require inspections or licensing, said Ian Bales of Triple Sin Studios in Sharon.
On occasion, he's had people come into his shop with staph infections after getting tattoos done by "scratchers," poorly trained tattoo artists who don't follow proper safety practices.
Tattooing was banned in New York City for nearly 40 years after a hepatitis B outbreak linked to tattoo parlors in 1961. That ban was finally lifted in 1997.
At least 38 states require inspections of tattoo parlors, demand that tattoo artists pass a test to be licensed or otherwise regulate the industry, according to the National Conference of State Legislatures.
Pennsylvania isn't one of them.
Pennsylvania's only state law regarding tattooing bars minors from getting tattooed without parental consent.
Legislation authored by state Rep. Anthony DeLuca, D-Allegheny County, would change that.
DeLuca's legislation would direct the Department of Health to establish sterilization, sanitation and safety standards for any business engaged in tattooing or body piercing and creates a central registry within the department for persons performing tattooing or body piercing.
His plan would also require that anyone working in the tattooing industry to pass a written test examining health, sterilization and safety standards. It would also require the Department of Health to inspect tattoo parlors.
The need for regulation of the industry is only exacerbated by the fact that tattoos have become increasingly popular among millennials, DeLuca said in a memo to other lawmakers.
"Studies have found that about 40 percent of people under the age of 40 have or had a tattoo, yet this business is not regulated," DeLuca said.
His legislation, HB 456, passed out of the House Health Committee unanimously in December. It's now awaiting action before the full state House.
Frank Sandoval of Total Commitment Tattooing in Johnstown, Pa., said he'd "100 percent support" the type of regulations proposed by Deluca.
He travels the country doing tattoo artistry and regularly has to pass state tests to get certified.
Triple Sin Studios advertises on his Facebook page that the artists at the shop are trained and certified. But that certification comes from having worked in other states, Bales said.
Nick Mercadante at Noveau Ink in Selinsgrove, Pa., said that there are horror stories of tattoo artists re-using needles. He has staff at his shop open the packaging with the tattoo needle in it in front of the customer so there is no question whether the equipment is sterile, he said.
Like the other tattoo artists interviewed for this story, Mercadante said his staff have had to get health certification done to take part in tattoo shows in other states.
The need for state regulation might be even more important in an industry, such as tattoo shops, where businesses regularly open and close in relatively short periods of time, Mercadante. In addition, training for artists tends to be informal. Many tattoo artists will have some training in art, Mercadante said. But in Pennsylvania, tattoo training is generally based on informal apprenticeship arrangements, Bales said.