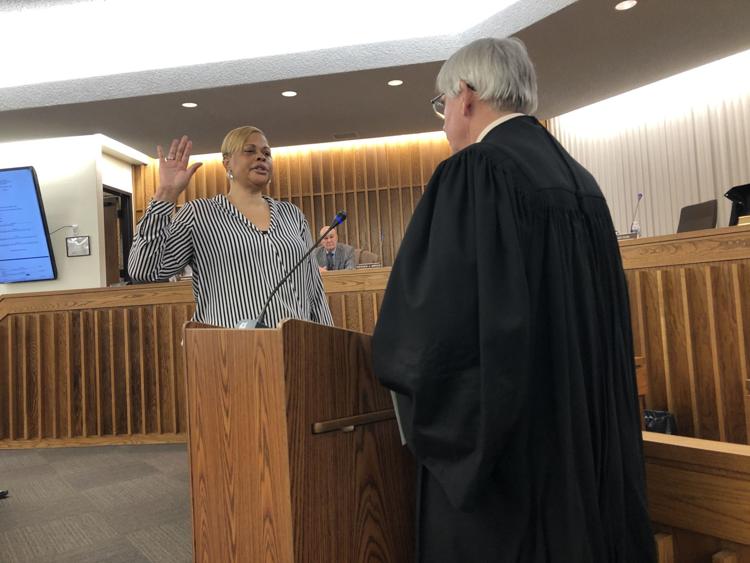 FARRELL — In a move that Mayor Kimberly Doss warned would cause dissension in the city, council appointed former Mayor Olive McKeithan to fill the panel's final seat.
McKeithan, who will serve through 2021, assumes the vacancy created by Doss' election as mayor.
With Doss and Stephen Bennefield dissenting, council voted 4-2 to appoint McKeithan. Voting in favor were Robert Burich, Cliff Gregory, Terrence Crumby and Albert Rock.
Moments earlier, District Judge Dennis Songer swore in Doss, Crumby, Rock and Treasurer Melissa Cannone. After the appointment vote, Songer swore in McKeithan.
"All y'all can vote however you want to vote, but there's going to be dissension," Doss warned prior to the appointment vote. "There's not going to be togetherness. This has been a mess the whole time."
Doss had attempted to have McKeithan's appointment removed from the agenda because of what the mayor called a "conflict of interest" in reference to an "unprofessional" voice mail message McKeithan left on Doss' cell phone.
That measure failed 4-2, with voting going the same way as it did a few minutes later for McKeithan's appointment.
Doss defeated McKeithan and Andrew Harkulich in the in the Farrell mayoral Democratic primary last May.
At Monday's reorganization meeting, Doss said McKeithan attacked her character in a voice mail and accused the new mayor of being controlled by drug dealers.
Doss played the voice mail for the packed meeting room. Afterward, the new mayor had to gavel down a vocal crowd for speaking out of turn.
McKeithan, who confirmed after the meeting that she left the voice mail, said she intended to congratulate Doss after a tough election campaign and denied Doss' claim about owing allegiance to dealers.
The former mayor said she told Doss that there may have been a perception about drug dealers supporting the new mayor's campaign.
"Don't get your feelings hurt," McKeithan said in the voice message. "Put on your big girl panties and run the city."
McKeithan said she was trying to encourage Doss. But the new mayor said she didn't see it that way.
"I have been professional throughout the election," Doss said. "But what about that character?"
With McKeithan returning to council, Doss said she thought Farrell would have a split panel.
"I think there's still going to be division," she said.
Bennefield was named deputy mayor in a 4-2 vote, with Gregory and McKeithan dissenting. Doss, Burich, Crumby and Rock voted in favor and Bennefield abstained.
Under Farrell's city charter, the mayor is one of seven members of council and runs its meetings.
The atmosphere was more cheerful after Doss was sworn in, as the packed house offered a standing ovation that raised a swell of emotion in the new mayor.
"I was happy, very happy," she said. "I had a lot of support."
Follow Eric Poole on Facebook and Twitter @HeraldEricPoole. Email him at epoole@sharonherald.com