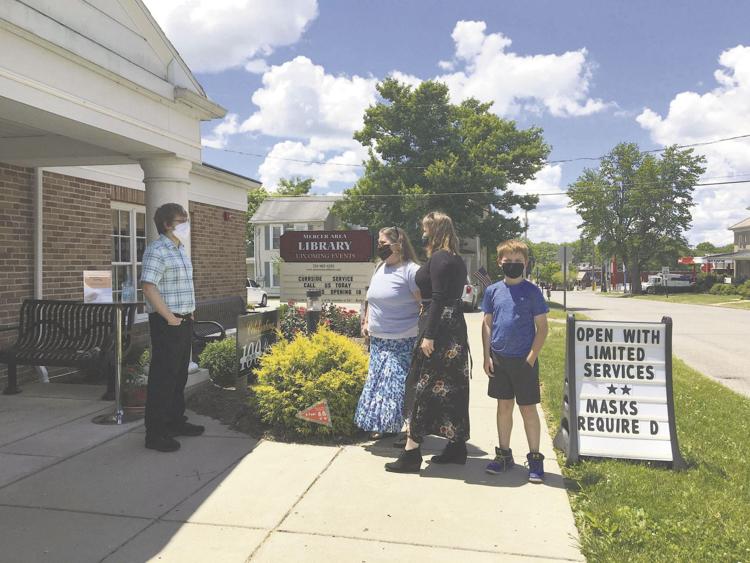 MERCER – Mercer Area Library staff and volunteers welcomed patrons on Thursday, the first day in three months that the building was open to the public.
"We're happy to see them again," said Matthew Goldyn, the library's director.
The library closed March 13 because of the COVID-19 pandemic. With its opening, it became one of the first libraries in Mercer County to resume in-person browsing.
Goldyn, director since 2015, said he's never had to handle anything as complicated as a pandemic, but he does recall reading that the library's initial opening in 1918 was delayed because of the Spanish Flu pandemic.
"It's not unheard of, but it's been a long time," he said on Thursday afternoon.
On Thursday, Goldyn stood outside the library, at 110 E. Venango St., Mercer, prepared to greet patrons and remind them to wear masks and maintain 6 feet of distance – reminders reinforced with signs inside and outside the building.
The signs also reminded visitors to use hand sanitizer before entering. Occupancy is limited to 15 patrons at a time, and Goldyn keeps up-to-date on recommended practiceswith the Office of Commonwealth Libraries, the U.S. Centers for Disease Control and Prevention, and the state Department of Health.
About three dozen people had stopped at the library by lunchtime Thursday, and Goldyn said everyone has cooperated with the preventative measures that are in place.
Chiara Johnson of Mercer visited the library along with her mother Traci Alloway and brother Hays Johnson on opening day. She told Goldyn that they were glad to be back.
The family left with a large stack of books, and they said they appreciate the library's efforts. Alloway added that she has enjoyed using the library's curbside pickup service, which Goldyn said remains in place.
During the shutdown, the library expanded its e-book selection and offered some virtual programming, and the staff is gearing up for its summer reading program, which will also be virtual.
Karla Snyder, who oversees interlibrary loans, said she is planning arts and crafts and other activities kids can take home for preschool storytime.
Patrons who visit the library in person can check out materials, use the computers, and make copies.
The library has a bin for patrons to place books that they handled but decided to not check out. Those books are cleaned before being returned to the shelves, along with materials that patrons return, Goldyn said.
Materials being returned must be left in the outside book drop.
As part of the reopening process, the library has staggered the staff schedule, moved furniture apart, put up acrylic shields around the circulation desk and the building is cleaned and sanitized on a regular basis.
The library had to cancel events, like its art show and book sale, which will be rescheduled, and there is uncertainty about some funding sources.
"There are still a lot of question marks," he said, and added that he's been looking into grants.
Goldyn said it's too soon to say when more restrictions might be lifted, but he feels things have been running smoothly, considering the situation.
Current library hours are 10 a.m. to 6:30 p.m. Tuesday through Friday, with the first hour designated for those who are at high risk.
The library is open 10 a.m. to 4 p.m. on Saturdays for in-person browsing only; curbside pickup is not available.
For more information, call 724-662-4233, email mercerarealibrary@zoominternet.net or visit mercerarealibrary.org or "Mercer Area Library" on Facebook.