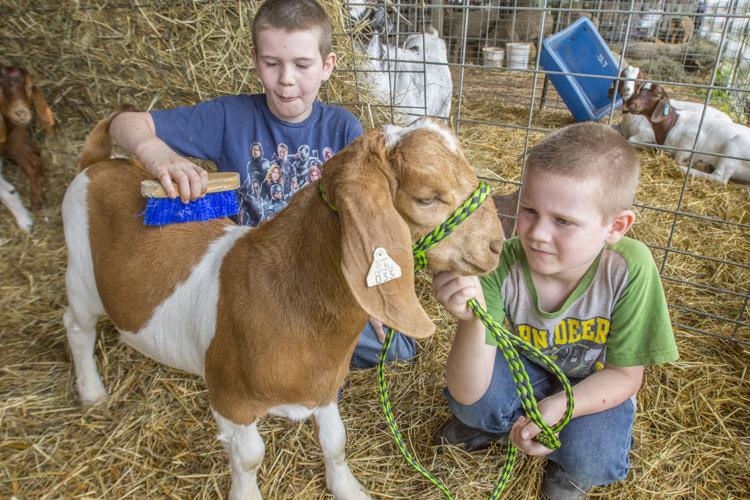 FINDLEY TOWNSHIP – Carrying an ice bucket, Jim Richardson carefully weaves his way through the Mercer County Grange Fair's kitchen.
He doesn't drop a single ice cube or bump into any of the kitchen tables, stoves or sinks. A remarkable journey given that he is totally blind.
"A lot of people don't realize I can't see,'' said Richardson, who has been the fair's chairman for the past eight years.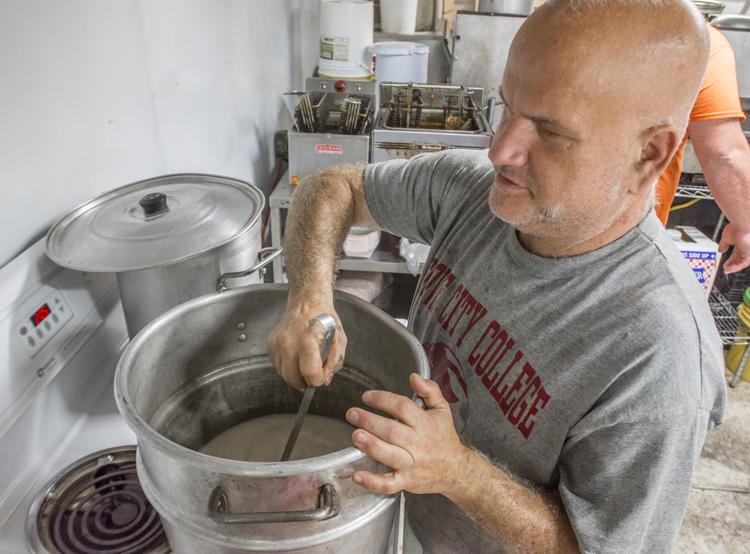 Growing up on his family's Pine Township farm, the 52-year-old became completely blind in 1999 due to complications from diabetes. Neither he nor anyone in his immediate family farms these days. Richardson works most of the year at Grove City College as its athletic equipment manager.
The fair is his true passion. He volunteers his time by cleaning, cooking, stocking shelves and directing volunteers.
"There's no personal limits for me,'' Richardson said of his abilities.
He is fearless as he roams the fairgrounds.
"I never use a cane when I'm walking outside here,'' he said.
Richardson finds his way to the fair's various buildings by using a combination of memory and ingenuitive science. He hangs speakers on poles at strategic points on the grounds. As radio music is played over them, he listens and figures out his location by the volume of each speaker. It's like using sonar, but in reverse.
"I kind of feel my way,'' he said. "I can find my way without a cane as long as the radio is going.''
When he became chairman, Richardson said he inherited a fair that was $48,000 in debt.
"We maxed out our line of credit,'' he said.
Through a combination of grants and donations, Richardson was able to pay that debt off. And at the same time, buildings got needed improvements, like replacing worn out roofs.
Running the fair isn't cheap, he said.
"It costs us $6,000 just for insurance, and we're only open one week,'' Richardson said.
So far he's been able to keep the fair's finances above water.
"We're not sinking yet,'' Richardson said. "But we're not raking in the dough either.''
There are not as many animals being entered into contests, he acknowledged.
Andy King was among those involved in the livestock competitions with his goats. He won top prize for his boer goat, which is raised for meat.
"I was the only entry in the class, but I'll take it,'' King said with a smile.
Entrance into the fair is free. But the truck and tractor contests, being held today starting at 7 p.m., charge an $8 fee for grandstand seats and $20 for the pit area. It's the fair's biggest draw, Richardson said.
"We've got $13,000 in prize money this year,'' he said. Most of the prize money is raised from entrance fees and ticket sales.
Richardson is following in his family's footsteps. His mother, Ginny Richardson, the former Mercer County treasurer, was among the group that created the fair 55 years ago. She continues to volunteer as its secretary.
"He runs a tight ship,'' the family matriarch said of her son. "He's a real stickler that the staff has to do things right.''
There are lots of business decisions to make to create a fair that attracts people but still stays within budget.
"We looked into having amusement rides, but they wanted to charge us $12,000,'' Ginny said. Instead, inflatable rides were chosen for far less.
Family members, including Richardson's wife Rachel, devote an enormous amount of volunteer time to the fair.
"We've been working here since June 3, and we'll be working until July 20,'' Rachel said. "And during the fair, we work 19 hours a day.''
Each year when June rolls around, Richardson along with his wife and other volunteers give the buildings a good scrubbing. The fair's indoor 64-seat restaurant gets the most attention.
"To open it, we have to pass a health inspection,'' Richardson said.
The end of the fair means another cleanup of the buildings.
He also wheels-and-deals in getting restaurant fixtures such as seating.
"I got the booths from Kings after they closed their restaurant in Springfield Township,'' he said. "I'm always on the lookout for deals.''
It might be a lot of work, but Richardson said it is a labor of love.
"There is just something within me that wants me to be involved in the fair," he said.