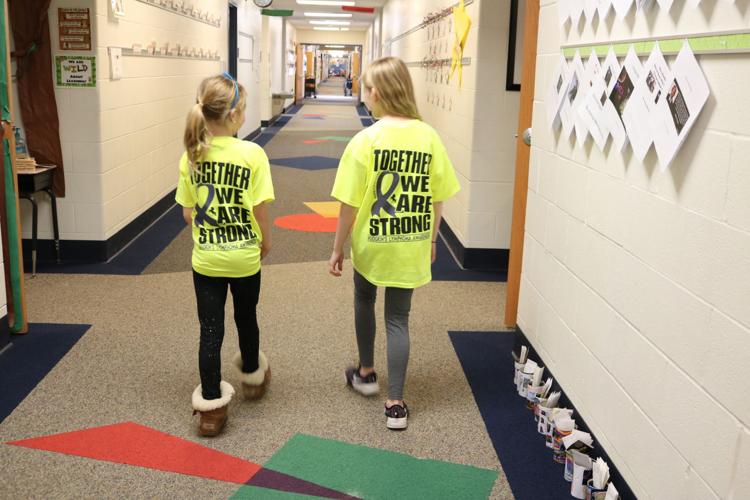 MERCER – Monday was a special day in Mercer Area School District, where several teachers, staff and students wore shirts that helped to raise money and awareness for Hodgkin lymphoma.
"There's so many people in our school system who have been touched by some form of cancer," said third-grade teacher Laura Nych, who facilitated three dress-down days at the school to raise money for cancer-related causes.
The dress-down days raised almost $800, which will be split among the Leukemia and Lymphoma Society, Susan G. Komen and Colon Cancer foundations.
The school district had dress down days on three Mondays in March and a different special shirt marked each day. The shirts were designed by Brian Caiazza of CazzCo, who sold them at cost to the school.
The shirts feature the message, "Together We Are Strong," as the district deals with several loved ones, including faculty members, who have battled breast cancer. The colon cancer awareness day was in honor of a staff member's husband who died of colon cancer, and Hodgkin's Lymphoma's purple day honors an elementary school teacher who is currently battling the disease.
"Last year I asked for permission to do this just because I wanted to give back," Nych said, adding that her mother battled breast cancer last year. "This wasn't a fundraiser, it was just so we could support our people who've been affected by the different cancers."
For each dress down day, students could purchase a T-shirt or they could wear blue on colon cancer awareness day, pink on breast cancer awareness day and purple on Hodgkin's Lymphoma day.
"These are just people who are close to our hearts," Nych said. "That's why he designed the shirts to say, 'Mercer, we are strong.'"
Follow Melissa Klaric on Twitter and Facebook @HeraldKlaric, email: mklaric@sharonherald.com