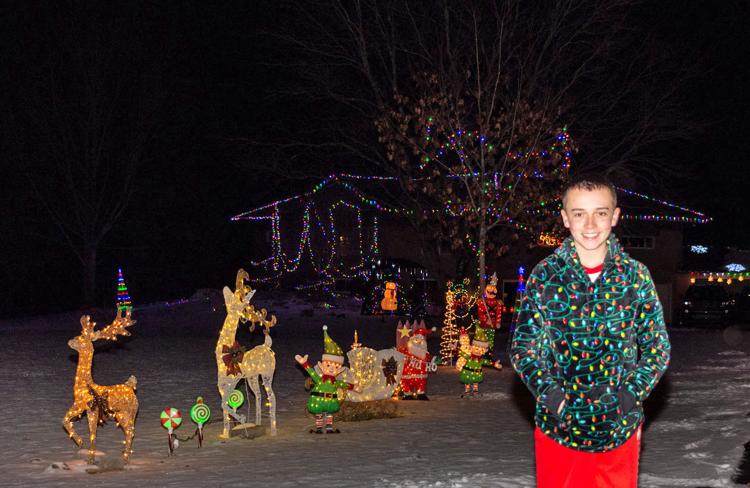 SOUTH PYMATUNING — Like many other households this time of year, the Wildings' home is decorated inside and out with Christmas lights and decorations.
Outside is the house at 4150 Orangeville Road, South Pymatuning Township, is an assortment of lights along the roof, the windows, trees and bushes, as well as Santa with his sleigh, reindeer and elves. A pair of singing Christmas trees also decorate the garage roof, which can "sing" along with certain Christmas songs, while the lights on the house are synced to the music as well.
But while J.J. Wilding's parents handle the inside, he handles the decorations outside — even programming the lights, called smart lights, to sync with the music.
"I can tell the lights when to come on, what color, if they should fade in and out," J.J. said.
J.J., 12, has been interested in lights since he was about two years old, setting up lights for different holidays and occasions over the years, J.J.'s mother Marcie Wilding said.
His father helps with the lights on the roof, but otherwise it's all J.J. handling the outdoor illumination, Marcie said.
"He's done lights for Halloween, the Fourth of July," Marcie said. "He's always been doing little projects with lights here and there since he's been little."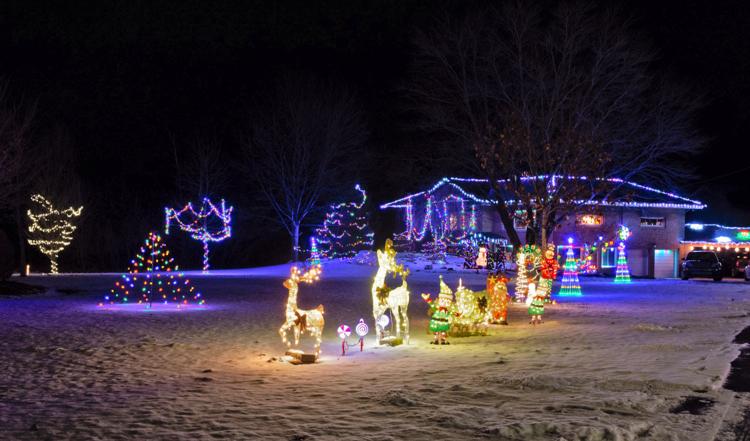 When putting up the lights, a process that starts sometime in September, J.J. said he usually puts in a few hours every day after he gets home from school. On weekends, he may put in around eight hours on a weekend day if the weather permits.
However, this is only the second year that J.J. has put up the Christmas lights outside. Last year was the first time he got software and a controller for the Light-O-Rama system that allows him to program the lights to sync with music.
This year, he programmed the lights to sync with a Mariah Carey Christmas song, although he was able to purchase the programs for 12 other songs online. But that doesn't mean the lights never experience technical difficulties, J.J. said.
"Sometimes they work, and sometimes they don't," he said. "Once I couldn't get the singing trees to work, and later my mom said 'come look at this' and they were working."
Though only a few of his classmates and teachers at the Sharpsville Area Elementary School know about his interest in lighting, J.J. said they do know about his holiday spirit, since Christmas is his favorite time of year. This has earned him the moniker "Mr. Christmas," with some of his favorite holiday films including "The Grinch" and "Christmas Vacation," J.J. said.
"He felt proud this year since in the movie they say they have about 25,000 lights on their house, and he's got 30,000 set up on the house this year," Marcie said of "Christmas Vacation."
After the holidays are over, J.J. begins the process of taking the lights down and putting them away, a process that — like in the fall — usually takes a couple months. But instead of programming the lights, J.J. said he makes sure to check each bulb to make sure they work, and that they're ready for next year.
"I've seen some singing light bulbs, so I could try those next year," J.J. said. "I've also seen these arches where you can have the lights along the arches, so I might try that."
FOR anyone who wants to see J.J.'s handiwork, the decorations are on from 5:15 to 9:30 p.m. Mondays through Thursdays, and from 5:15 to 10 p.m. Fridays through Sundays.
Like David L. Dye on Facebook or email him at ddye@sharonherald.com.