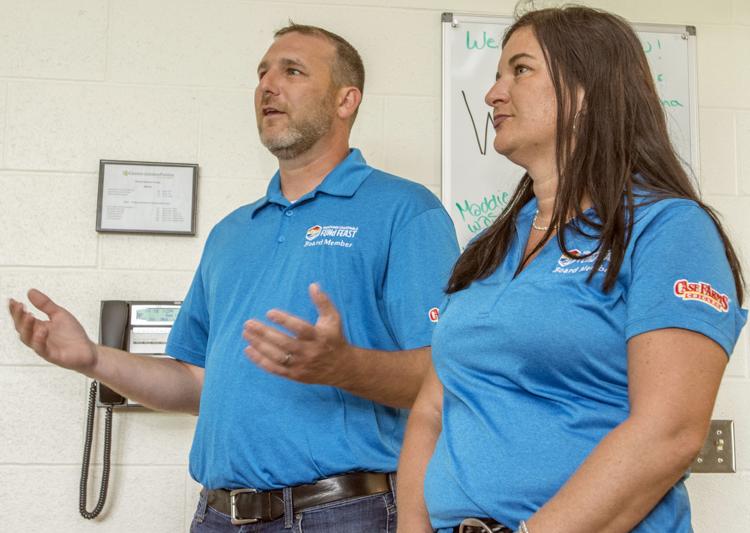 HERMITAGE – During a successful business career, Gary "Moe" Meszaros was best known as co-founder of the Quaker Steak & Lube restaurant chain.
But Gary Gulla, Hermitage's assistant manager, remembers Meszaros for what he gave back to the Shenango Valley.
"Nobody was more community-minded than Gary Meszaros,'' Gulla said.
Meszaros died in 2015. But his legacy is still focused on the community.
On Monday, the Meszaros Family Charitable Foundation announced a donation $5,000 for business studies at the eAcademy at LindenPointe. Foundation representatives, including Meszaros' children, Rachel and Ivan Meszaros, announced the grant during a program at the eAcademy.
Over the last four years, the foundation has donated $20,000 to the LindenPointe eCenter and eAcademy, not including donations to the Salvation Army, the Hope Center for Arts and Technology in Sharon, WaterFire Sharon, and other organizations and events.
Revenue for the foundation's donations come from its annual FUNd FEAST. This year's event will be held from 5 to 11 p.m. Aug. 1 at the Sharon Quaker Steak & Lube.
"We want to donate to things that carry on Gary's legacy,'' said Bob Mentrek, Meszaros Foundation's president.
At Monday's event to announce the eAcademy grant, Rachel and Ivan Meszaros recalled their father's fondness for the Shenango Valley.
"We are real proud of what we support here,'' Ivan said of the eAcademy. "We want to go with things that make people grow.''
The foundation's eAcademy donations are helping grow entrepreneurs and their businesses, through programs like the eAcademy Summer Accelerator. 
In the course, students, usually recent high school or college graduates, attend 320 hours of study over 10 weeks. Students devote one-third of their time to classwork on how to create and run a business with the remainder working on crafting their enterprise in independent study.
Some of the accelerator's students turned out at Monday's announcement. One, Jacob Morgan, a Greenville High School alumnus and recent Thiel College graduate, took the course to prepare for the Oct. 1 launch of his internet business, called Beards United. Morgan showcased his company's beard care products such as oils, balms and conditioners.
Morgan said he plans to launch a website to promote his own wares and other companies' beard-related products.
"We would be vetting the quality of their products and allow them into our retail system,'' Morgan said.
The website also would facilitate fundraising where men can raise money for charity by shaving their beards in the manner of now-retired Pittsburgh Steelers player Brett Keisel, who raised tens of thousands of dollars for Children's Hospital of Pittsburgh of UPMC with annual beard shearings.
Kylee Chrastina, a New Castle-area resident who graduated this year from Union High School, took the course for her business, Music Fusion, which connects music teachers to those interested in learning how to play musical instruments. 
"We can teach instruments like the flute, trumpet and piano,'' Chrastina said. "And we also have group lessons.'' 
Tickets for the FUNd FEAST are $75, which includes food and one free alcoholic beverage.
The event offers Bavarian-style cuisine and local entertainers, with a live auction, basket raffle and a 50-50 raffle. 
Tickets can be bought at: www.moesfund.org. or by calling: 724-699-8798.
NOTE: This article has been edited to correct the spelling of Kylee Chrastina's first name.