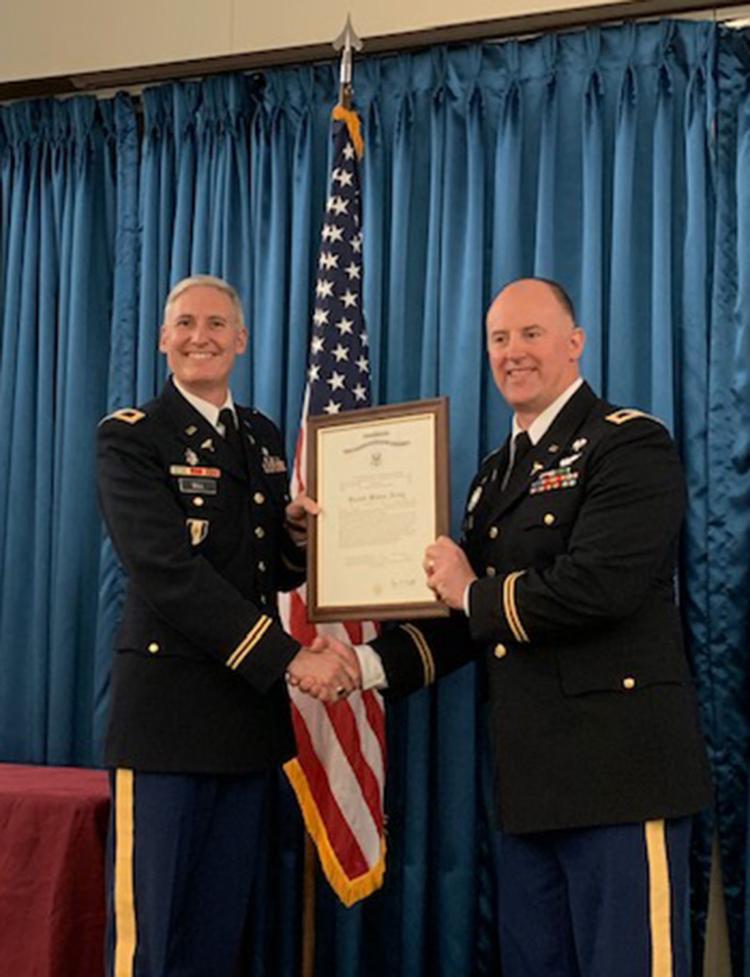 HERMITAGE – A Hermitage native has been keeping the Army in good shape.
Col. Kevin Houck, a 1988 Hickory High School graduate, is a physical therapist who has been on a mission to heal injured soldiers in the Middle East to those boots down on American shores.
Houck, a son of Chris and Carol Houck of Hermitage, was deployed to Iraq for about a year and returned to America in 2010. This wasn't an easy assignment, as the official end of the Iraq War wasn't declared until Dec. 15, 2011.
As a physical therapist he dealt with soldiers having, among other things, musculoskeletal injuries. These are problem areas that affect the muscles, ligaments, tendons and bones.
"These are injuries like you see in sports,'' Houck said of soldiers he treated. "And you also saw back injuries from people having to wear all of their gear and body armor.''
Treatment centers he worked at in Iraq, known as combat support hospitals, were located where there was the biggest need. And that usually meant he was close to the fighting. A good chunk of his time was spent in Tikrit, which is just less than 90 miles north of Baghdad.
"We had portable operating rooms we would take with us,'' Houck said. "Sometimes we took over buildings that the Iraqis had and used them as part of a hospital.''
During his tour he dealt with a variety of injures, from broken bones to torn ligaments.
"If somebody had serious trauma injuries, we evacuated them to our base in Germany,'' he said.
Like others in the American military posted in Iraq, he was given time off on occasion to relax. But it wasn't always appealing.
"It's a lot different when you're away from home,'' Houck said. "There's not a lot to do. Your life is pretty restricted.''
He said it has been an interesting journey for him once he graduated from high school.
Houck earned a bachelor's degree from Penn State's main campus in State College. Then he attended the Army's master's program in physical therapy at Baylor University in Texas.
"Then I went back to get my doctor's degree in physical therapy,'' he said.
Since serving in Iraq, Houck said, most of his time has been spent on American shores with assignments in Washington state, South Carolina, Alabama and Louisiana.
He's served in a number of medical posts with the Army. One high-profile position was deputy physical therapy consultant to the Surgeon General of the Army. The Surgeon General is the senior-most officer of the Army Medical Department.
"In the consultant roles I advised the Surgeon General of the Army and the Regional Health Command-Central Commander on physical therapy issues, and provided consultation to the various medical treatment facilities regarding physical therapy,'' Houck said.
In recent years, he and his family have found more permanents roots.
"For the past eight years I've pretty much been in Texas,'' he said.
His more recent assignments have been the chief of physical therapy service and deputy director of the department of rehabilitation medicine at Brooke Army Medical Center in San Antonio.
"It's one of the military's largest medical centers,'' he said.
Prior to that he was chief of the department of rehabilitation services at William Beaumont Army Medical Center in El Paso, Texas. The center cares for active duty military, their family members, and retirees.
Currently, he is the Army service lead for the physical therapy assistant program at Fort Sam Houston, Texas, and the regional health command-central consultant for physical therapy.
The Army gave him high honors for his work a couple years ago at Fort Bliss, which has its headquarters in El Paso, Texas. In 2015 Fort Bliss had a high number of soldiers on "physical training profiles.'' In Army lingo that means soldiers were limited to activities and exercises they could perform.
Houck was charged with reducing that number.
Among the changes Houck said he made were opening more physical therapy clinics closer to soldiers. He also extended the hours the clinics were open to make it more convenient.
Another upgrade he added was better training for combat medics.
Combat medics, Houck said, are usually the first stop soldiers have to get medical care.
A 2017 Army publication noted that Houck's improvements resulted in a 40 percent reduction in musculoskeletal injuries.
Last month he was rewarded for his work by being promoted to colonel.
"Only about 10 percent of all Army officers get promoted to colonel,'' he said. "I feel very fortunate and grateful that I have made it to the colonel rank and have a supportive family."