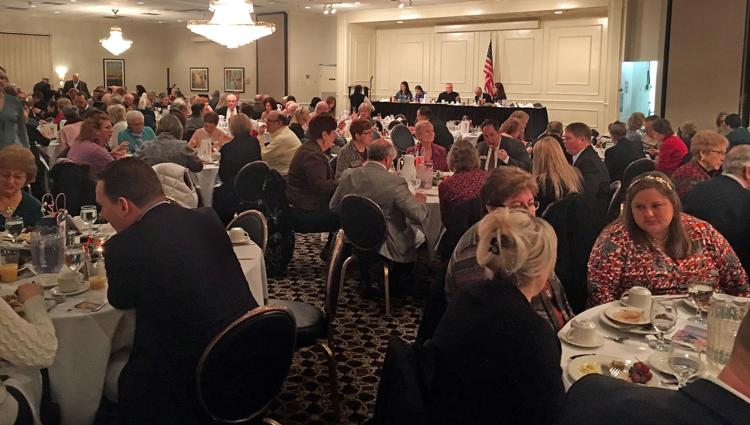 WEST MIDDLESEX – Since Pro-Life of Mercer County was formed in the mid-80s, attendance at their annual breakfasts has fluctuated, depending on the weather and the guest speaker.
Compared to the 70 to 100 people who attended the initial events, the 17th Annual Prayer Breakfast held Saturday morning at the Park Inn by Radisson attracted more than 200 people.
However, many attendants this year may have been encouraged to come because of the recent passing of the Reproductive Health Act in New York, said Robert Lackey, vice chair with Pro-Life of Mercer County.
"I think right now a lot of people are concerned about the recent law passed in New York, where you can still choose to abort practically up until delivery," Lackey said. "When you hear about a law like that happening in New York, I think people start to wonder, 'Where's next?'"
The organization's initial breakfasts were held off-and-on for a few years, but were only held continuously for the last 17 years, Lackey said. However, this year's guest speaker, Dr. Monica Migliorino Miller, has been involved in the pro-life movement since 1976.
"What I hope people understand is that abortion is not a political issue, it's not a philosophical issue, it's about 60 million dead people," Miller said.
Since becoming involved in the movement, Miller has written several books, including "Abandoned – The Untold Story of the Abortion Wars." Miller said she has convinced "many" women against going through with an abortion, and cites the lack of a father figure, marriage or any kind of stability as a major contributing factor in the decision to have an abortion.
"The biggest reason women decide to get an abortion is because there's no support from the father, whether it's emotional or financial," Miller said.
One of those attending the dinner was Sarah M. Bowen, executive director with the Alpha Omega Center. The organization has facilities in New Castle and Slippery Rock, and she said it is planning to open a third location in the Sandy Lake Wesleyan Church later this year.
"Mostly they just need support," Bowen said of expectant mothers. "We can help them by determining how far along in the pregnancy they are, or help connect them to resources in their area."
Like David L. Dye on Facebook or email him at ddye@sharonherald.com.