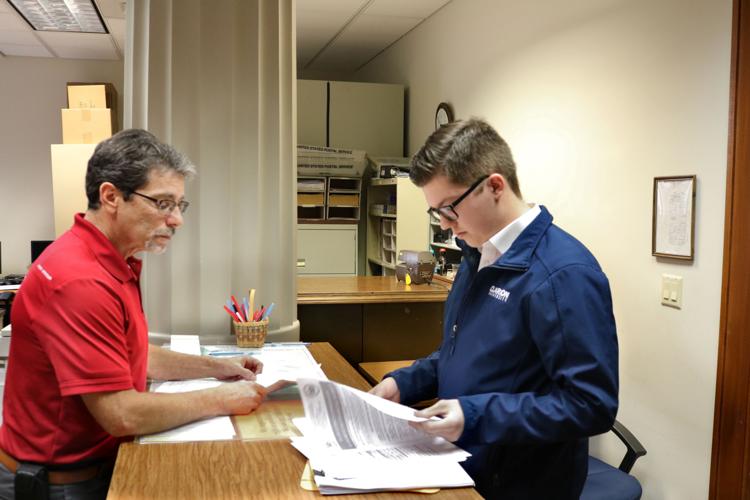 MERCER — It's been busy the last couple of days at Mercer County's office of Voter Registration and Elections.
With the deadline for candidates to file completed petitions for inclusion on the May 21 primary ballot, the office processed more than 100 candidate petition forms on Monday and Tuesday.
"We had more petitions filed in the last two days than in the previous 19-day period combined," said Jeff Greenburg, Mercer County Voter Registration and Elections director.
Those petition filings included five candidates for the two vacancies on Mercer County Court of Common Pleas. The judge field includes long-time attorneys and a state legislator.
Running for the two open county judicial seats are Margaret Lucas, Michael Joanow, state Rep. Tedd Nesbit, Ryan Mergl and Ronald Amrhein. All five candidates are cross-filed for the Republican and Democratic nominations.
The candidacy of Nesbit, R-8, Grove City, has created an unusual situation of a judge running for office while facing criminal charges. A former assistant district attorney in Mercer County, Nesbit is accused of DUI after a traffic stop Dec. 8.
The election office released lists of county-wide candidates Tuesday after the deadline passed. Greenburg said the election staff had not completed processing lists of candidates for municipal and school board offices.
He said election officials would post the municipal and school board petition filings today on the county's website.
There are five candidates – two Democrats and three Republicans – for the county board of commissioners. With two candidates from each party advancing to the November general election, Democratic candidates Robert Multari and incumbent Tim McGonigle will both win their primary.
One Republican county commissioner candidate will be eliminated, with Marcus Kohan and incumbents Scott Boyd and Matt McConnell vying for two nominations.
Two Republicans are seeking their party's nomination for Mercer County District Attorney. Sitting District Attorney Pete Acker will face Dustin Cole for the GOP nomination. No Democrats have filed for the nomination.
Acker is running to keep the office he already holds. He was appointed to the position Feb. 1 to replace former District Attorney Miles Karson, who was convicted in January of obstructing administration of law and official oppression.
Two Republicans – Anthony Tedesco and Bruce Rosa – are running in the primary for Mercer County sheriff. No Democrats have filed, and Sheriff Roni Shilling, who was appointed to her office last year, did not submit a petition form.
Democrat Mary Jo Basilone DePreta, who works in the county Clerk of Courts office, faces no opposition in either party to replace Kathleen Kloos, who is not running for re-election.
Incumbents Coroner John Libonati and Recorder Dee Dee Zickar are both unopposed for Republican nominations, and no Democrats are filed in either race. Democratic incumbent Prothonotary Ruth Bice faces no opposition from either party.
Greenburg said the office had received more than 200 petition forms for candidacies for state and county judges, municipal elected officials and school board candidates in the primary. While that might sound like a lot, he said that filings continued a downward trend.
Eight years ago, more than 300 candidates filed for the municipal primary. The county had about 275 candidates in 2015.
While Greenburg did not have an final figure for this year's filings, he said the number would be less than it was four years ago.
He said the decreasing number of candidates would create opportunities for write-in candidates.
Without Democratic candidates for district attorney, sheriff, coroner and recorder or Republicans running for prothonotary and clerk of courts, write-ins could claim nominations for county-wide office by collecting at least 100 votes.
"There's been a steady decline in our county of candidates circulating petitions for municipal offices," Greenburg said.
Follow Eric Poole on Facebook and Twitter @HeraldEricPoole. Email him at epoole@sharonherald.com.