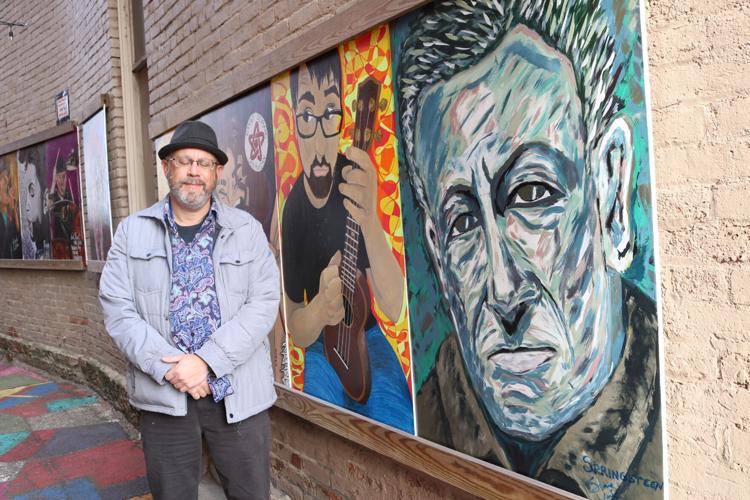 SHARON – The painting of Bruce Springsteen at the end of Random Acts of Artists' "Musicians' Alley" isn't Steve Vuich's typical artistic outlet.
In a local "Musicians' Alley," Vuich would be on the other side of the palette. He's become a fixture on the local music scene, with shows almost weekly at venues like Mortals Key Brewing Company near Jamestown or The Keg in Sharon.
Vuich also has a background in the visual arts — he studied the subject at Penn State University — even though he hadn't painted anything in about 30 years before his impressionistic style Springsteen painting in Musicians' Alley.
But Vuich picked up the paintbrush for this project as if he had never put it down.
"It didn't take as long as I thought it would," he said.
The Musicians' Alley paintings have been up for a few days, but Random Acts of Artists will hold an official ribbon-cutting at 11 a.m. today. Vuich's painting of Springsteen is among 26 artworks lining the wall just off East State Street across from Vine Avenue in downtown Sharon.
Vuich said he plays Springsteen songs in his performances, and he listens to the "E Street" channel — named for Springsteen's band — on satellite radio, but his decision to paint a portrait of The Boss was a matter of having a good photo to work from.
While Vuich regards Springsteen as a favorite popular artist over the last few decades, the Sharon resident reserves his greatest admiration for musicians like himself, those who perform in front of crowds of dozens instead of thousands, not for fame and fortune, but out of love for performing music.
"The guys who are my heroes as musicians are the ones who go out night after night, unpacking their own equipment and playing the music," he said.
The outdoor street gallery includes paintings by local artists of musicians such as David Byrne, Carole King, Sade, Leonard Cohen and Dan Avidan.
At least five of the participating artists, including Vuich, are musicians and will be performing at the celebration today.
Twenty-six members of the group participated in the project. Each artist chose a musician to paint on the 32-by-48-inch panels mounted on the east wall of the alley on a building owned by Alec and Marcia Moyer.
"We got quite a response, postings on Facebook," said Terry Polonsky, president of RAA. "Everybody seems to enjoy it."
The project was partially funded by a grant from the Pennsylvania Partners in the Arts Stream Project issued through the Pennsylvania Council on the Arts.
The artists were given six weeks to create their panels.
"We have a wide range of different styles," Polonsky said. "You'll see that everybody has their own unique way of painting and expressing themselves."
Polonsky said the project had some artists working outside of their purviews.
"It pushed the capabilities of a lot of people," Polonsky said. "Some had never done portraits before. It pushed them out of their box."
Peggy Katona was one of those artists pushed out of their comfort zones. An abstract artist, Katona painted a portrait of reggae legend Bob Marley. But she added her own flair.
Her Marley work, done in a "two-headed" style, with the Jamaican singer facing left, and a lion's head turned right. She used three types of paint — gloss, satin and matte — to make her work more dynamic.
"I put three different textures so it gives it a 3D effect," she said.
Musicians Alley is the most recent of several art installations created in Sharon by RAA.
The group created the "Choose to Fly" mural on the south wall of the Sharon City Center plaza, the "Flower Garden Gallery" nearby on West Connelly Boulevard, the "Literary Garden" at the Community Library of the Shenango Valley and the "Gallery Garden" in River Gardens Park.
Each of the art installations were completed at no cost to the public. The time, talent, and much of the art materials for the projects were donated by the individual artists, Polonsky said.
"RAA is very community-oriented. We like to serve the community with our talent and abilities," Polonsky said. "We like to do installations whenever we can. It's a pleasure to see people responding."