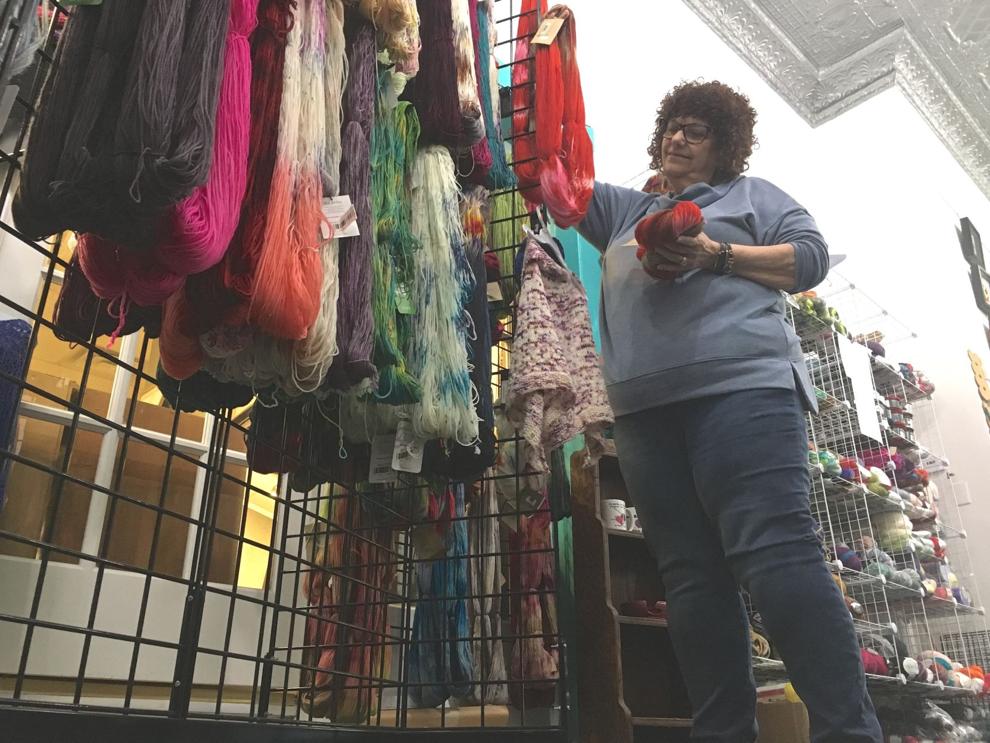 During the last few years, Carla Infante has had to deal with challenges, including the rise of online retailing, to keep Never Enough Yarn, her shop in downtown Sharon, in business.
In spite of her efforts, Never Enough Yarn has become a casualty in the international trade war. 
Infante said she's closing her Sharon shop mainly due to tariffs slapped on Chinese yarn. A sale is now underway at the store and Infante expects to remain open through mid-December.
"The internet got me to the edge of the cliff,'' Infante said. "The tariffs pushed me off the cliff.''
Sherris Moreira, executive director of the Shenango Valley Chamber of Commerce, said the demise of Never Enough Yarn will leave a void in the Sharon business community.
"Never Enough Yarn is a great presence in the downtown business economy and was a big supporter of Sharon's revitalization efforts," Moreira said. "She will be greatly missed."
Discussion of the tariff package enacted in March of 2018 by President Donald Trump has centered on the administration's levy on steel and aluminum. But the tariffs include a wide range of other items, including furniture, handbags, dog food and several types of yarn, according to the U.S. Commerce Department's website.
Yarn on the tariff list includes acrylic, polyester and wool, much of which is produced in China, and variations within those groups.
U.S. tariffs on the bulk of these yarns has been in the 25 percent range, Commerce Department online records indicate. Infante said that's in line with what she's seeing in retail prices as tariff costs are passed along to shoppers.
Infante said she doesn't use Chinese yarn because it is lower in quality.
But the tariffs have a knock-on effect, Infante said — it gives other producers an opportunity to increase their prices and pocket the difference as profit. When adding it all up, it costs $2 more to knit a small blanket than it did two years ago, Infante said.
She admitted that may not sound like a big difference.
"But I know my market,'' she said. "People do not want to pay that much here. This isn't New York.''
As a result of higher costs, people who knit and crochet are being driven to the internet in search of better prices, Infante said. Still, people who enjoy the hobby are a tight-knit community and "99.9 percent'' are women, she said. 
"But this isn't just for old ladies,'' Infante said. "There are a lot of younger knitters out there.''
When a famous actress talks about their love for the craft the industry gets an immediate boost,'' she said.
"Julia Roberts did it for me,'' Infante said with a laugh. 
And the recognizable names lend a "cool" factor to knitting.
"Knitting and crocheting is not a dead art,'' Infante said. "There are lots of people out there who enjoy this.''
The 67-year-old Sharpsville resident has lived a varied life. A dietician by training, Infante worked in social service jobs with a concentration on health. She joined the Peace Corps in the late 1970s and served in Nicaragua.
She's owned the yarn store for seven years and enjoyed interacting with with customers.
Infante held knitting classes at the store on Saturdays and on Thursday nights. And a dedicated group of crafters would show up to relax and entertain themselves all week long.
"A lot of my older customers would come here and fit right in,'' Infante said.
Moreira said she has seen that sense of community first-hand on her stops at Never Enough Yarn.
"Her store doesn't just sell yarn," Moreira said. "It's a community gathering place. It wasn't uncommon to walk in and see people from all over Sharon."
Faithful customers often show up just to plop themselves on comfy chairs and knit away. On this afternoon Sharon resident Wendy Merrill, a regular customer, stopped in for crochet work on a stuffed animal.
"I don't know what I'm going to do on my days at home now,'' Merrill said of the store closing.
Infante said she's preparing for her future. 
"I have to go on with the next stage of my life,'' Infante said. "And one thing I want to do is write a cookbook.''
NOTE: This story has been edited to remove a questionable quote.