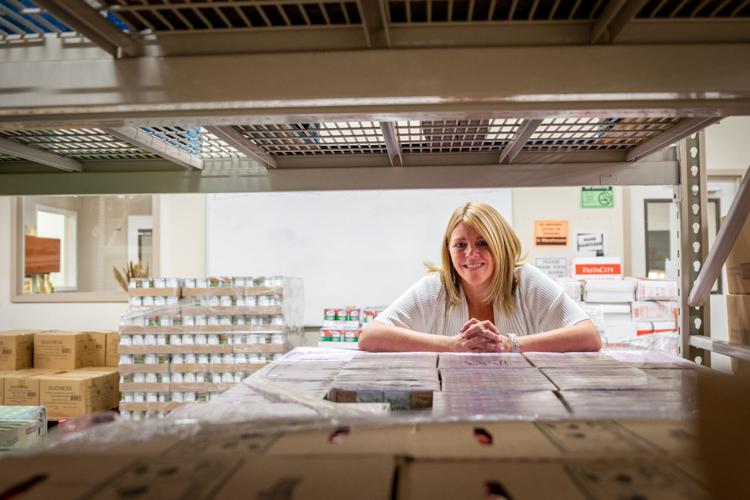 SHARON – As the Community Food Warehouse of Mercer County's incoming executive director, Rebecca Page is quickly seeing a huge number of new faces.
Then again, the same thing happened in March, when the COVID-19 pandemic drew new clients to her previous post at Second Harvest Food Bank of the Mahoning Valley. The Youngstown-based food bank serves Trumbull, Mahoning and Columbiana counties in Ohio.
When the lockdown struck, thousands of people in the area found themselves without a paycheck.
"It was a very scary time,'' she said. "Like everybody else, it hit us hard.''
Normally the Ohio food bank served 11,000 a week, but that almost doubled to about 20,000 in late March, when the pandemic stay-at-home order took effect.
"We saw all kinds of people, the elderly, those who had been laid off and parents with children,'' Page said. "And then there were people who found themselves in line for the first time – like people in restaurant services.''
The food bank in Mercer County faced an identical situation, she said.
Page's experience will serve her well at her new job, where she is responsible for fund-raising, overseeing food drives and volunteers along with food buying. She takes the helm of the food bank Thursday, and is training with Lori Weston, the non-profit's outgoing executive director, who is retiring Wednesday.
"It's going to be very hard for me to leave,'' Weston said.
Page isn't a stranger to the area. She grew up in Pulaski and graduated in 2001 from Wilmington High School. She earned a bachelor's degree in business administration and human resource management from Youngstown State University.
It was by what she called a fortunate chance that she heard about the opening at the Community Food Warehouse.
"One of my friends saw the job posting,'' Page said. "I was looking for a new challenge.''
Page quickly got a look at the food need in Mercer County — she saw 350 people waiting in line at a food distribution Sept. 15 in Greenville.
"People were just so thankful to us,'' she said.
As Page walked through the food bank's warehouse on Sharpsville Avenue in Sharon, she talked about the need to quickly learn a lot of administrative responsibilities. The food bank, which has seven paid employees, serves 33 member agencies in Mercer County and distributes food to 4,200 households monthly.
"I'm just thrilled to have accepted for this position,'' she said. "It's my passion to feed people.''