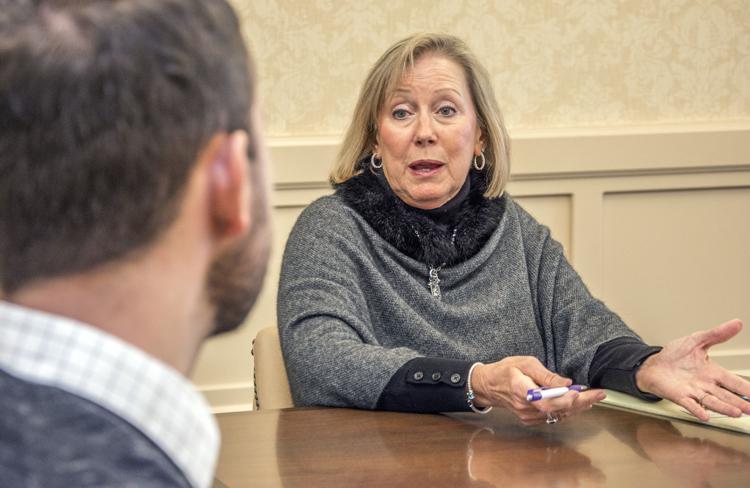 HERMITAGE — After spending more than a year as Buhl Park's operations director, Riley Atterholt will be stepping down, but said he wants to remain active with the community.
Friday was Atterholt's last day at the park, before joining Jim Landino's JCL Development. Atterholt said he will be "jumping in at the ground level" on projects such as the planned Jolly River Apartments and restaurant developments in downtown Sharon.
"It was a move I didn't make lightly," Riley said. "It was a tough decision and I am excited for the work I'll be doing, but I'm also very grateful to the park for the opportunities and what has been accomplished so far."
When the West Middlesex native started at Buhl Park, he had taken a summer internship to help reopen the park's driving range and teach summer golf. After he graduated in December of 2017 from Penn State Shenango with a degree in marketing and management, Atterholt returned to the park as director of recreation.
Atterholt's duties and title expanded to operations director, and he worked on initiatives such as the Buhl Park Casino Christmas decorations, the park's new pump track and mountain bike trail, and indoor golf simulator, which opened last year.
"Golf has been instrumental in my life and how I got started with the park, so hopefully this will propel a new generation of kids to pursue golf as a hobby and a potential career," Atterholt said.
Linda Evans, who took over as interim executive director after the departure of Tom Roskos in April last year, described Atterholt as a "go-getter." Evans said she was sorry to see go but wished him the best of luck.
"He was very good about coming up with ideas, but not trying to have too many different things at the same time," Evans said of Atterholt.
Ryan Voisey, who started last Monday, takes over as operations director. He lives in Sharpsville, a short distance from Buhl Park.
Voisey graduated from Clarion University in 2014 with an undergraduate degree in athletic training and from California University of Pennsylvania in 2017 with a master's degree in sports management. Before coming to Buhl Park, Voisey worked for four years as an athletic trainer with the West Middlesex Area School District and spent two years as the district's athletic director.
"Something that I really enjoyed there was the direct interaction with the students and the coaches, so that kind of interaction is something that I look forward to bringing here," Voisey said.
Having grown up in Hermitage, Voisey said he has many fond memories of Buhl Park, such as sled riding in the park. However, he said there are opportunities for new programs at the park, such as lessons at the park's new pickleball courts or archery instruction for the park's "Get Outdoors Day" later this year.
"One of our focuses at the park will be more youth programming, where we can make use of what's already at the park while offering programs that are educational and outdoors," Voisey said.
The park is also close to rolling out a new volunteer cataloguing system. Evans said the system is about three or four weeks from implementation.
When it is available, the system will categorize what projects need completed throughout the park and which of them can be done using volunteers.
"We have people in the community who tell us 'We'll do anything,' so we want to keep track of what needs done and make it easier to coordinate with people or groups that want to help out," Evans said.
Gary Hinkson, who is president of the nonprofit Buhl Park Corp. and also Hermitage's city manager, said Atterholt had done an "outstanding" job during his time at the park and described Voisey as an "excellent" addition to the park's staff.
"My working relationship with Riley was great and I expect that it'll be the same with Ryan," Hinkson said. "I'm looking forward to seeing a lot of good things here in the near future."
Like David L. Dye on Facebook or email him at ddye@sharonherald.com.