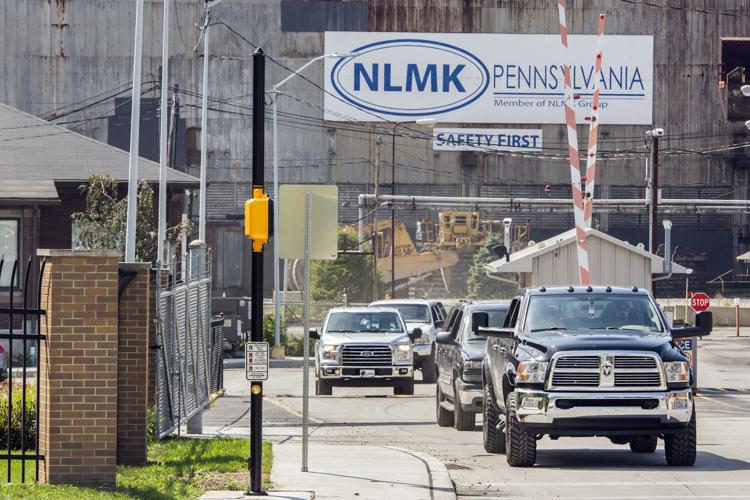 FARRELL – A United Steelworker representative said between 80 to 100 of its members at NLMK's Farrell steel plant were laid off last week, and the company's president is placing that blame largely on hefty steel tariffs.
Terry Day, president of United Steelworkers Local 1016-03, which represents 430 production and maintenance workers at the plant, said the layoffs were in the hot mill.
"This was the first true layoffs we've had here in a couple of years,'' Day said. "Obviously, we don't want this to continue.''
Workers at the plant's cold mill were laid off in the current schedule, but that was planned as the mill is undergoing regular maintenance, he said. 
Low steel prices might also have been a factor for the hot mill layoffs, Day said. But he was told prices in the past week rose around $40 a ton.
"We hope things are looking up,'' he said.
Bob Miller, NLMK Pennsylvania's president, left no doubt where he placed the blame for layoffs.
"This is what I predicted a year ago,'' Miller said. "We're running less turns and experiencing layoffs now because of tariffs.''
So far the layoffs aren't longterm and will be reviewed weekly, he said.
"We match up what our production needs are, and that changes from week to week,'' he said.
The goal for steel tariffs, Miller said, was to increase steel prices so that American steel producers could have healthy profits.
"It's a failed policy,'' Miller said of the tariffs. "Steel prices are lower in the market today than before (the tariffs) were put into place.''
In April, the U.S. Department of Commerce rejected almost all of NLMK's requests for exemptions from the federal government's tariffs. At the time, Miller said the company had doled out $160 million in tariffs. He didn't immediately have the latest figure.
On March 8, 2018, President Donald Trump put a 25 percent tariff on steel imports from a number of countries, including Russia. NLMK Pennsylvania is owned by Novolipetsk Steel – abbreviated as NLMK – one of Russia's leading steelmakers.
Under its business model, the Farrell plant has relied on its Russian parent company for most of its material. The steel arrives at the Farrell steel plant as slabs. The slabs are rolled into coils that are sold to manufacturers that produce a variety of items such as cars and appliances.
Miller said there aren't enough slabs produced in the U.S., so the company is forced to pay the tariffs and also buy from foreign markets not affected by the tariffs. The countries include Canada, Mexico and Brazil.
NLMK employs 600 people at the Farrell steel plant and another 150 workers at NLMK's Sharon Coating operation. 
The layoffs aren't good for anyone, said Farrell city manager Michael Ceci.
"It affects families and communities – and not just Farrell,'' Ceci said. 
Farrell has a 1 percent tax on workers' wages for those working in town but who live elsewhere.
Ceci said tariffs on slabs imported by NLMK give its competitors an unfair advantage.
"If you put a 25 percent tariff on slabs NLMK gets, their competitors can raise their prices by 15 percent and still undercut them without having to do anything,'' Ceci said.