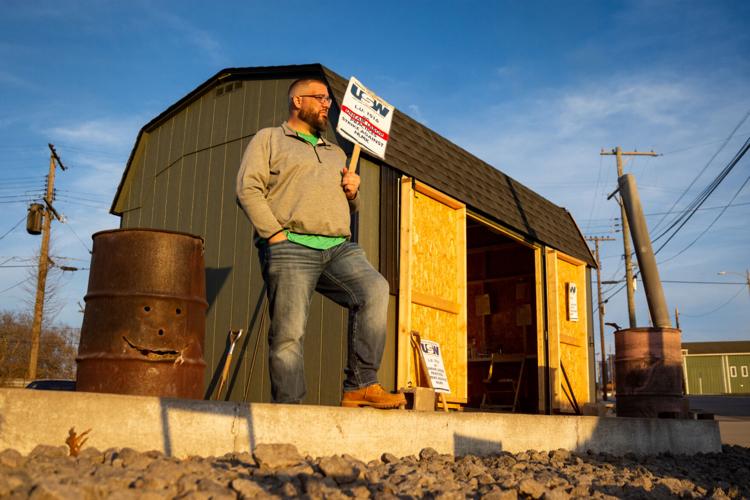 FARRELL — After a negotiation session this week, NLMK Pennsylvania management and striking steelworkers agreed on one thing.
But that's not good news.
"We're far apart," said Todd Clary, a staff official for United Steelworkers 1016-03.
Bob Miller, president of NLMK Pennsylvania, echoed the sentiment.
"The company and union are very far apart,'' Miller said. "It doesn't appear they're interested in getting the workers back to work.''
United Steelworkers Local 1016-03, which represents more than 400 production workers at NLMK's Farrell steel mill, went on strike Aug. 22.
Health care costs and wages remain a stumbling block, Miller said.
Clary said management withdrew a proposal for bonuses based on tonnage produced, an offer that he said had led to some progress during negotiations last month.
"They pulled the shipping bonuses off the table," he said. "So we're further apart than we were before."
Miller said the incentive plan offered was based on shipment tonnage out the door, and that plan would be in the contract.
"Clearly, the union wasn't interested in that incentive plan, so we took it off the table,'' Miller said. "They were very uninterested in that as a potential solution.''
The mill currently has an incentive plan in place that's based on quality, productivity and other factors, he said.
"But that wasn't in the contract. That was something we voluntarily offered,'' Miller said. "The new incentive plan we offered would be in the contract.''
However, Clary recalls it differently. He said the union asked for more information about the new incentive plan, but instead the company withdrew the offer.
Union leaders have said contract provisions offered by the company would leave its members financially in the hole from higher health care costs.
Miller said the company's has had its current offer on the table since November.
"We made a significant move around Thanksgiving,'' he said of the company's offer. "The union hasn't moved at all.''
USW leaders continue to file unfair labor practice charges against NLMK, Miller said. He didn't identify what those charges were, but said NLMK was settling the accusations with the National Labor Relations Board.
The NLRB was supposed to hold hearings in January on newer charges, but they have been postponed, Miller said
"We will be dealing with those over time as the investigation unfolds,'' he said.
Clary said the union rank and file continues to be positive and determined.
"Everyone seems to be still strong and good," he said. "They're getting by. Let's put it that way."
Nonunion employees continue to operate the plant, Miller said.
"We've been doing a good job in keeping our customers happy,'' he said. "We've been maintaining their (union workers) jobs for them. And we are prepared to do whatever is needed for our business in the short-term and long-term.''
No further negotiation sessions are scheduled. Clary said that the union is supposed to submit a proposal for the next meeting.
In late October, the state Department of Labor and Industry ruled the workers are eligible for unemployment compensation. The ruling determined the employees were locked out of the factory by NLMK management because management declared an impasse in negotiations yet continued to meet with the union, and the union was willing to continue working under terms of the expired contract.