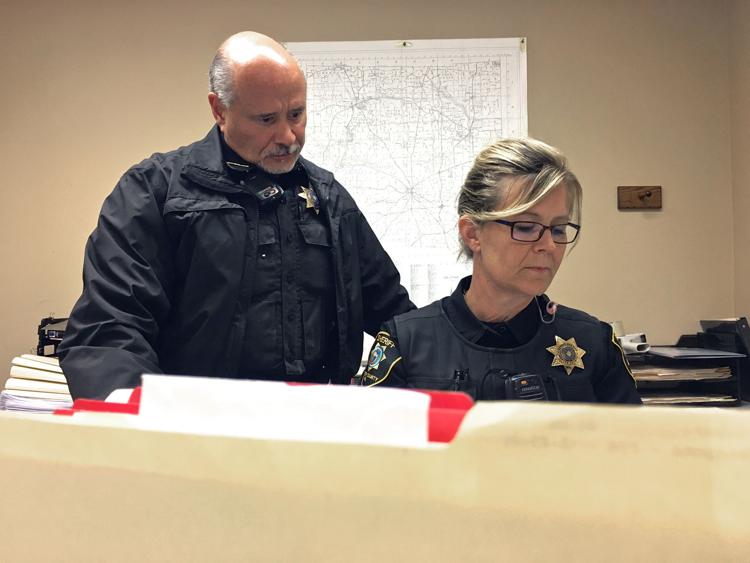 MERCER – Eight months after a state law went into effect that required those served with protection from abuse orders to turn over their guns within one day — instead of 60 – a domestic violence victims advocate said the measure is working well in Mercer County.
"We work so well together,'' Rebecca Bruno, legal advocacy coordinator for AWARE, said of the relationship among law enforcement and victims advocates to enforce the law, known as Act 79.
AWARE provides assistance, guidance and, when necessary, shelter to domestic violence victims. Bruno said the law makes victims safer.
"I think gun relinquishment is a great thing for victims,'' she said.
The law, which went into effect in April, accelerated gun surrender rules for those served with protection from abuse orders. The orders, known as PFAs, are designed to protect victims and their children.
Under Act 79, anyone served with a PFA must relinquish weapons, including guns, within 24 hours. The previous regulation gave affected people 60 days to surrender their guns.
A final PFA order can last up to three years, Bruno said. PFAs can vary, but generally involve a restraining order to separate victims from their abusers, according to the Pennsylvania Coalition Against Domestic Violence.
A judge can order a temporary PFA, but the law requires a final hearing be held within 10 days. Still, even temporary orders require defendants to relinquish their guns, Bruno said.
Bruce Rosa, who was elected in November as Mercer County sheriff, said judges issue a little more than 100 PFAs every three months, with an average of about 400 a year.
Rosa's office is usually given the task of serving temporary PFAs to defendants. Prior to being sworn in Jan. 3, Rosa was a deputy in the sheriff's department. Permanent PFAs are usually served by local law enforcement, Rosa said.
"Overall, we haven't had many problems with this,'' Rosa said of the new law. "But we were already stretched thin for the people we need.''
He said serving the PFA documents, logging information into a databank, and collecting and properly storing guns, consumes a lot of deputy work hours. Another problem is that, while the overwhelming majority of affected gun owners collect their weapons when their PFAs expire, some don't.
If a PFA expires or a permanent one is denied, gun owners don't immediately get their weapons back, Rosa said.
"We're required to run the individual's name through a databank to be sure they're allowed to own a gun,'' he said.
The Mercer County Sheriff's office tries to get relinquished guns back to their owners, but people move, die or just forget about them, Miller said.
AWARE's Bruno said the sheriff's office, local police departments and the prothonotary's office take PFAs seriously.
If the sheriff's office isn't available to serve the PFA, Bruno said it then becomes the local police department's duty.
The police in those cases are also responsible for securing the guns. But she said relinquished guns usually end up in the sheriff's office weapons hold.
"When you look at places like Jefferson Township, they don't have the room to store the guns or the manpower needed for the job,'' Bruno said.
Logging the weapons can be complex, Deputy Renee Miller said.
"In one PFA case we had 29 guns involved,'' she said.
Miller, who is tasked with the duty of overseeing the department's weapons hold, said the county is holding a wide variety of weapons.
"We probably have a couple hundred guns in storage,'' said Miller. "And some of these are antiques and family heirlooms.''