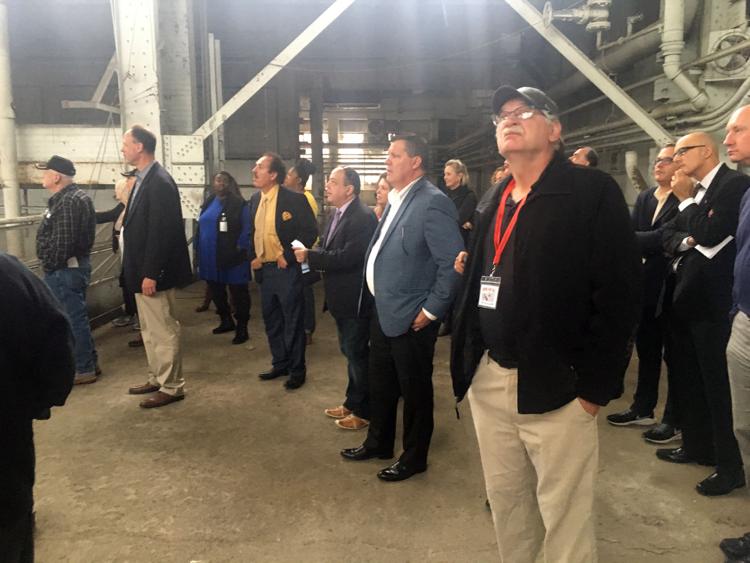 With a captive audience, Stan Lefes of the Sharon Beautification Committee promoted the Shenango Valley as a collection of communities tightly packed, geographically, and tightly knit, spiritually.
"The boundaries are nothing," he said Sunday to a shuttle bus loaded with Rising Rust Belt attendees. "This side of the street is Sharon, that side is Hermitage. But we all live in the valley.
The Shenango Valley put its best face forward Sunday for the Rising Rust Belt Summit's first day, with more than 30 people participating in tours of two signs of vitality in the Sharon rust belt community — Hope Center for Arts and Technology and The Landing development at the site of the now-closed Westinghouse factory.
Rising Rust Belt Summit is an unprecedented cooperative effort between the Lawrence County Regional Chamber of Commerce and Shenango Valley Chamber of Commerce in Pennsylvania, and Youngstown-Warren Regional Chamber of Commerce in Ohio.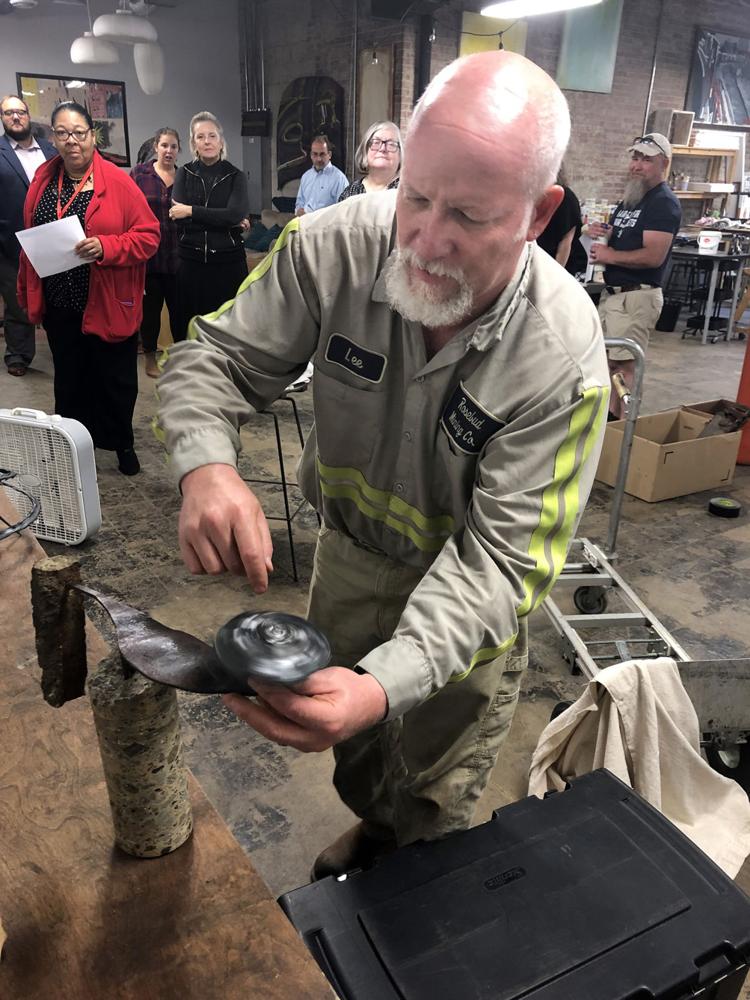 The tours began and ended at the Park Inn by Radisson in Shenango Township, which will host the Rising Rust Belt Summit's events today. Pennsylvania Lt. Gov John Fetterman and Lydia Mihalik, director of the Ohio Development Services Agency, will deliver keynote speeches. The event features four breakout sessions with four panels in each session.
Rising Rust Belt Summit wraps up this evening with a "Shark Tank"-style entrepreneurial pitch contest, with the best business proposal winning a cash prize. Jake Morgan of Beards United will serve as emcee.
One of two stops on this tour was the former Westinghouse Electric plant, which was originally built during World War I to make rifles, but was later acquired by Westinghouse Electric Corp. in 1922. Though the company focused on transformers, the plant switched to making torpedoes during World War II, said Karen Winner Sed of Winner Development Companies.
"Since pilots had to fly by vision back then and because of the cloud cover this area had and still has, they chose this area because enemy planes couldn't see the plant," Winner Sed said.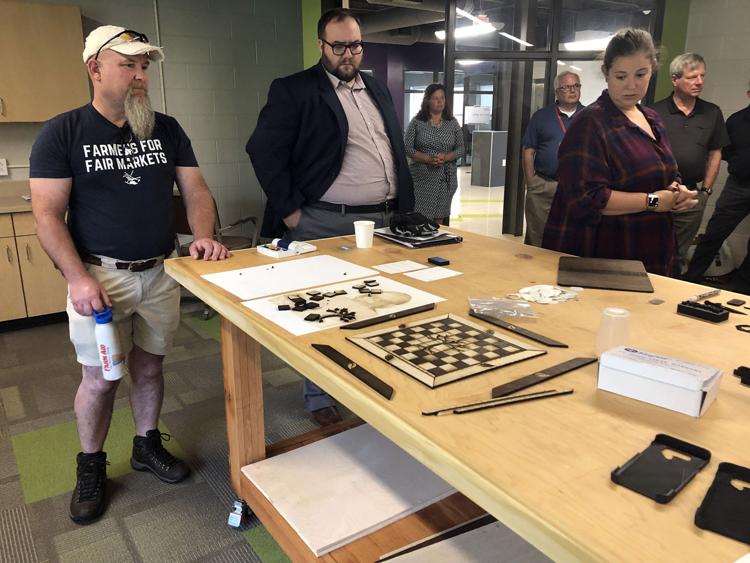 The facility stopped producing transformers in 1985, but today the Westinghouse building is seeing a variety of different uses, including the multi-use office area known as the Landing near the front of the building and Sharon Coatings in a different section.
However, one project involves using coal ash, which is produced when coal is burned for fuel, then digesting that ash and drawing out rare earth elements, which are used in electronics from smart phones to computers to fighter jets. The elements are also a concern for national defense, since China produces 99 percent of all rare earth elements, Winner Sed said.
"It takes 940 pounds of rare earth elements to make one fighter jet, and 2,200 pounds to make a submarine," Winner Sed said.
Aside from the Westinghouse facility, the tour groups also visited the Hope Center for Arts and Technology in Sharon. There, the attendees saw a print lab, a digital arts lab, a certified medical assistant program for adults, and a youth arts program for students grades nine through 12 from regional school districts, said Tom Roberts, executive director of HopeCAT.
The youth arts program, which goes for two hours Monday through Friday, teaches children pottery while introducing them to larger concepts such as working with their hands or possible careers in the trades, Roberts said.
"It's giving the kids skills that help them transform into productive citizens," Roberts said.
The adult medical assistant program has already graduated its first class of 19 students, with 100 percent of students passing the national certification exam on their first try and 15 of 19 students already employed in their field, Roberts said.
Those jobs represent a $60,000 positive swing of income, he said, because an unemployed single mother receives about $25,000 in government benefits. The graduates of Hope CAT's medical assistant program are each earning, including salary and benefits, about $35,000.
HopeCAT challenges high school students with arts curriculum to build confidence and "break the cycle of generational poverty," said Roberts. The Sharon school is one of 12 similar educational centers in the world, but those numbers are growing.
Roberts said several other Pennsylvania communities — including Allentown-Easton, Erie, Greensburg, Harrisburg and Titusville — are considering opening other centers.
Jill Gaito, a Greenville native who now lives in Carlisle near Harrisburg, said she was impressed by HopeCAT and anticipated a similar center opening in the Harrisburg area.
"I think it would be wonderful," said Gaito, an environmental consultant. "I think what he said about breaking generational poverty would work well there. Some of these kids have no idea they could be successful."
Hermitage Commissioner Michael Muha said the tours provided information about developments and investments in the valley, especially at the former Westinghouse plant. A Shenango Valley native, Muha said he felt an emotional stake in The Landing development's success.
"I know how integral it was to our past," he said. "Hopefully it will be integral to our future."
Dr. Robert Multari performed executive physicals at Westinghouse 40 years ago, when he said it was a "beehive of activity." While it was strange seeing so much of the building now empty, Multari said he was interested in the different uses the building now had, particularly the project involving rare earth elements.
"That rare earth element project is going to be huge," Multari said.
Hermitage Commissioner William McConnell said it was his first time visiting HopeCAT and the Westinghouse Electric plant, and he was very interested by what he saw.
"What they're doing at those places is going to be good for the whole Shenango Valley," McConnell said.
Also present on the tour was state Rep. Mark Longietti, who said it was "incredible" getting to revisit some of the programs at the HopeCAT and was interested in seeing how the Westinghouse facility's rare earth elements project could grow in the future.
"It's really exciting to see how the Westinghouse facility is really taking shape," Longietti said.
Like David L. Dye on Facebook or email him at ddye@sharonherald.com.