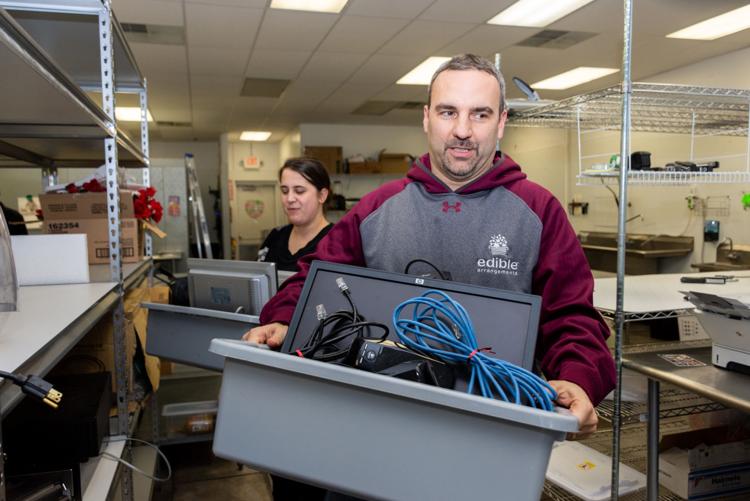 HERMITAGE — The walls are bare, equipment is gone, signs have all been taken down and the doors are locked.
But a new business will soon rise where Edible Arrangements once stood.
Owner Ron Taylor said he hopes for the shop to open sometime in mid-March, and when it does, the new store will be something original. While he and his wife Lori are still working on what exactly that new business will be, they want it to be an entirely new concept, independent from the Edible Arrangements franchise.
"We've been kicking around some ideas because we've spent the majority of our life in the franchise industry," Ron said. "Me and my wife already enjoy owning a business in this area, so we want to try and come up with a business on our own."
Edible Arrangements opened in 2009 in the plaza along North Hermitage Road and relocated five years ago to the Hermitage Towne Plaza on East State Street. The Hermitage location closed Saturday, when the Taylors' contract with Edible Arrangements expired.
"It's sad to see it go but we couldn't come to an equitable arrangement to extend the contract," he said.
The Hermitage location employed about five or six people, Ron Taylor said, and all of the workers were offered jobs at the new business, although the employees could also work at other Edible Arrangements locations or next door at The Simple Greek, also owned by the Taylors, during the closure.
Ron Taylor said the business would be closed during Valentine's Day, which has been a busy holiday for Edible Arrangements. During the three days around Valentine's Day, Edible Arrangement had needed 15 to 20 temporarily seasonal delivery drivers to help handle the expected 300 to 400 orders.
He said the three days around Valentine's Day accounted for 10 percent of the store's annual revenue.
"It's a great crew, and if there's one thing I've learned in my 15 years of business, it's if you have a good employee, never let them go," he said. "Even if there's no spaces available at the moment, hold onto them because eventually it'll work out."
The location is already designed and permitted for food service, so there could be some culinary offerings, but Ron Taylor said he and Lori are considering alternative uses for the storefront, including a high-end coffee shop.
Whatever becomes of the shop, it will likely carry products from Branch Street Coffee Roasters, located in Boardman next door to another The Simple Greek location the Taylors co-own with Sean and Becca Ferrier.
"We know the manager very well," Ron said of Branch Street Coffee Roasters owner Matt Campbell. "He's kind of a mad scientist when it comes to the coffee beans and the different flavors."
However, the Hermitage location could also play an increased role with The Simple Greek next door, either as a training facility or as a coffee shop operating in tandem with The Simple Greek next door.
Ron, who co-owns The Simple Greek franchise in Hermitage with Sean Ferrier, said they could open a wall separating the two businesses to allow customers to easily move from the coffee shop to the Greek restaurant.
"The visibility here is tremendous on East State Street, we have great co-tenants, a great landlord, and great ingress and egress, so this community has been very good to us," he said.
Sherris Moreira, executive director of the Shenango Valley Chamber of Commerce, agreed that the location was beneficial to restaurants because of traffic going to retail shops and employees of nearby businesses.
"I'm pleased to see the way they're innovating and that they're looking to reinvent themselves," Moreira said. "We've also found that coffee shops are great places for incubation because people can hang out and brainstorm."
Like David L. Dye on Facebook or email him at ddye@sharonherald.com.