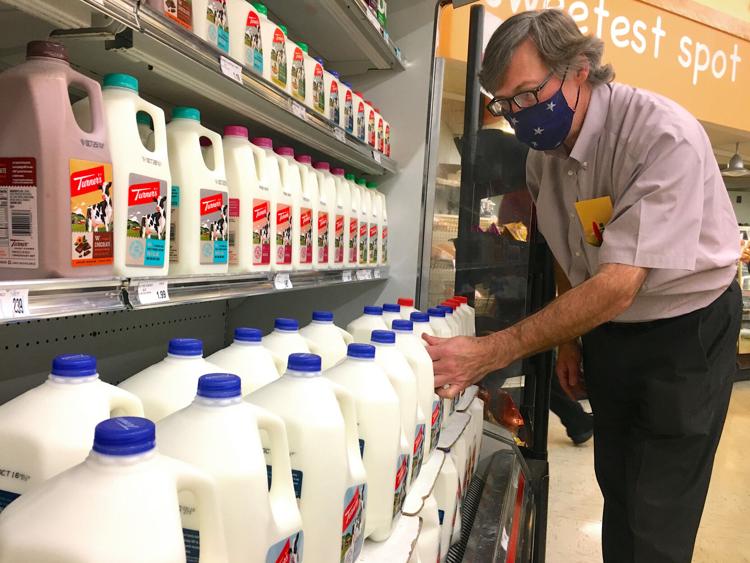 After finding if a milk jug contains whole or skim milk the next thing a shopper eyes is the "sell by'' date on the label, Mark Mastrianno, owner of Farrell Golden Dawn said.
"Everybody thinks it's the expiration date, but it isn't,'' Mastriano said.
A proposed law is afoot in the Pennsylvania Legislature that would change that phrase on milk cartons. Instead of the "sell by'' date the law seeks to replace it with the "best by'' date.
Also, the legislation would allow milk processors to request a "best by'' date that is longer than the 17-day limit now in place. Only Montana has a stricter expiration date for milk than Pennsylvania.
"I've had milk past the sell by date and it still tastes good,'' Mastrianno said.
He's got others on his side.
"This 17-day sell-by rule is not common among other states and is shorter than the industry standard for milk date labeling, which is between 21-24 days past pasteurization,'' the Harvard Law School Food Law and Policy Clinic said.
The change was recommended by the state's Dairy Future Commission, a new agency that was signed into law last year by Gov. Tom Wolf. The DFC is responsible for promoting and strengthening the state's dairy industry.
DFC recommended this change in a report it released in August.
"Fresh milk produced instate is at a competitive disadvantage on a store shelf in comparison to extended shelf life milks and plant-based beverages traveling further distances to market….'' DFC said in its report.
This legislation, Senate Bill 1330, passed the Senate unanimously and now goes before the House.
"This is the first I've heard of it,'' said Mark Canon, whose family owns Canon Dairy farm in Shenango Township. He wants to give the proposed law close scrutiny before judging its merits.
When it comes to food label dating, the U.S. has no uniform or universally accepted descriptions, the U.S. Department of Agriculture said on its website.
As a result, a wide variety of phrases are used on labels to describe quality dates. Examples given by USDA of commonly used phrases:
• Best if Used By/Before – Indicates when a product will be of best flavor or quality. It is not a purchase or safety date.
• Sell By – Tells the store how long to display the product for sale for inventory management. It is not a safety date.
• Use By – Is the last date recommended for the use of the product while at peak quality. It is not a safety date except for when used on infant formula.
• Freeze By – Indicates when a product should be frozen to maintain peak quality. It is not a purchase or safety date.
Consumers can play a role in how long milk will last. If refrigerated food, such as milk, is taken to a picnic and left out several hours, it might not be safe to drink – even if the date hasn't expired, the American Heart Association says on its website. It also advises to refrigerate milk immediately after arriving from home after shopping.
As for Canon, he's been keeping close track of milk prices. Last year was rough on dairy farmers with rock bottom milk prices.
"Milk prices have been better for the past several months,'' he said. "Sometimes milk prices can be a little strange. You have to have a degree in economics to understand it all.'