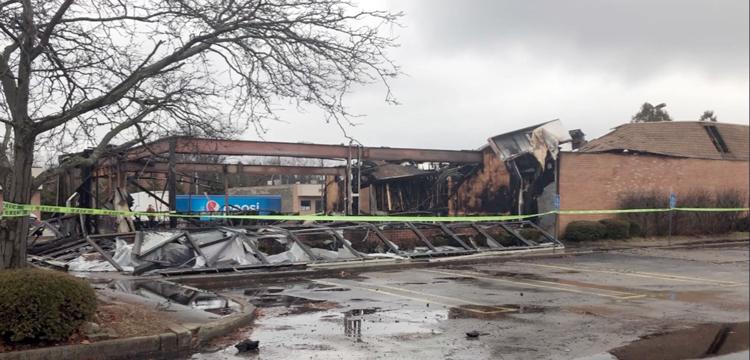 FARRELL – A man and woman have been charged with arson in connection with a December fire that destroyed a former daycare center.
The blaze at Caring 4 Kids Daycare Center caused more than $1 million in damage.
Dustin Lovell Morrow, 31, of 506 Emerson Ave., and Anna Teresa Santana-Benavides, 27, of 1118 Negley St., both of Farrell, were charged with aggravated arson, causing a catastrophe, trespass, reckless endangerment and conspiracy for allegedly setting fire to the daycare at 841 Sharon-New Castle Road, near Mercer Avenue.
The Farrell, Sharon, Brookfield and Hermitage fire departments responded at 2:07 a.m. Dec. 21 to a report of a commercial fire at the daycare center. The building was vacant at the time.
First the roof collapsed, then there was an issue with the water supply, but firefighters were able to control the fire in about 30 minutes, Farrell Fire Chief Mike Renner said.
Called in to investigate the cause of the fire were Pennsylvania State Police deputy fire marshal Trooper DuWayne Baird and Trooper David Seidl with K9 Patty, who is trained in accelerant detection, Farrell detective Capt. Chuck Rubano stated in a police report.
The dog hit on areas inside the building, and several samples were collected, Rubano said.
According to the police report, three surrounding businesses had full and partial views of Caring 4 Kids Daycare Center. One of the businesses captured a Hyundai Santa Fe SUV matching the description of a vehicle owned by the building's owner, Colon Santana, and frequently driven by his daughter, Santana-Benevides.
The video shows a person unlocking a steel door facing Sharon-New Castle Road and entering the daycare center.
After that, there was an explosion that caught the building on fire. The video then shows someone running back to the vehicle, getting into the front passenger side and leaving the scene, according to the report.
Police said Santana, who has insurance on the building, was in Mexico at the time of the fire and that his daughter had access to the key to the building left in his Farrell home.
Also, Rubano obtained video surveillance from an Ohio hospital that shows Morrow and Santana-Benavides together as he was admitted for severe burns.
A preliminary hearing for both is scheduled for Friday in front of Farrell Magisterial District Judge Mary A. Odem.
Follow Melissa Klaric on Twitter and Facebook @HeraldKlaric, email: mklaric@sharonherald.com