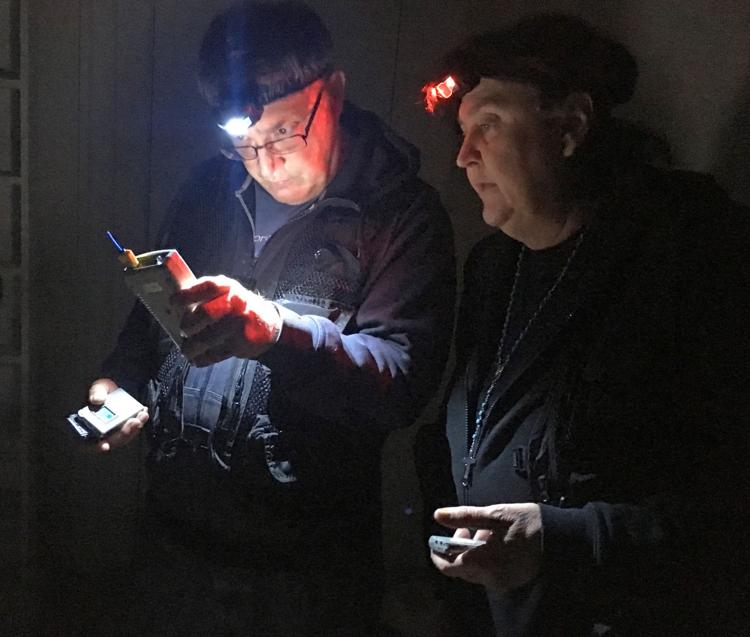 JAMESTOWN – It took less than 10 minutes for Joe Moczan to hear something – something that did not quite sound normal.
"It was a disembodied voice,'' said Moczan at the start of his investigation of Mark Twain Manor.
Also known as the Gibson mansion, the elegant Jamestown home built in 1856 by Dr. William Gibson is listed on National Register of Historic Places. It also made Moczan's list of special sites.
"There's no doubt it's haunted,'' the Ellwood City paranormal investigator said. "The preponderance of excellent evidence is here.''
Pronouncing a location as "haunted" isn't something Moczan takes lightly.
"I'm my biggest skeptic,'' he said. "I look for any other reason on why something might have happened before I'm convinced.''
Last Thursday was the fifth time Moczan had conducted a paranormal investigation of the historic home. With the help of his friend John Denome, the two men created Digital Paranormal Investigations. The outfit seeks out places to investigate for supernatural activity. They don't charge for their services.
Along with two other friends, the team divided into two groups and scoured all of the home's rooms listening and looking for ghosts. While in a room on the top floor, Moczan's head snapped up.
"I hear music,'' he said to others in the group. "And it's getting a little louder.''
Another team member heard the melody, but others didn't. Moczan left the room for a few minutes to check on the other investigating team's experience in the room.
"Two of them heard the music when they were here,'' he responded upon his return.
There was a bold action taken by a ghost at the manor in a prior investigation, Moczan said.
"One of the guys sat on bed and it bounced up a couple inches,'' he said.
Moczan said at no point in any investigation at the house has he felt threatened. But determining who the ghosts are hasn't been easy.
With his audio recorder in hand, Moczan constantly asked the ghosts to identify themselves during his Mark Twain Manor investigation, as well as others of their kind who decided to settle in the house. No audible voices were heard in response. But when Moczan replayed several recordings, scratching sounds could be heard at points after the ghosts were asked questions along with other non-identifiable sounds.
"There's someone there,'' he said.
•
Searching out those from the beyond has been a lifetime passion for Moczan. In his younger days, he read books written by ghost hunting legend Hans Holzer, who detailed his encounters with the spirit world. Holzer died in 2009 – and no, Moczan hasn't been visited by his spirit.
As he entered adulthood, Moczan found himself drawn to places reported to be haunted.
"I've been hearing and seeing things all of my life," he said. "If something strange was going to happen, I was the one that was going to experience it."
Moczan said interest in paranormal investigating has surged in recent years with the growing popularity of ghost hunting television shows. But he said a mistake people make is buying expensive equipment that TV investigators use, such as top shelf audio recorders and premium night vision cameras. Older recorders are actually better at picking up ghost voices as they capture background noises – which is where many ghost voices are heard, he said. Voices collected on recorders are known in the paranormal world as electronic voice phenomena – or EVP.
"You can get a 20-year-old digital recorder online for $15 or $20,'' Moczan said.
But there's seemingly no end to paranormal investigating equipment out there for sale, from a $100 ghost footstep tracker to a $700 "ghost camera.''
There's also loads of apps out there, many for free, that tout some type of connection to the ghostly world. Ghost Radar Classic, Ghost Talk, Ghostcom Radar Spirit Detector and Search For Ghosts are among the more popular apps listed on Apple's App Store.
Those looking for up-to-the-minute technology can visit the Pennsylvania Paranormal Association's website, which uses NASA data such as ongoing solar winds and changes in the earth's magnetic field to give a daily forecast for paranormal conditions – much like a weather forecast.
Sounds captured on recorders and still photos from the Mark Twain Manor investigation will be examined by Moczan in the coming weeks. Past investigations have resulted in more than 100 EVPs being collected at the manor, he said.
There were potential paranormal events during the investigation that were debunked by the group.
A voice heard in another room turned out to be another investigator, and a flashing light in the first floor parlor was found to have come from car lights. A meter was shown to be defective after it displayed the temperature in a section of a room was 115 degrees.
As for the history of the mansion, Dr. Gibson died in 1887 and his wife lived at the home until her death in 1905. There has been some controversy on whether fabled American writer Mark Twain spent a night at the mansion as a guest of the Gibsons. But for generations, the story has stuck, which earned the house the title, Mark Twain Manor.
"One voice I heard in the past here made me think it was Dr. Gibson,'' Moczan said. "It sounded like the voice of an old man.''
During Thursday's search, the team used a meter that they said measures paranormal energy levels. In one room, the meter hit over 100, which is a very high level, Moczan said.
There have been investigations by the team at other locations that drew dramatic ghost response.
"A cross on the wall was thrown and landed at the feet at one guy who is a police officer," Moczan said.
The Jamestown Historic Preservation Foundation, which owns the mansion, has been steadily restoring the mansion. The non-profit foundation gave Moczan and his team permission to conduct the investigation.
Jamestown Mayor Esther McClimans, who has been a passionate supporter of the home, said she has never had a ghostly encounter at the house.
"I used to work there as a waitress,'' McClimans said of the time when the house had a restaurant. "One day another waitress ran down a stairway looking white as a ghost. She said, 'I don't know what it was but I saw something.' She didn't go back to work.''
McClimans said there have been plenty of other spooky tales about the mansion over the years.
"You hear people talking about doors opening and closing and hearing noises,'' she said. "But I've never heard something that was dramatic.''
Moczan said he treats every unseen being with respect and is never confrontational.
"We talk to them as friends,'' he said.
With this being Halloween week, Moczan is in high demand. Earlier this week he traveled to Monaca – home of Penn State Beaver Campus.
"The campus is starting a paranormal club,'' he said. "I like to tell people I just accept the world around me."