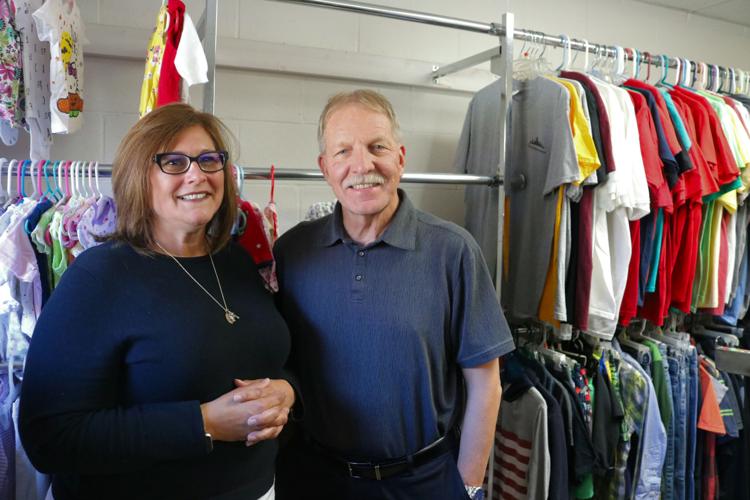 FARRELL — Before Jennifer Wallace applied to direct the Prince of Peace Center, she prayed about it.
That's fitting, because the center is a charitable venture of the Roman Catholic Diocese of Erie. But once Wallace filled out the application, she left no doubt that she wanted the job.
Joe Flecher, the previous CEO, said Wallace called him at the Prince of Peace office to make sure she was still on the center's radar.
"I was like a dog with a bone," Wallace said.
Her persistence and desire paid off. Wallace began work Sept. 30 as the new CEO at Prince of Peace, replacing Flecher.
Flecher said Wallace's passion for the job played a role in her getting the job.
"Absolutely," Flecher said. "It was her desire, her willingness, her openness."
Wallace said she will continue that pattern as she makes the CEO job her own.
"I'm very transparent. I'll tell you like it is, whether you like it or not," she said. "
Flecher will continue to work with Wallace through the end of this month to bestow the lessons he learned in his 16 years as the charity's director.
When Flecher first started, he said the state and federal governments were more generous about supporting private charities than they are today. Now, he said social service funding is more difficult to come by, and organizations like Prince of Peace have to rely on private donations, which are likewise dwindling.
With the decline in funding, Flecher said Prince of Peace has had to become more imaginative about its work, with an emphasis on helping people who help themselves. The center offers a slate of classes, including financial counseling and budgeting, legal counseling on housing issues and nutritional guidance.
The classes come with an enticement — when a client completes the course, Prince of Peace pays one of their bills. That way, Flecher said, the lessons learned multiply the impact of Prince of Peace's financial help.
"The person feels like they're not getting a handout," he said.
Prince of Peace, founded in 1983, is one of the most active charities in the Shenango Valley, where it is well-known for its annual Thanksgiving and Christmas dinners.
With Wallace's addition to the Prince of Peace administrative team, it will strengthen its ties to the area.
Flecher, who lives in North Sewickley Township, Beaver County, said he has been dedicated to his work at the Farrell-based charity, and he acknowledged that Wallace, like Prince of Peace, is rooted in the Shenango Valley community.
For Wallace, the desire to return home was a consideration. Wallace, who grew up in Brookfield, is a lifelong resident of the Shenango Valley.
She started her career as a registered nurse, and moved from there into an administrative role with Sharon Regional Hospice and Almost Family/LHC Group, operating hospice operations throughout the United States. That job meant spending a lot of time away from her home.
"I missed my connections and I missed my community," said Wallace, who lives with her husband in Sharon. "You're out in Berwick, Pa., where you have nobody but the people you work with."
Wallace said she faces a challenge in maintaining and expanding programs in the face of declining support. But she is ready for that task.
"That's my goal," she said. "Keep it going."
Follow Eric Poole on Facebook and Twitter @HeraldEricPoole. Email him at epoole@sharonherald.com