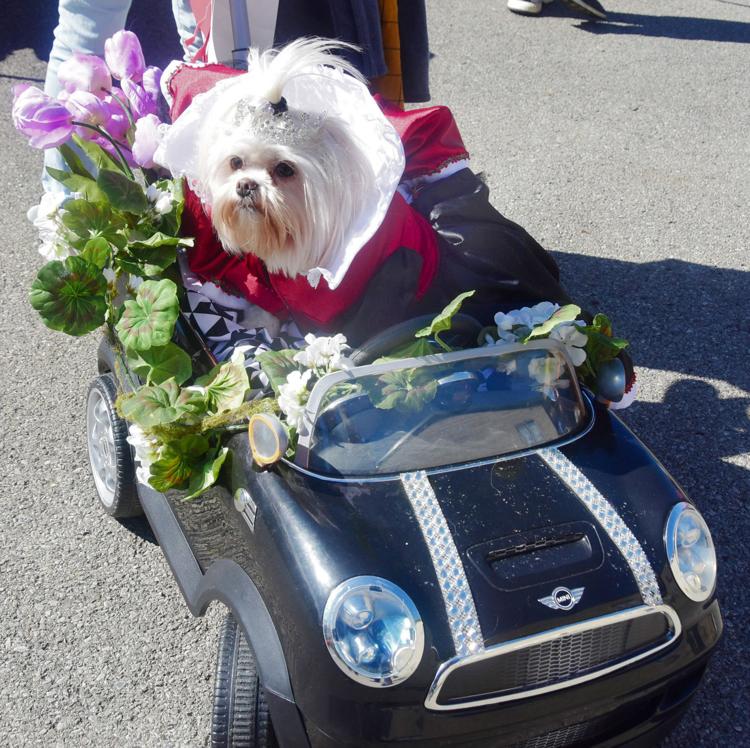 HERMITAGE — Anyone driving past the Hillcrest-Flynn Pet Funeral Home Saturday afternoon would have seen an unusual collection outside, ranging from furry superheroes to bees to Star Wars characters.
But it was only dogs in costumes, getting in on the Halloween season with their owners.
In some instances, the owners dressed up along with their dogs. Such was the case with the Rider family, where Alvina and her husband Bill Rider dressed as a ghostbuster and the Stay Puft Marshmallow Man respectively, along with their Yorkie-poo Peanut, a Yorkshire-poodle mix, who was dressed in her own ghostbuster costume.
"She (Alvina) made the vest for Peanut, and then I made the little proton pack," Bill said, referring to the backpack-like equipment Peanut carried.
The 13th annual Howl-O-Ween costume party was held from 11 a.m. to 2 p.m. Saturday.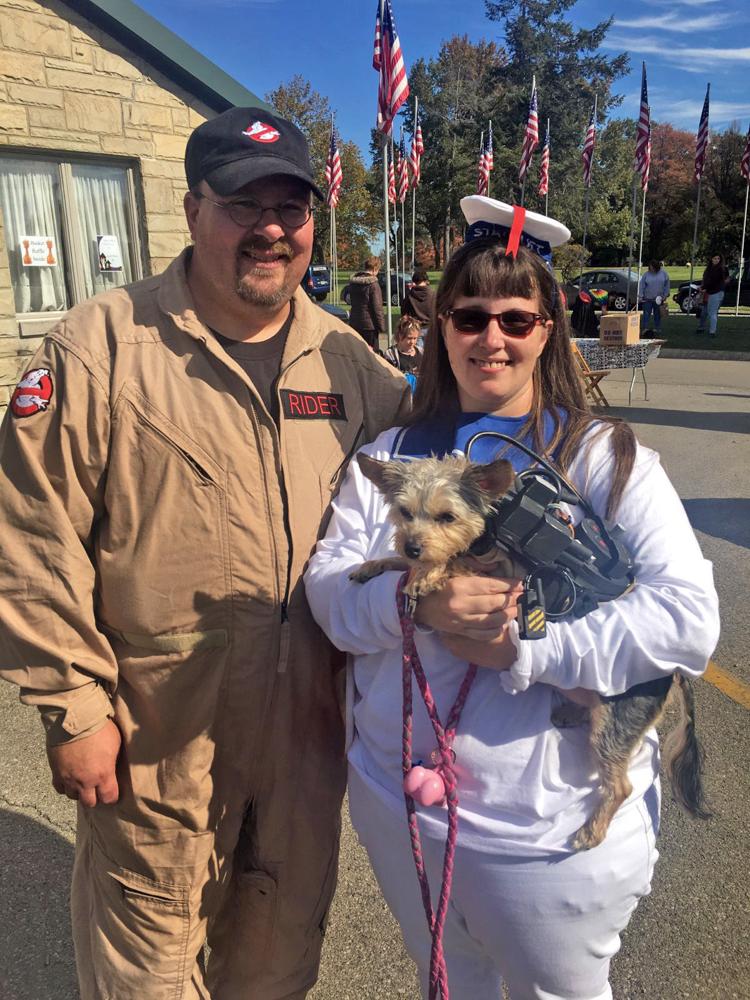 Cara Kightlinger brought her pit bull-lab mix Charlie, who was adorned in a colorful narwhal costume. Though Kightlinger said she has attended the event in previous years to help support the animal groups, this was the first year she attended with Charlie, who Kightlinger has been taking care of for the past three months.
"She's five months old, so she still gets pretty shy," Kightlinger said of Charlie.
The event was hosted by the Hillcrest-Flynn Pet Foundation, which Director Matt Record said helps support about five animal rescues throughout Mercer and Trumbull counties.
Refreshments and food were available, as well as an auction with 50 different baskets provided by local businesses and the vendors. The Howl-O-Ween event generates an average of about $3,000 per year, which goes to the foundation and is subsequently dispersed among the rescues, Record said.
"It's a good chance for the different groups to meet with each other and for people to find out what's out there," Record said.
Record said about 13 vendors representing local animal organizations participated in the event, including All Paws Matter of Sharpsville and Mercer, which co-founders Kim Burdick and Ginny Neely said has participated since the organization's founding in 2016.
"It's been really good so far today. We've had a lot of good dogs and a lot of people who came out to support us," Burdick said.
Another vendor at the event was Heart Therapeutic Riding and Equine Rescue of Transfer, which President Linda Paolucci said serves about 25 clients. The organization both rescues horses while helping provide therapy for people with physical disabilities.
"A lot of it is just building confidence and trust, and helping to build those relationships," Paolucci said.