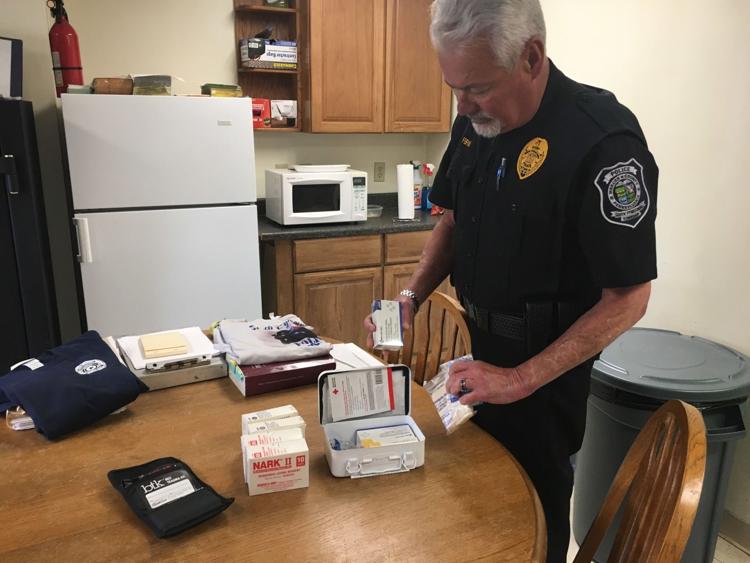 SOUTH PYMATUNING — When he took the job in June, South Pymatuning's police Chief Paul Ferm was a one-man department.
Since then, the South Pymatuning Police Department has grown to four full-time police officers, including Ferm, and two part-time officers, he said. Though his law enforcement career stretches back to 1980, most of the officers in his department — with a range of experience including Sharpsville and Mercer police departments — are all in their 20s or 30s.
"You keep the same police number throughout your whole career, so most of the officers' numbers are in the 300,000s, but mine's in the 4,000s," he said.
South Pymatuning supervisors previously disbanded the township's police department in February after an investigation found irregularities in the department. Police coverage was provided by the Pennsylvania State Police until the department could be rebuilt.
But there's more to rebuilding the police department than just restoring the number of officers.
In a few months, once a routine has been developed and the police officers are settled in, one of the programs that Ferm said he is interested in pursuing is a vacation-watch program, as well as a very similar "are you OK" program.
"We have some older residents who live by themselves, and maybe they have no relatives or their family doesn't live nearby, so if someone's interested we could give them a call once in awhile to check in and ask, 'Hey, are you OK'" Ferm said.
One program could involve reaching out to members of the local clergy to see if anyone in the area would be interested in serving as a police chaplain. Police chaplains can help with situations such as where a police officer needs to talk to someone about a personal or spiritual issue, or going on ride-alongs with officers, Ferm said.
"They can also pass on some of what they learn to their congregations, and that can give people a better idea of what we do as police," he said.
When it comes to reaching out to the public, a new addition Ferm has implemented is the creation of a Facebook page for the South Pymatuning Police Department, which allows for interaction between the department and residents.
"It lets me put out notices or warnings, or I can use it to solicit ideas from residents if they have any suggestions for the department," he said.
Changes have come to the police station as well, including the introduction of security cameras that cover the entire department and a sharp objects container. Other planned improvements depend on funding, such as the addition of a prisoner bench or an interview room, Ferm said.
Other donated items included five emergency Stop the Bleed belt kits, three first aid kits for the police department's vehicles, and one drug test bundle courtesy of the U.S. Deputy Sheriff Association out of Kansas, Ferm said.
But one of the most important parts of the police department is making sure the officers are visible — whether that's stopping to chat with local residents, or patrolling down the roads previously less-traveled. In one case on a road off of Saranac Drive, Ferm said he had a chance to speak with a resident that was glad to see a police presence.
"He told me 'we've never seen the police car come down this way before,'" Ferm said. "But I told him our guys would be down there again."
The community has shown its support as well, with a fundraiser to support the South Pymatuning Police Department to be held from 1 to 5 p.m. Saturday at Thelma's Sports Nook, 285 E. High St. Ext., Sharpsville.
Like David L. Dye on Facebook or email him at ddye@sharonherald.com.