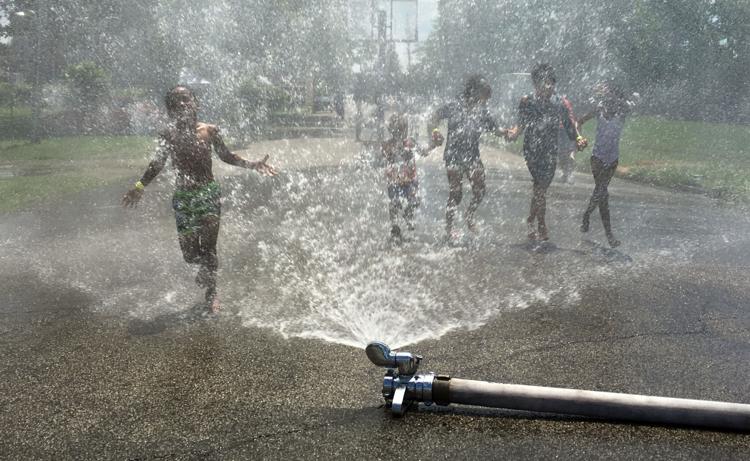 FARRELL – The 14th annual Prince of Peace Family Block Party will be Friday in Veterans Square Park.
Since the party has grown so much, Prince of Peace's assistant director, Annette Morrison, said this is the second year it will be at the corner of Spearman Avenue and Federal Street in Farrell.
All surrounding communities are invited – Sharon, Farrell, Hermitage, Wheatland, Sharpsville and beyond – to take part in the free fun and to come together as one community, Morrison said.
"We're just taking it back to what we used to do as a kid in Farrell," she said. "We would have block parties, play games, dance, hopscotch."
Morrison said no money is needed, only a bathing suit and towel because the firefighters will turn on the hose for children to run and jump through.
This is also the first year that a petting zoo will be set up with 25 animals, and pony rides.
In addition, there will be lots of food, face painting and children and adult bingo.
"We're doing it to bring families together, so there's things for children and adults," Morrison said.
The party runs from noon to 5 p.m. Registration begins at 11 a.m., and the Stey-Nevant Library is sponsoring movie night at 8:30 p.m.
"Just come and sign your name and get a wristband so you can get a snow cone, popcorn and prize," Morrison said. "Every child will take a prize home with them, and books home to read."
Police and firefighters will be walking around, and police will be giving out Dairy Queen tickets.
"The kids are learning that our community is safe and to trust our officers and our firemen," Morrison said.
She said events like the block party are part of Prince of Peace's mission.
"We're trying to do more things with the community," she said. "We have a lot of talent here, and I see it. We just love what we do here. Working with the families and just letting them know we're here for you and we're building up the community one family at a time."
Morrison said she gets excited when this time of the year comes around.
"To see the community officials come together and build relationships," she said. "For all the communities surrounding Farrell to come together. Just come on down and enjoy the day with us."
Follow Melissa Klaric on Twitter and Facebook @HeraldKlaric, email: mklaric@sharonherald.com