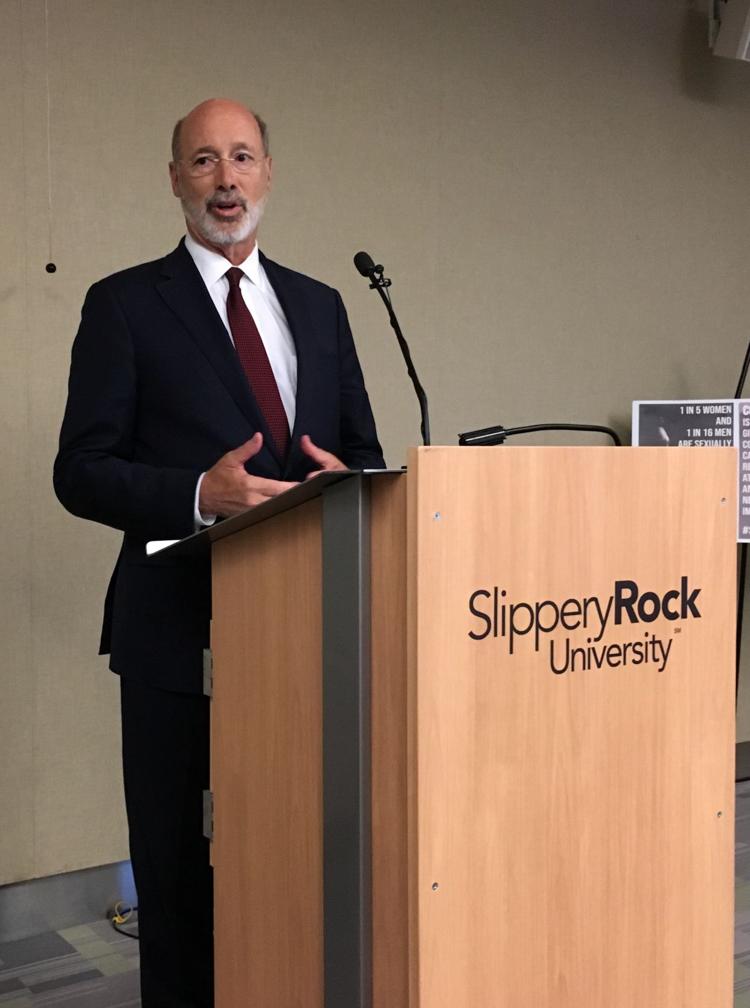 SLIPPERY ROCK – Standing in a room with Slippery Rock University faculty and students on Wednesday, Pa. Gov. Tom Wolf said he understood the concerns about sexual assaults on college campuses.
"This is a subject that all of us have to figure out,'' Wolf said.
Wolf visited the university to award a state grant totaling nearly $20,000 to help prevent sexual assaults. The grant is part of the "On Us PA'' program that his administration started three years ago. During that period the state has awarded $3 million in grants for the program, he said.
The state program is an offshoot of the It's On Us program started in the Obama administration to fight sexual assaults on college campuses. The state and national program encourages conversation and awareness, Wolf said.
He indicated that these grants being awarded at the beginning of the school year wasn't by accident.
"The first six weeks is when we see the biggest uptick of sexual violence on a campus,'' Wolf said.
He acknowledged the number of sexual assaults on campuses is under-reported.
"But I think we're making progress,'' Wolf said. "I think we've done something right.''
In July Wolf signed two laws which he said will make it easier for college students to report sexual assaults. They offer students who report immunity from school policies on drug use and underage drinking. Further, it requires colleges and universities to offer online, anonymous sexual misconduct reporting.
As he spoke about relations between people, Wolf said it requires a mutual respect.
"We need to create that understanding of consent,'' Wolf said.
William Behre, SRU president, said the university takes sexual assault seriously.
"Slippery Rock University is committed to providing a safe, welcoming environment free from all forms of coercion and harassment for students, employees and guests," Behre said. "This commitment includes education, prevention and, if necessary, punishment for all forms of harassment. We are grateful for the support of grants like Gov. Wolf's 'It's On Us' initiative that provide essential funding to help us in our work to achieve our goals."
Corinne J. Gibson, SRU's director of the Office for Inclusive Excellence, talked about the university's program for handling sexual assaults. Gibson spoke of the need for educating all levels of the university. In addition to training SRU staff on the subject, the university has information about the subject ranging from social media to banners in hallways.
"We're always looking to find ways of effectiveness,'' she said.
In talking about sexual assault and the various tools that can be used to fight it, Wolf said he understood the concerns of parents.
As a father of two young daughters, I'm really glad this is happening,'' he said of state programs. "We made some good strides, but we have a lot of work.''