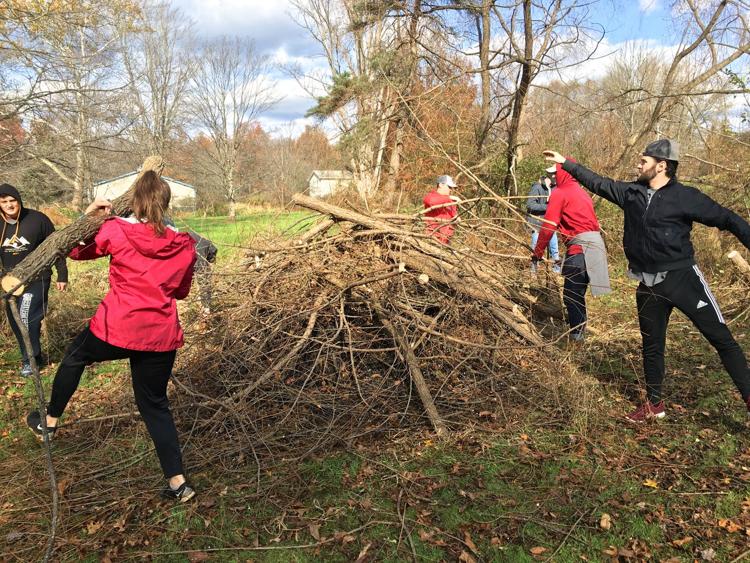 GROVE CITY – Raylene Stevens watched Sunday as Grove City College students pile up logs and branches outside her house. 
The wood came from a downed tree that a volunteer chopped up. With a wide smile, Stevens expressed her gratitude because the assistance came at a fortunate time. Her husband Michael usually did the heavy-duty work around their Grove City home until he died in August.
"I have a chainsaw,'' Stevens said. "But he would never let me use it.''
East Main Presbyterian Church is helping Grove City-area residents like Stevens with its "The Church Has Left The Building" program.
Five years ago, Rev. Eric McEwan, an associate pastor at the church, developed a twice-a-year program, where volunteers from the Grove City church helps perform household chores.
The idea is to do household work for people who are physically unable to perform the tasks themselves. Stevens is a member of the church but the program is open to people who don't attend East Main Presbyterian, McEwan said.
"We've done everything from fixing porches that have rotted away to raking leaves,'' he said. 
Volunteers for the program gathered Sunday after church services to eat and check on a work list of assignments. The church encourages people in the community who need help to call for assistance. A large number of the scores of volunteers attend Grove City College, including many on the Wolverines' athletic teams.
"This is our first time here,'' said Sadie Hilf, a Bethel Park native who is on Grove City College's women's swimming and diving team. She and teammate Emily VanderWeele, of San Antonio, Texas, were among the volunteers.
Those at the luncheon could pick an assignment or have one chosen for them.
"But we make sure nobody is placed in a situation beyond their skill level,'' McEwan said. 
Hilf got that message.
"I wanted to use a chainsaw but they told me I wasn't allowed,'' she said with a light laugh.
The program attracts volunteers who are young and old alike. Dick Leo, a 50-year member of the church, has been a volunteer from the beginning.
"People in the community make us very welcome for this,'' Leo said. "We want to be of service.''
But like other volunteers, he lets those with top-shelf home improvement skills take the lead.
"One time we helped someone fix a broken garage door. I'm glad I wasn't part of that,'' Leo said with a chuckle.
His assignment Sunday was to wash windows at Winifred Barkley's home. Barkley's husband died last month. The 85-year-old Grove City resident is a member of East Main Church.
 "I'm legally blind,'' Barkley said while Leo cleaned her home's back windows. "The church is so amazing. The church has been so good to us – not just this but in everything.''
The program has helped East Main become better connected to the community, said the Rev. Bill Hoffman, the church's pastor.
"You look at your neighbor differently by doing this,'' Hoffman said. "There's no shortage of people who need help.''
One piece of the program involves labor of the heart, rather than the body. 
"There are people who have nobody to talk to,'' Hoffman said. "They're lonely. We want to make sure these people have somebody to talk with.''
And even though "The Church Has Left The Building" is free to those it helps, Hoffman said Barkley wanted to return the favor.
"She has a heart of gold,'' he said. "She offered to bake us 500 cookies for one of our dinners even though we didn't ask her for anything.''