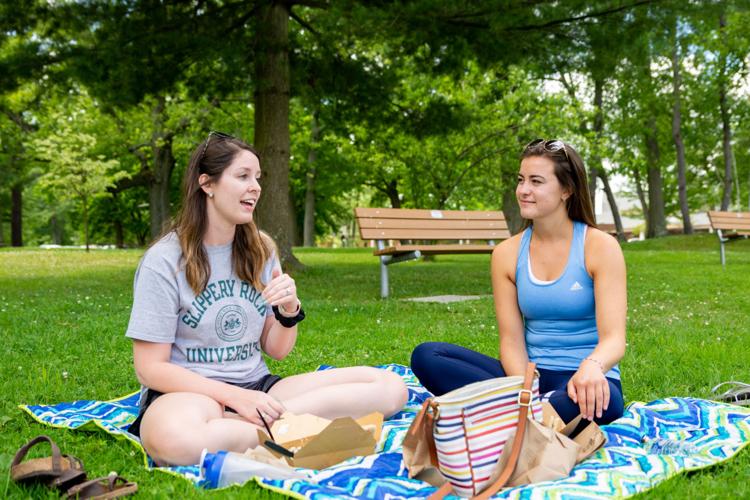 As the presidential election nears — it's four months off as of Friday — political awareness is up, and Mercer County residents are evaluating the performance of President Donald J. Trump.
And there's plenty to evaluate just this year so far. There's the national and regional handling of the COVID-19 pandemic and the economic collapse it fueled, and unrest stemming from incidents of police violence, including the death of George Floyd, a Black man killed by white former Minneapolis police officer Derek Chauvin, who used his knee to pin Floyd by his neck to the ground for almost nine minutes.
After Pennsylvania eased requirements for being able to vote by mail, 40 percent of Mercer County voters that way in the June 2 primary, and mail-in voting was popular statewide. Election officials expect similar voting patterns in the fall general election.
Last week, the Trump re-election campaign and supporters — including U.S. Rep. Mike Kelly, who represents Mercer County in Congress — sued the Pennsylvania Department of State over provisions of its vote-by-mail program. The president, without citing evidence, has called voting by mail an opportunity for vote-rigging and fraud.
And, again, there's still four months until Election Day.
•
"We live in a country where racism is real.'' 
– LAMONT HAILSTOCK Sr., Farrell
In Farrell, businesses like Klassy Kuts Barbershop were emerging from an enforced COVID-19 hibernation. 
Owner Lamont Hailstock Sr., a barber himself, has been running the Spearman Avenue barbershop for 25 years. His shop was closed for nearly three months before it could reopen Friday, June 5.
"That Friday was probably the busiest day I ever had,'' he said. "I was here from 8 a.m. to 8 p.m.''
When it comes to the politics, of how the state handled COVID-19 by shutting down non-essential businesses, Hailstock said he understood the reasons why it was done.
"I think they had to do what they did at the time they did it,'' he said of the state ordering businesses to close and other measures. "I can't say they did anything wrong.''
But there are limits in how far the government can go, Hailstock said.
"You can't completely shut down businesses forever,'' he said. "You have to pay your bills.''
Like many others, Hailstock got a stimulus check from the federal government and he said that helped. He used the money to pay bills.
Hailstock said Floyd's killing exposed a harsh reality in the United States.
"We live in a country where racism is real,'' Hailstock said. "And our government and politicians will have to make change.''
But he said nationwide demonstrations, including those in the Shenango Valley, are showing people can make a difference.
"When you got that many people protesting that's power,'' he said.
Hailstock said he's made up his mind about who he will vote for in November's presidential election, but he declined to name the candidate. 
He did, however, leave a hint about who it wouldn't be.
"In all of my lifetime I've never seen a presidency like this,'' he said.
•
"I'd really like to see more dignified leadership from the top down."
– ADRIANNE FERGUSON, Grove City
Adrianne Ferguson, a Democrat from Grove City, said she supports Gov. Tom Wolf's handling of the COVID-19 pandemic response, but she's not satisfied with direction from the local and federal levels.
People see President Donald Trump not wearing a mask when he's in large groups. She said that discourages others from following the guidelines recommended by the U.S. Centers for Disease Control and Prevention.
"It sets a bad example," she said.
Ferguson said Trump spends too much time tweeting about the pandemic and other issues instead of addressing problems.
More than 110,000 people and counting have died from the virus in the United States, and Ferguson said she has found that many local residents are "aggressive" about their decision to not wear a mask. Her husband, Dr. Daniel Ferguson, has an internal medicine practice in Slippery Rock, so her family continues to wear masks in an effort to help protect him and his patients.
She has noticed that some area businesses seem unwilling to enforce their own mask rules, which has led to changes in where she chooses to spend her money.
Ferguson noted that state Rep. Tim Bonner, R-8th District, voted against Wolf's proposal to keep restrictions in place.
"I'd really like to see more dignified leadership from the top down," she said.
She voted by mail in the June 2 primary election, but was notified that her ballot didn't make it to the elections office by the deadline.
She thinks the process needs some work and plans to vote in person in November.
"Voter suppression is too risky at this point," she said.
•
"Voting by mail "just opens things up for a lot of corruption."
– JEFF DeGROFF,
Grove City
Jeff DeGroff, a Republican from Grove City, is keeping a close eye on what happens with pandemic guidelines – he is employed by Monark Student Transportation Corp., driving a bus for Grove City Area School District.
Dealing with pandemic has been tough for many, and he said the government keeps trying to figure out ways to control people with measures like face masks and limting the number of people inside a business.
Some places have gone out of business and won't be reopening, which he said is a shame because unemployment was low and new businesses were opening up thanks to Trump.
"The pandemic shut that all down," DeGroff said.
Some business owners risked everything before the pandemic, and the ones making it through already had drive-thru service and a significant internet presence.
"I'm sure a lot of us have learned to live life a little bit different," he said.
As for mail-in voting, DeGroff said he is worried its reliability. If that was the only way he could vote, he would consider it.
"It just opens things up for a lot of corruption," he said, adding that he has that concerns about both Democrats and Republicans taking advantage of it.
So many people have become divided, which he has seen come out of the response to Floyd's killing.
DeGroff said Floyd's death was murder and that he supports peaceful protests like the one held June 3 in Grove City, but some protesters are looting and rioting, which cheapens the cause of the peaceful protesters.
"They took advantage of the situation," he said.
•
"I think people are frustrated in what's going on.''
– HANNAH REDICK,
Greenville
In a spiritual sense, the COVID-19 pandemic challenged the ministry at Fresh Grounds Coffeehouse and Cafe.
"It made us want to reach out to people even more,'' Hannah Redick, the evening manager at the Greenville coffeehousesaid.
The coffee shop, on Main Street, offers beverages and food, along with hosting community events such as poetry readings and live music entertainment. That changed when the pandemic struck in mid-March.
"We shut down like everyone else,'' Redick, a Greenville resident, said.
Takeouts were offered and a month ago the shop allowed people to come inside to order takeout meals.
Fresh Grounds opened its doors June 5 for dine-in meals, like other restaurants and coffee houses, when Mercer County entered the "green'' phase of Gov. Tom Wolf's "red-yellow-green'' reopening protocol. Restaurants still must abide by 6-foot social distancing between customers and serve no more than 75 percent of capacity.
Redick, 22, will graduate from Butler County Community College at LindenPointe in the upcoming semester and wants to work in early childhood education. Like other students at the college, she did online coursework after COVID-19 hit.
She said she is still sorting out her feelings on how federal and state governments handled the virus. But she fears COVID-19 will hit again this fall.
"I have no idea how hard it will be,'' Redick said. "And I honestly don't know what's going to happen. But I think people are frustrated in what's going on.''
COVID-19 still impacts daily life, she noted.
"When I go out with friends, I want to remain respectful of social distance spacing,'' Redick said.
One thing she wants from elected officials is to see first-hand how the virus and other issues affect people.
"I want them to understand, to see the plight of people and help resolve issues,'' she said.
•
"Nobody deserves that, I don't care what color you are."
– KELVIN NEWBY,
Hermitage
When it comes to these next elections, something that Hermitage resident Kelvin Newby said will be of concern to him is the way authorities have handled the coronavirus pandemic — particularly the way healthcare workers have had difficulty in getting personal protective equipment, or PPE.
As a healthcare worker himself, Newby said access to PPE and support for those in the healthcare field will be particularly important since due to an expected second wave of COVID-19.
"I feel like if there had been a war or a situation like that, then healthcare workers wouldn't have had any problems getting the equipment they need," Newby said.
Alongside support for healthcare workers, Newby said he also wanted to see compensation for "mom and pop shops" that have been closed or struggled financially due to the pandemic.
Something else that is still ongoing are the protests against police brutality in the wake of George Floyd's death. With friends in law enforcement, Newby said there were many plenty of good police officers, but said he would be open to some kind of increased accountability for officers who have had repeated complaints or incidents, such as the officers involved in the death of Floyd.
"Nobody deserves that, I don't care what color you are," Newby said.
•
"...There's a lot of people wondering if their kids will go back to school, or what that's going to look like."
– OLIVIA SCHMIDT,
Hermitage native
Originally from Hermitage, music teacher Olivia Schmidt had her career affected like many others in the education field when the coronavirus pandemic closed schools across Pennsylvania.
Though she had to come up with a way to teach digitally, Schmidt said it was helpful having information coming from the state and federal governments as to what the status of the pandemic and what the regulations were.
Being a teacher, the coming school year in the fall and the possibility of a second coronavirus wave makes it very important for Schmidt and others to know what will happen, although Schmidt said the news for the most part has shifted away from information on the pandemic.
"I think now there's a lot of people wondering if their kids will go back to school, or what that's going to look like," Schmidt said.
As for the ongoing protests against police brutality, Schmidt said much of the focus has been on the "bad ones," such as those involved in the death of George Floyd, although she said most police officers are good people, and that like any profession there are bad ones.
While most police officers are good people who will do things such as playing basketball with children, Schmidt said she would be open to some sort of review process to help identify officers who may abuse their power, similar to how teachers have to go through background checks and continued evaluations throughout their careers.
"The evaluations that I'm sure police have to go through, I think maybe those may need improvement or more seriously reviewed," Schmidt said.
•
"Sometimes things are uncertain..."
– LAUREN FABER,
Greenville
Currently studying vocal performance at Youngstown State University, Lauren Faber, of Greenville, said education is often a concern for her, particularly how much resources are devoted toward opportunities for students not only after graduation, but before graduation as well. These could include opportunities such as job-shadowing or internships to help prepare students for their careers or the work force.
"When you're still in the program, it's always good to build everything up and have a skill set and experience before you graduate," Faber said.
Like other students, Faber found her student career affected by the coronavirus pandemic and the closing of schools and colleges.
While it was helpful to have health, state and federal officials providing updates on COVID-19 and some of the guidelines, Faber said she would like to see those regular updates and attention return to COVID-19 since the pandemic is still going on and she has to prepare for her next semester.
"Sometimes things are uncertain just because the situation is still going on and there's all kinds of information, but it helps to at least be aware of what's going on just for brainstorming or if plans change," Faber said.