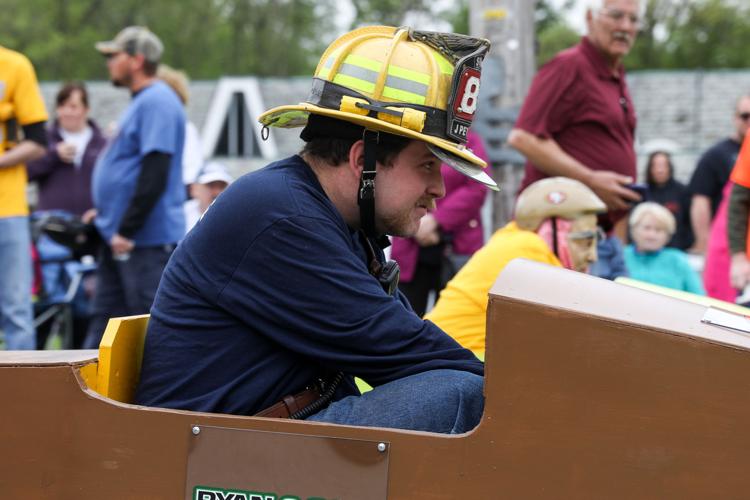 SHARPSVILLE – The drivers hunched over their steering wheels, grim determination etched on their faces. The racing cars take off from the starting line.
Instead of peeling rubber, though, these vehicles creep along the first few feet until gravity takes hold. Instead of metal, these cars are made of wood.
Although there are trophies to be won, the drivers' real reason to be launching down Peirce Avenue in soapbox derby cars Saturday morning was for a worthy cause – the Greater Pennsylvania Super Kids 2019 Adult Challenge Fun Racer. Sponsorships and entry fees for these races support the Super Kids race, which will be held June 29 for special needs children and adults.
Twenty-four teams competed in nearly 100 trips down the hill, which was cordoned off on both ends for safety.
Lori Rollinson, 52, of Hermitage enjoyed her first derby race.
"It's a lot of fun going down," Rollinson said.
Her husband, Tony Eldridge, 55, agreed. During his heat, Eldridge kidded his opponent on the descent.
"I said we haven't hit each other, so we're still good," he said.
The couple were part of team Lori Rollinson's Hair.
Rollinson said the race was a worthy endeavor.
"It is a great cause," she said.
Driver Steve Smith, 68, of Sharon, who was on the Mercer County Area Agency on Aging's team, said each ride is an experience.
"You're hoping the brakes are going to work, for one thing," he joked.
Sharpsville teenager Anthony Chiavazza said the first trip can seem daunting.
"You get worried at first," he said.
However, he said that feeling changes by the end.
"You realize it's a great time," Anthony said.
He said participating in the fundraiser is gratifying.
"All of the proceeds go to the Super Kids race," Anthony said.
From each heat of two racers, the loser would be eliminated until two competitors remained. John Austin of The Pick-Ups team, which was sponsored by Bob Buckley, won the final race. Ethan Koser on Heather's Team, sponsored by Heather Dillow, placed second while Julie Cole of Super Mom's Crew, sponsored by Candle by Christine, captured third.
Pam Dorfi, the group's organizer and secretary/treasurer, said Super Kids raised roughly $4,000 counting concessions and T-shirt sales.
Michele Buell and Anna Marie McConnell were co-directors of the event.
The go-carts used in June are two-seaters, so another person operates the derby car for a special needs passenger
Some of those special needs participants and their parents watched Saturday's races. Christine Hamilton of Hermitage, whose children Dillon, 22, and Austin, 18, will be competing next month, lauded the events.
"This is a good cause," Hamilton said.
Deanna Hendrickson of Sharpsville, whose children Mechelle, 20, Rachel, 19, and Bobby, 15, also will join June's racing, agreed. Hendrickson said her children enjoy the races.
"They love it," she said.
A new car debuted that was built by the Carpenters Local 420, which also competed. The steering wheel is designed to look like a hammer and the sides were large hand saws.
Before the races began, 3-year-old Anthony Tedesco of Shenango Township checked out the two-seaters, which were displayed along the road.
Anthony asked about each part of the red car designed to look like a Sharpsville fire truck. He tugged at one of the white ladders, discovering it was there purely for aesthetics and not removable.
When asked if he would be riding in one of the derby cars someday, he nodded his head yes with a wry smirk.