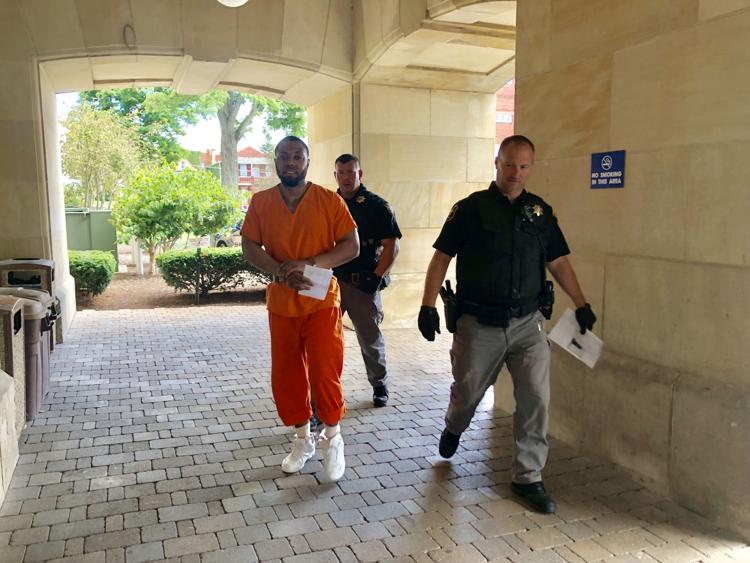 MERCER – Convicted murderer Sean Rain Jr. said nothing at his sentencing hearing Wednesday after receiving a mandatory life without parole. 
"I cannot overlook the fact that a young father was murdered," President Judge Robert G. Yeatts said.
Yeatts said he considered the impact Trivoune Craig's murder had on his family, some of whom were in the courtroom Thursday. 
"They lost their father, their husband, their friend," Yeatts said of the 30-year-old Farrell man. "It's clear the severe impact it had on his family."
Rain, 25, of Farrell, was convicted June 17 of murder in the first degree, carrying firearms without a license and person not to possess a firearm. 
The murder conviction warrants an automatic life in prison without the possibility of parole sentence. For carrying a firearm without a license, Rain was sentenced to 42 to 48 months in prison; and for person not to possess a firearm, he was sentenced to 18 to 36 months in prison, both consecutive to the life sentence.
Defense Attorney Steve Colafella, of Beaver, called no witnesses and made no remarks in court or after the proceedings.
For the prosecution, Mercer County Assistant District Attorney Shane Crevar pointed out that in addition to his widow, Craig's mother and sister were in court for the sentencing. In addition, Craig had a son and daughter.
"Justice was done," District Attorney Peter C. Acker said. "My ADAs worked very, very hard on this case to obtain a conviction, and we're not done with Sean Rain yet."
Acker said he thinks Rain was involved in other shootings, and he intends to pursue charges against him.
"We've never closed the books on them," Acker said, adding that there is more than one case involved. "There's video of the shooting. There were five 911 calls. Farrell police went out and interviewed all five of the callers, they all denied they made the calls. They were afraid of him. He likes to shoot people."
He said his first email when he returns to his office after the hearing will be to the Farrell police to ask them to re-interview those callers.
Craig was found dead in his car in the early morning hours of June 23, 2018, in the sub-100 block of South Myers Avenue, Sharon, with seven gunshot wounds to the face.
During Rain's trial, Sharon police Capt. Travis Martwinski testified that Rain appeared to be carrying a gun in his waistband on video surveillance the previous night from inside and outside T&T Bar and Grille in Farrell. The prosecution said Rain got into Craig's car after the bar closed and directed him to Rain's aunt's house on South Myers.
The prosecution said that something happened to upset Rain and motivated him to shoot Craig. He said that Rain was being a tough guy and when someone spoke ill of his family, he just snapped.
The ADA alleged that Craig disrespected Rain's cousin, Jaylan "Bubby" West, who was murdered Feb. 28, 2015, in Sharon. Michael Bagnall was convicted and sentenced to life in prison for the murder.
According to testimony during the trial, Rain then ran to the home of his aunt, Ashley West. Once inside his aunt's home, Rain shed his clothing and threw them in her washer with detergent and bleach. Rain then is accused of running into the attic to hide out.
Colafella said in his closing arguments that the prosecution made a lot of assumptions. He said the defense would be appealing the verdict.
"(Rain's) one of those rare individuals, a cold-blooded murderer," Acker said. "He's been off the streets for 400 and some days, and now forever, and we're a much safer community because of it."
Follow Melissa Klaric on Twitter and Facebook @HeraldKlaric, email: mklaric@sharonherald.com