SHARON – During a Sharon man's arraignment Tuesday on charges that he sexually assaulted a 9-year-old, Capt. Travis Martwinski asked the judge to set a substantial bond because he believes the accused is a high flight risk.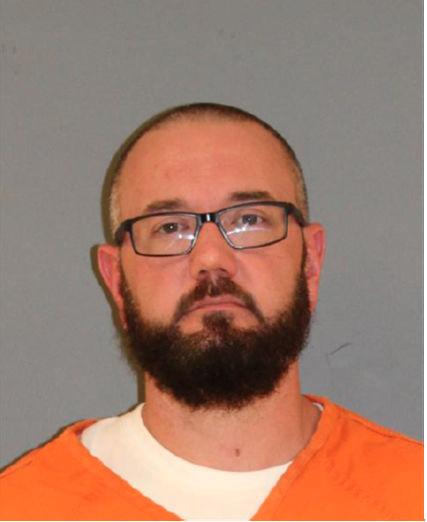 Adam J. Lynn, 37, of 465 Grant St., was arraigned in front of District Judge Dennis M. Songer of Sharon on charges from Aug. 29 of aggravated indecent assault of a child, aggravated indecent assault of an unconscious child, unlawful contact with a minor and indecent assault of a person less than 13.
"He is already listed as a sexual offender. He was not living or working where he said. Family has been hiding him out for two weeks," Martwinski said. "The U.S. Marshals started shaking things up, and that's the only reason he finally turned himself in."
According to an affidavit of probable cause signed by Sgt. Detective Marc-Anthony Adamo, police were alerted to the issue in reference to a report from Case Avenue Elementary School about the sexual assault of a child.
The child told school officials that she had been sexually violated by a man named "Adam" on several occasions starting in 2017.
The child told the interviewer at the Mercer County Children's Advocacy Center that Lynn touched her several times inappropriately at two Sharon addresses. The child said it happened while she was lying in bed asleep with other children and other family members.
A relative said that she caught Lynn in the children's room on two occasions. She also said she had awoken to find Lynn in the room standing over them as they slept in the bed.
During an interview, Lynn made no statements to Adamo as to his guilt or innocence.
Adamo asked Lynn routine follow-up questions associated with his Megan's Law registration and prior sexual assaults.
Martwinski was a patrolman with Sharon police and handled Lynn's case in 2000.
In October of that year, Lynn, a former F.H. Buhl Club lifeguard, pleaded guilty to the sexual assault of a 10-year-old girl at the Sharon athletic club in May of the same year.
Lynn, who was 18 at the time, pleaded guilty to aggravated indecent assault before Mercer County Common Pleas Judge Francis J. Fornelli.
Sharon police originally charged Lynn with aggravated indecent assault, criminal attempt to commit involuntary deviate sexual intercourse, indecent assault, corruption of minors and indecent exposure. He faced only the aggravated indecent assault charge in Common Pleas Court.
Police said in an affidavit that on May 15, 2000, Lynn coerced the girl into a utility room at the club where he persuaded her to remove her swimsuit and allow him to touch her. The girl told her parents about the incident.
Lynn was sentenced to 2 to 10 years in a state penitentiary for the indecent assault charge. He is a lifetime Megan's Law registered offender.
Songer set Lynn's bond at $250,000, and he was committed to Mercer County Jail.
A preliminary hearing is set for Sept. 26.
Follow Melissa Klaric on Twitter and Facebook @HeraldKlaric, email: mklaric@sharonherald.com