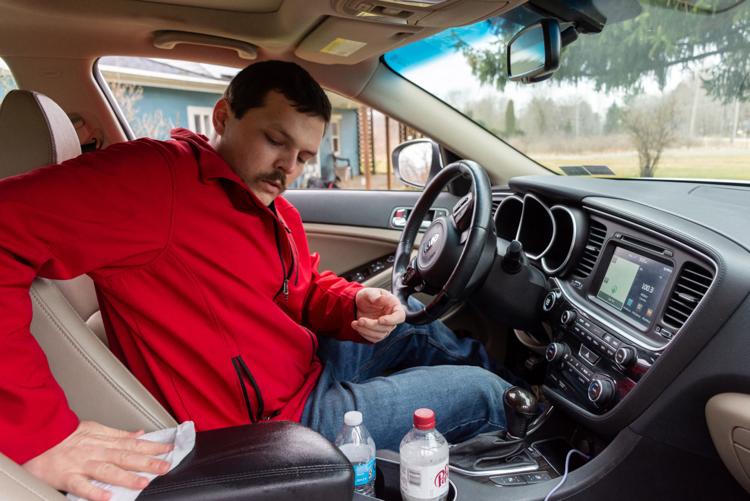 While Zack Schou's job as a pizza driver brings him into regular contact with people who are hunkering down at home in response to the COVID-19 outbreak, Schou is taking his own measures to keep the illness at bay.
When he makes a delivery for Golden Pizza in Greenville, Schou now holds pizza boxes on the sides, not in the traditional hand-on-the-bottom-of-the-box style, to lessen the chance that he and the customer might brush hands.
After Schou gets back to his car, he produces sanitary wipes and cleans his hands, steering wheel, center console, gear shift and the door handle — any surface that he might have touched during the delivery.
"I try to keep it clean as much as I can," said Schou, who is also a manager at Golden Pizza.
Since Gov. Tom Wolf's order Monday to restrict "non-essential" businesses, restaurants across the state have ceased dine-in service. At the same time, customers are staying home to avoid exposure to the virus.
For Schou and other delivery services, that means more action.
COVID-19, an illness caused by the coronavirus, is advancing in Pennsylvania with 133 cases Wednesday, a day that also marked the state's first fatality from the pandemic.
Even when there is no active pandemic, Schou said he tries to keep his vehicle clean. But with coronavirus, he said the extra steps have become necessary. Reactions from customers have been mixed.
"There's some who don't think it's a big deal, there's some who might spray you down at the door — it's whatever the customer is comfortable with," Schou said.
The governor's order had little effect on Golden Pizza's operations. The shop has no dine-in area; customers have always been limited to take-out and delivery.
However, owner Andrew Golden said business has still been affected, decreasing over the last few days from the business' normal daily average of about 60 deliveries and about 30 pick-up orders.
"It definitely seems like there's less cars going down Main Street, and usually we see more lunch orders, where people come in to pick up a slice of pizza or a salad," Golden said.
The shop has taken precautions, including encouraging customers to use credit and debit cards instead of cash, to limit employees' exposure to the virus.
Golden said he liked a proposal floated this week by President Donald Trump to send checks to citizens and businesses to help offset the pandemic's effects on the economy.
Businesses such as Golden Pizza are still operating, but with a decreased workload, which can force them to cut back hours or even lay off employees. Golden said he hasn't had to cut hours yet.
Even if it becomes necessary to take that step, Golden said he would try to reduce the impact on the employees as much as possible.
"It might be an hour here or a couple hours there, but it would be spread out so that one person doesn't feel it as much," Golden said.
On East State Street in Sharon, Aldo's Pizza and Pasta was adjusting to the new reality.
With a seating capacity of about 40 people, Aldo's co-owner Mary DiRupo said the business was normally "pretty full" for lunch and dinner, with just about as many takeout orders as well. However, Aldo's has since shifted to takeout, curbside service and even offers deliveries, a new service for the restaurant.
"We didn't used to have the people available to deliver, but we can deliver now," DiRupo said.
Aldo's was closed as usual Sunday and Monday, and business Tuesday had been slow, but DiRupo said that could be due to a variety of factors.
"Last week was a good week. We didn't really notice a drop-off, but there were more take-out orders, so I think people were being cautious," DiRupo said. "Now, people may not even know we're open, they might've stockpiled at the grocery stores over the weekend, or people could just be scared."
Another family-owned restaurant, Lock Stock and Barrel in Sharpsville, likewise saw a decrease in business Monday and Tuesday.
With a sit-in capacity of 60 to 70 people, owner Joe Lenzi said many of its orders were already pick-up orders, even before the outbreak. An average day with 300 to 400 customers could include about 40 to 60 grab-and-go orders during lunch or supper rush.
But because of the coronavirus concerns, Lenzi said Lock Stock and Barrel implemented precautionary measures, including limits on how many people could wait to pick up an order at any one time. The restaurant also offers curb service — restaurant staff can bring orders out to customers' cars when they place orders in advance.
"The situation's always changing, so we want to make sure we're doing whatever we can to keep everyone safe," Lenzi said.
Lock Stock and Barrel had previously had early closings during severe snow storms, which happened only once or twice last year. In light of the pandemic, Lenzi said he ordered additional disinfectant to supplement other precautions and that the restaurant would try to remain open unless it was otherwise required to close.
"We all wish for the best, and we hope that this ends soon," Lenzi said.
Like David L. Dye on Facebook or email him at ddye@sharonherald.com.